H.E. Prof. Dr. Aboubacar Senghore, the Minister for Higher Education, Research, Science and Technology (MHERST), Islamic Republic of the Gambia, visited COMSATS Secretariat in Islamabad on 19 May 2016. The purpose of the visit was to hold consultation with the Executive Director, Dr. I.E. Qureshi, after the Gambia's accession to the organization as its 24th Member State, on 17 May 2016. The Minister was accompanied by his Ministry's Director, Directorate of Science, Technology and Innovation (DST&I), Mr. Mucktarr M. Y. Darboe. Mr. Tajammul Hussain, Advisor (Programmes) and two other senior officials of COMSATS also attended the meeting.
After a formal welcome to the Gambian delegation, Dr. Qureshi introduced COMSATS as a unique organization having the mandate of S&T-led development of the South and an affiliated Network of International S&T Centres of Excellence providing the organization a strong technical base for its scientific programmes and South-South Cooperation. The Minister expressed delight on Gambia joining COMSATS as a Member State and considered it an important platform offering avenues of cooperation with S&T organizations of Pakistan and other Member States.
Shedding light on how the Gambia can benefit from the membership of CO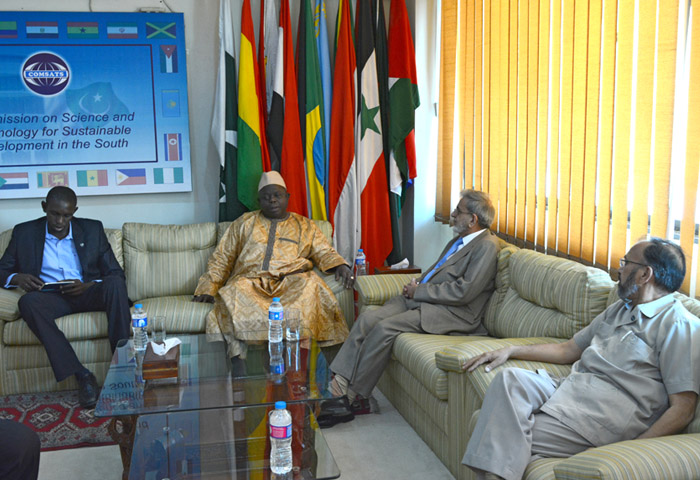 MSATS, Dr. Qureshi elucidated on the composition, roles and functions of various statutory bodies of the organization. He noted that for any country to optimally benefit from science and technology, it primarily requires strong commitment and willingness on governments' part. In this connection, he informed that a relevant government department/ministry with S&T portfolio serves as COMSATS' focal point in the country and has representation through its functional head at COMSATS Consultative Committee, which in turn secures the interests of the country in COMSATS' operations. The Minister stated that MHERST will be COMSATS' focal ministry in Gambia, while its Director DST&I will serve as the liaison officer for all the affairs related to COMSATS and its international programmes. Dr. Qureshi noted that for Gambia to gain from scientific exchange taking place annually through COMSATS Coordinating Council, the Gambian government needs to nominate one relevant institution to join COMSATS Network of International S&T Centres of Excellence.
Referring to the useful discussion he had with the Chairman Higher Education Commission (HEC) of Pakistan, the Minister expressed interest in COMSATS' post-graduate scholarship programme, in particular at COMSATS Institute of Information Technology (CIIT). Dr. Qureshi noted that under this programme students from COMSATS' Member States can avail cent percent tuition fee waiver, subsidized boarding and lodging, as well as coverage of travel cost. Considering that some deserving students cannot even afford day-to-day expenses, Dr. Qureshi suggested the Minister to approach organizations like ISESCO and IDB for stipends covering the living expenses.
Prof. Dr. Senghore sought COMSATS' support in developing strong international ties with its Member States and partner organizations like ISESCO and OIC, as well as in identifying resources and opportunities for cooperation in various fields of Science and Technology. Dr. Qureshi assured the Minister of COMSATS' all out support to the Gambia as a Member State. He in particular offered COMSATS' consultancy for inputs on Gambia's science, technology and innovation policy.
Dr. Qureshi informed that the Member States' Annual Membership Contributions are voluntary financial inputs that are kept as separate trust funds and utilized for the benefit of the contributing country. The Minister was informed that in view of its financial constraints, COMSATS adopts a number of innovative approaches to optimally benefit its member States, one of which is resource-sharing with organizations with similar programmes and/or mandates, such as UNESCO, and ISESCO.
In view of the Gambia's need to develop scientific infrastructure and facilities, the Minister requested COMSATS' assistance in identifying relevant Pakistani institutions that can extend support in this regard. The Minister was informed that Pakistan Council of Scientific and Industrial Research (PCSIR) is the pertinent institution of the Government of Pakistan, which can facilitate Gambia viz. scientific instrumentation. Dr. Qureshi offered COMSATS' intermediary role to liaise and coordinate the matter with PCSIR on behalf of the Government of Gambia. He suggested for sending a delegation of relevant scientists and technicians to PCSIR.
The meeting concluded on a note for greater cooperation and support for the Gambia.