The Commission on Science and Technology for Sustainable Deve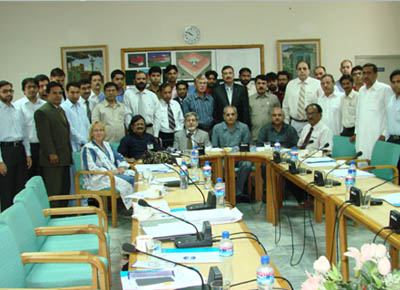 lopment in the South (COMSATS) and COMSATS Institute of Information Technology (CIIT), Abbottabad Campus, jointly, organized the First Meeting of Sub-group on 'Green Technology' under COMSATS' Thematic Research Group on 'Climate Change and Environmental Protection', on July 26, 2011, at CIIT (Abbottabad Campus), Pakistan. The meeting was held on the sidelines of 4th International Conference, ESDev-2011: "Environmentally Sustainable Development" (July 24-25, 2011).
The Sub-group on 'Green Technology' has been established as a follow-up action of the Foundation Meeting of COMSATS' Thematic Research Group on 'Climate Change and Environmental Protection', which was held under the chairmanship of Prof. Lin Zhaohui, Director, International Center for Climate and Environment Sciences (ICCES), on November 20, 2010, in Beijing, China. The first meeting of the Sub-group, which was inaugurated by Dr. I. E. Qureshi, Executive Director COMSATS, and chaired by the Sub-group's designated leader, Prof. Dr. Iftikhar Ahmed Raja, Head of Department of Environmental Sciences, CIIT (Abbottabad Campus), was attended by a total of 32 officials/scientists belonging to various scientific/research institutions of Bangladesh, Sri Lanka, Norway, Saudi Arabia, Ireland and Pakistan. The primary objective of the meeting was to form a group of active research scientists from various institutions of the developing/developed countries that are working in the area of 'Green Technology', for the initiation of joint research activities with the patronage of COMSATS.
In his opening remarks, Dr. Khan Gul Jadoon, Director of CIIT's Ab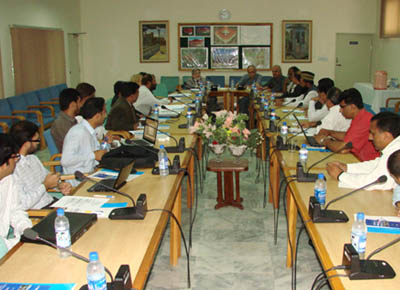 bottabad Campus, stated that CIIT, under the umbrella of this Sub-group, will strive to bring substantial changes in the standard of living of the masses by performing joint research in this area of utmost significance. The Executive Director COMSATS, prior to making a detailed presentation on COMSATS and its Thematic Research Groups, termed the researchers/scientists working in the fields of Climate and Environmental Sciences as 'saviors of mankind' as their research efforts will have a major influence on the lives of human beings in years to come.
Through brief presentations made by the participants of the meeting and subsequently held discussions, common areas of interest of the participating organizations/individuals were identified, and a joint research project entitled 'Bioenergy for Green Community' was selected to be executed under the Sub-group. The participants of the meeting also deliberated upon broad parameters of the selected joint research project, defined time-line and procedure for the preparation of project proposal, identified collaborating institutions/individuals for the joint research project, as well as distributed research components among themselves.
The meeting concluded with the participants' commitment of timely following-up its decisions and further strengthening this Sub-group by adding more relevant institutions to the same.