The first meeting of the Working Group of COMSATS and UNESCO was held on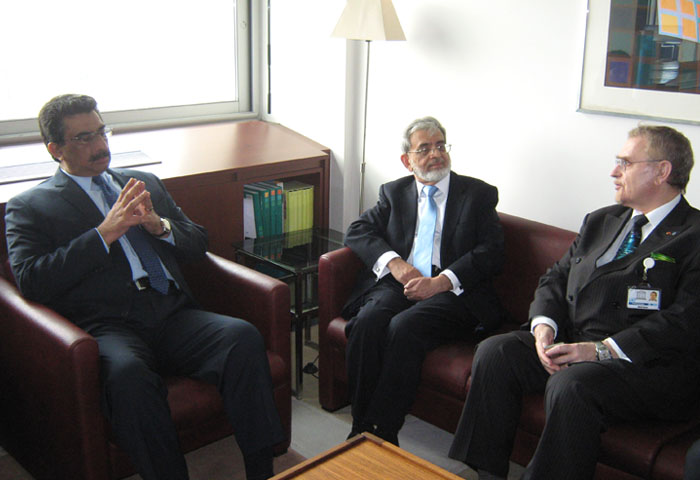 18th March 2015, soon after an MoU was signed between the two organizations. The Executive Director COMSATS, Dr. I. E. Qureshi and the Director International Basic Sciences Programmes (IBSP), Division of Science Policy, UNESCO, Dr. Maciej Jan Nalecz, leading their respective delegations met at latter's office in UNESCO Headquarters, Paris, to undertake preliminary discussions of joint future activities. The Executive Director COMSATS was assisted by Director (International Affairs), Dr. Majid Khan, while Dr. Yoslan Nur, Programme Specialist IBSP, Dr. Ahmed Fahmi, Programme Specialist IBSP, and Dr. Jean-Paul Ngome Abiaga, Assistant Programme Specialist IBSP, UNESCO, assisted Dr. Nalecz.
The working group deliberations lasted for about two hours, touching upon mechanisms to undertake joint activities in areas of interest related to Science, Technology and Innovation. The Executive Director gave a brief introduction of COMSATS, its programmes and activities conducted through a network of 19 Centres of Excellence, predominantly from its 21 Member States. The clusters of some of these Centres of Excellence and other relevant institutions from developing countries are currently conducting joint research on four important scientific themes, under COMSATS International Thematic Research Groups (ITRGs): Information and Communication Technologies (ICTs); Natural Products Sciences; Climate Change and Environmental Protection; and Mathematical Modeling. Dr. Nalecz was informed about the past, current and planned future activities of ITRGs.
The Director IBSP welcomed COMSATS' delegation and remarked that he is impressed with the ITRG approach and methodology which is a good strategy for strengthening South-South Cooperation.
The Working Group held a lengthy discussion on the purpose and outcome of the two-day International Year of Light (IYL) symposium that COMSATS is planning to organize in October 2015. During the discussion, the Executive Director informed the Working Group that international experts and participants will be invited to attend the symposium, apart from local researchers and graduate students. Therefore, UNESCO's support will be necessary to make this event a success. The Executive Director referred to his meeting held in Islamabad on 16th March 2015 with Dr. Joseph Niemela, Head Applied Physics ICTP, and informed the Working Group about the suggestions put forward by Dr. Niemela to organize a successful International Year of Light event in Islamabad. The Executive Director shared that the COMSATS' team will submit a proposal on IYL and seek UNESCO's help for the sponsorship of five internationally renowned scientists for delivering keynote lectures during the event. It was agreed that there will be close coordination and cooperation between COMSATS and UNESCO in organizing IYL and other science related commemorative days of UNESCO.
The Working Group was informed that COMSATS has launched its Science Diplomacy programme on 25th February 2015 in Islamabad, Pakistan. This new initiative will be geared towards improving international relations among developing countries and supporting their efforts to achieve foreign policy objectives through cooperation in Science & Technology. The programme, among other things, entails activities for science advocacy and popularization, establishment of COMSATS Diplomacy Centre, organization of seminars and round table discussions for key stakeholders, as well as series of talks on scientific aspects on issues, such as, biodiversity, water conservation, energy and climate change. All members of UNESCO delegation expressed their appreciation for COMSATS' timely initiative on Science Diplomacy. Dr. Nalecz shared that such initiatives will be very useful for developing science policy and putting together a comprehensive reference data that could be utilized for preparing development plans for COMSATS' member countries.
The Working Group congratulated the Executive Director COMSATS for his dynamic leadership that has resulted into the signing of agreement between COMSATS and UNESCO. The Group designated Dr. Yoslan Nur to present the scope and possibilities of work under the present MoU and undertake consultations with COMSATS Coordinating Council members on the sidelines of the 18th Coordinating Council Meeting to be held in Colombo, Sri Lanka in May 2015.
In the end, Dr. Qureshi presented a souvenir to Dr. Nalecz and invited him to join COMSATS' Science Policy Panel. The meeting ended on a note of optimism for stronger cooperative ties between COMSATS and UNESCO in the sectors of capacity building and policy making relevant to Science, Technology and Innovation.