The fifth session of COMSATS' Lecture Series on "South – South and Triangular Cooperation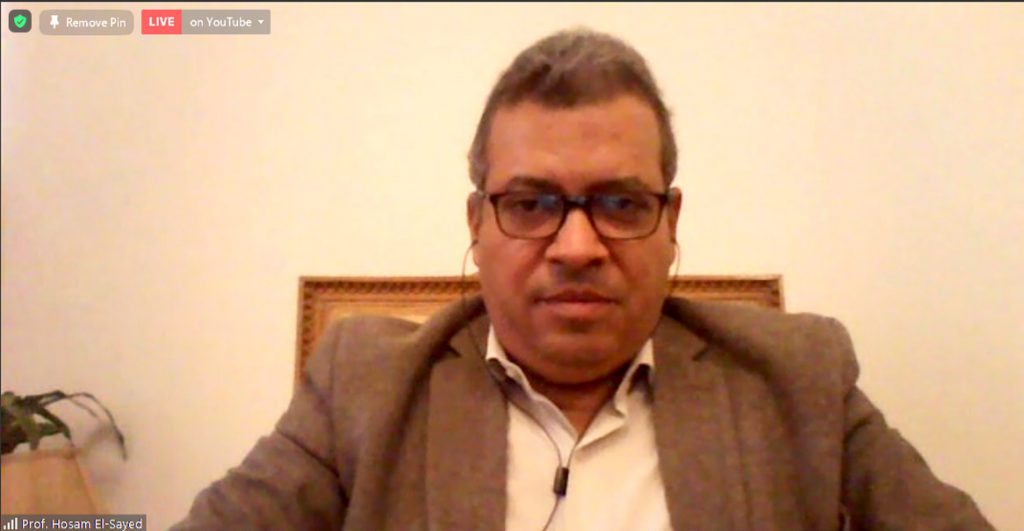 for Socio-economic Development in the South" was held on 2nd February 2021, having the representation of officials from COMSATS' Focal Ministries, Centres of Excellence and COMSATS Secretariat.
During the session, Prof. Dr. Hosam El-Sayed, Assistant Vice President for Research, National Research Centre (NRC), Egypt, delivered talk titled 'Towards SDGs-Oriented Amalgamated Research Plans Among COMSATS' Centres of Excellence'. The main idea of Prof. El-Sayed's talk was creation of clusters of Centres of Excellence (CoEs) based on mutual interest and expertise to help meet their institutional and Network goals, national needs as well as meet the targets of 2030 Global Agenda.
To improve joint work with the Network, he shared a plan as to how the Network members could collaborate with NRC. He proposed some areas where Centres may initiate joint research activities, such as: chronic and endemic diseases; pharmacology; life sciences; chemical industries; engineering industries; ICTs; water and environment; renewable energy; agriculture and food sciences; and frontier sciences. In the same vein, he put forth the idea of formulating groups of CoEs for the achievement of various Sustainable Development Goals (SDGs), in particular SDG1, 2, 3, 4, 6, 7, 9, 12.
Prof. Hosam noted Egyptian Science, Technology, and Innovation Funding Authority (S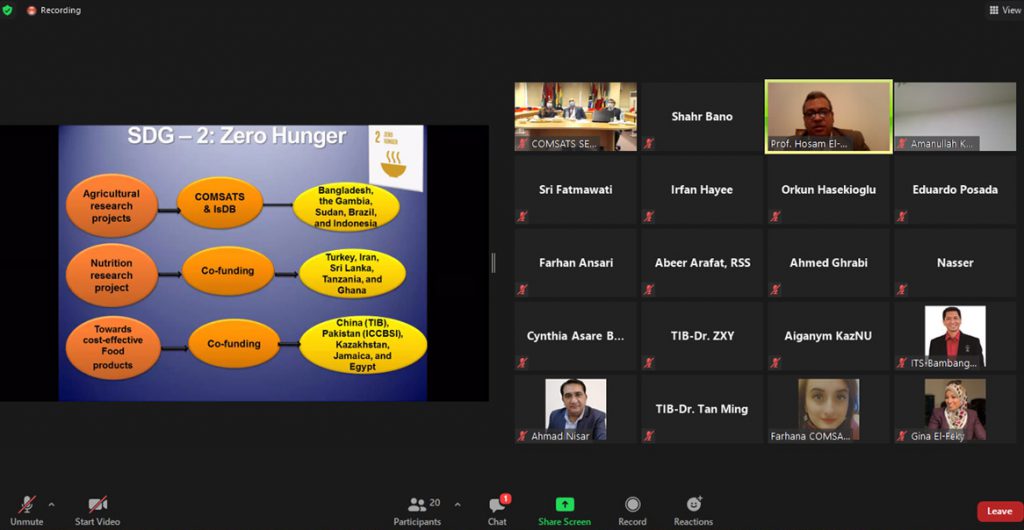 TIFA), Egyptian Agency of Partnership for Development (EAPD), Islamic Development Bank (IsDB), and Islamic World Educational, Scientific and Cultural Organization (ICESCO) as potential funding partners for various R&D activities. Launched in 2014, EAPD aims at putting Egypt's comparative advantages and technical expertise to use for benefit of the South, and in particular Africa and the countries of the Commonwealth of Independent States.
Prof. Hosam also conveyed the willingness of Prof. Dr. Mahmoud M. Sakr, President of the Academy of Scientific Research and Technology (ASRT), Egypt, to support project submitted by COMSATS for the benefit of COMSATS' Member States.
Appreciating Prof. Hosam for a comprehensive presentation, Mr. Farhan Ansari, Sr. Assistant Director (Programmes), COMSATS Secretariat, mentioned that similar concept of pooling together resources and expertise of CoEs in various fields exists within COMSATS' International Thematic Research Groups (ITRGs) that are working in areas, such as renewable energy, ICTs, food security, etc.
Further, he informed that COMSATS has succeeded in winning funds from the Alliance of International Science Organizations (ANSO), China, for two of its projects; one being run by Pakistan in collaboration with China, Turkey and Thailand, while other is being led by Turkey and has Tanzania, Palestine and Pakistan as partners.