The Federal Secretary of Ministry of Science and Technology, Government of Pakistan, Mr. Irfan Nadeem, paid a visit to the Secretariat of the Commission on Science and Technology for Sustainable Development in the South (COMSATS), on October 12, 2010. Mr. Nadeem succeeded Mr. K.B. Rind as the new Federal Secretary on 4th October 2010. Being the focal point of the host country of COMSATS, Pakistan, he will also be the new Chairman of COMSATS' Consultative Committee.
The Executive Director COMSATS, Dr. Imtinan Elahi Quresh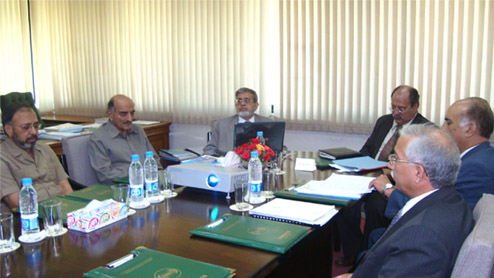 i, briefed the Federal Secretary about COMSATS' projects and programmes over the last 16 years for the sustainable development of its 21 member countries through cooperation in science and technology. Dr. Qureshi informed the Federal Secretary about the recent activities of COMSATS, including the 13th meeting of its Coordinating Council held in Trieste, Italy (May 2010). The Federal Secretary was also informed about Dr. Qureshi's recent visits to COMSATS' member countries, Iran, Egypt, Jordan and Syria, for building a stronger relationship with its member States and assessing the scientific capacity of its affiliated scientific institutions. Dr. Qureshi acknowledged the cooperation extended by the Ministry of Science and Technology of Pakistan for providing patronage to hold the 1st meeting of COMSATS Consultative Committee in Abuja, Nigeria, in April 2009 and for supporting the Secretariat's initiative of holding the 2nd meeting of its Commission.
The Federal Secretary was pleased to learn about the constructive role played by COMSATS for international S&T cooperation and assured that his Ministry will continue to support the programmes of COMSATS.