The Federal Secretary of Ministry of Science and Technology, Mr. Muhammad Kashif Murtaza, along with two senior officials of the Ministry visited COMSATS Se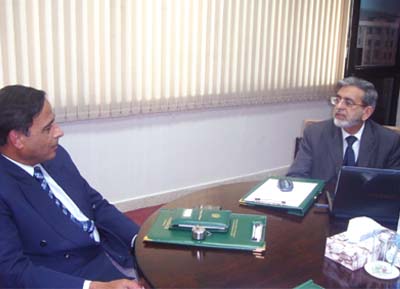 cretariat on 27th January, 2009, to learn about the current operations of this intergovernmental organization based in Pakistan. Dr. Imtinan Elahi Qureshi, Executive Director-COMSATS, recounted the achievements of COMSATS since its foundation in 1994 by the then Prime Minister of Pakistan, Mohtarma Benazir Bhutto. With 21 developing countries as its members, the organization is playing a dual role of advocating the primacy of Science and Technology in the developmental agenda and is promoting capacity building in technology applications for socio-economic development.
The Secretary appreciated the role of this organization in all its member states, especially in Pakistan, where the organization is more commonly recognized through its flagship projects of Internet Service and Information Technology Institute. He reassured the officials of COMSATS that the Ministry would provide maximum possible assistance to enable smooth operations of COMSATS.