The Executive Director COMSATS, Dr. Imtinan Elahi Qureshi, w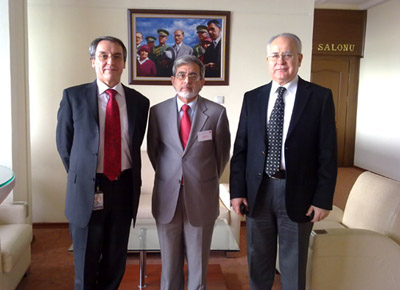 as invited to visit Marmara Research Centre (MRC) in Istanbul (Turkey), which is one of the major R&D centres operated by TÜBİTAK – the Scientific and Technological Research Council of Turkey. The TÜBİTAK MRC has been affiliated with COMSATS as its Centre-of-Excellence since 1994. The visit was undertaken on the recommendation of the Coordinating Council of COMSATS, under which Dr. Qureshi has already visited four member States of COMSATS, Syria, Egypt, Iran and Jordan, in early 2010.
Dr. Qureshi's visit to MRC laboratories was preceded by presentations about research and development work being conducted in its seven institutes: Energy Institute; Chemistry Institute; Materials Institute; Environment Institute; Food Institute; Genetic Engineering & Biotechnology Institute; and Earth & Marine Sciences Institute. Dr. Qureshi was shown around a few selected institutes. He asserted the need for greater participation of MRC in scientific activities of COMSATS. Appreciating the quality of R&D work taking place in the Centre, he deemed it a strong link in the chain of COMSATS' Centres of Excellence.
In order to explore the possibility of Turkey joining the organi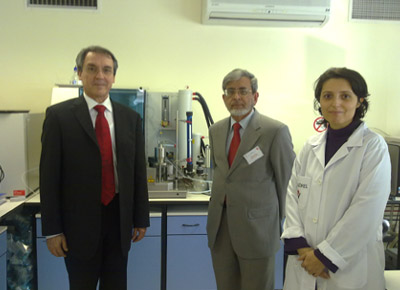 zation as a Member State, the Executive Director visited the Headquarters of TÜBİTAK in Ankara, where he met the Vice President of TÜBİTAK, H.E. Prof. Dr. Ömer Anlağan and the senior officials of the Council relevant to international cooperation and bilateral/multilateral relations. A presentation was made about the organizational structure and role of TÜBİTAK for S&T development in Turkey by Prof. Anlağan. During the meeting, the scope of COMSATS' activities was thoroughly discussed and an offer of COMSATS' Membership was extended to Prof. Anlağan for the consideration of approval by relevant bodies.
Turkey has an advanced R&D infrastructure and rapidly developing industries relevant to information technology, space technology, machinery, construction, aviation, shipping and automobiles. COMSATS' role as the facilitator of S&T-led cooperation, coupled with the S&T potential of Turkey, could help achieve its mission of South-South cooperation for the progress of the developing world. For the same purpose, the visit of the Executive Director COMSATS is expected to strengthen COMSATS' cooperative links with the scientific institutions of Turkey to achieve S&T-led sustainable development.
In his capacity as the Chairman Board of Governors of COMSATS Institute of Information Technology (CIIT), Dr. Qureshi also visited Istanbul University, where he met its Vice Rector, Prof. Dr. Çiğdem Kaycan, and Chairman of the International Relations Committee, Dr. Mehmet Şükrü Tekbaş. Possibilities of academic cooperation between CIIT and Istanbul University were deliberated upon during the meeting.