Executive Director and Director General of (I.A) visited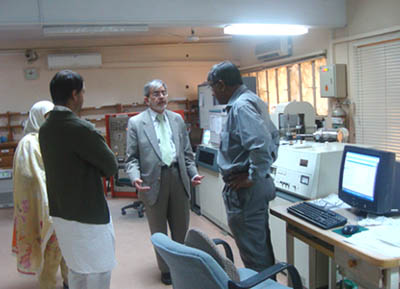 COMSATS' Centre of Excellence in Karachi, the International Center for Chemical and Biological Sciences (ICCBS), to see the latest research facilities in the Center and to discuss the available opportunities for training that can be utilized by scientists in Member States. On this occasion an MoU was signed to specify the modalities of training programmes and services offered to analyse samples using advanced analytical facilities. Other issues discussed with the Director ICCBS, Dr. M. Iqbal Choudhary included: sponsorship for the trilateral project involving NRC-Egypt, NCR-Sudan and ICCBS-Pakistan; organization of first meeting of the thematic group on 'Natural Products'; equipment maintenance training for technicians, and lectures programme by ICCBS' scientists in interested Member States. On the same day, the COMSATS' delegates visited the Malir campus of COMSATS-COMSTECH-MTM IT (CCMIT) Centre and met the Vice Chancellor of Preston University, Dr. Nazir A. Mughal, who is managing CCMIT Centre.
On the second day, COMSATS' officials visited Council for Works and Housing Research (CWHR) and held a meeting with its Chairman, Engr. Najmul Hassan Taqvi, in connection with the decisions of the 12th meeting of COMSATS Coordinating Council held in Nigeria earlier this year. CWHR was invited to be a part of COMSATS' thematic group on 'Building and Construction Materials' that is being led by Ghanian Centre of Excellence of COMSATS, International Centre for Material Science & Technology (ICMST).