Two high-level meetings were held by the Executive Director COMSATS, Dr. I. E. Qureshi, on 24th and 25th March, 2015, during his visit to COMSATS' Member State, Jamaica.
Accompanied by Director-General International Centre for Environmental and Nuclear Sciences (ICENS), Dr. Qureshi met the Minister of State, Ministry of Science, Technology, Energy an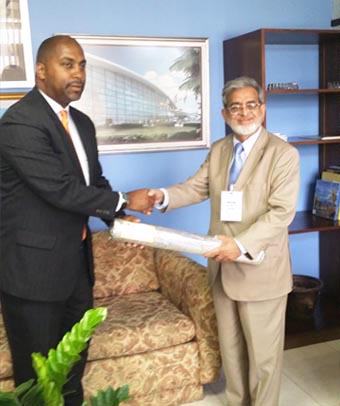 d Mining (MSTEM), Government of Jamaica, Honourable Julian J. Robinson, MP, who was joined by the Permanent Secretary of the Ministry, Ms. Hillary Alexander, JP. Welcoming the Executive Director, the Honourable Minister expressed his appreciation of the COMSATS' activities aimed at fostering scientific cooperation among developing countries. He showed keen interest in the opportunities of scientific capacity-building available from the platform of COMSATS, especially the offer of scholarships for undertaking graduate studies at COMSATS Institute of Information Technology (CIIT), Pakistan. Being himself an alumnus of the University of Illinois, Urbana-Champaign (UIUC), he noted that CIIT has academic collaborations with that university. Dr. Qureshi informed him that CIIT faculty members are offered scholarships under a programme of Pakistan's Ministry of Science and Technology for Ph.D studies at UIUC.
Elaborating the role played by the Network of International S&T Centres of Excellence (COEs) towards COMSATS' international programmes, Dr. Qureshi pointed out that the Heads of R&D organizations, constituting the Network, meet regularly on annual basis and discuss their research activities, with a view of exploring collaboration possibilities. This, he believed, constitutes a most effective mechanism of South-South cooperation. In this regard, the ICENS, which is one of the founder members of the Network, has not been able to tap the opportunities of entering into bilateral or multilateral scientific exchanges with other Centres. The Executive Director emphasized that the initiative to seek COMSATS' help for undertaking such visits has to come from the Centre itself. The Honourable Minister was informed that the one of the other mechanisms of integrating with COMSATS' programmes is through participation in its International Thematic Research Groups (ITRGs), which cover areas such as Information and Communication Technologies (ICTs), Climate Change, Natural Products Sciences and Mathematical Modelling. Commenting on the remarks of Executive Director COMSATS, the Permanent Secretary informed that S&T related work is spread across different Ministries and universities of Jamaica. The Government of Jamaica, it was informed, is concentrating its efforts on renewable energy, food security and mineral resources. The Permanent Secretary desired the National Commission on Science and Technology (NCST) of Jamaica to be taken on board with respect to the planned joint activities of COMSATS and ICENS. The Executive Director assured her that COMSATS would use the services of Director-General ICENS to identify and recommend scientific workers of different laboratories, including those of ICENS, for their participation in COMSATS' initiatives and activities, such as workshops, exchange visits, training, thematic research, and invited lectures.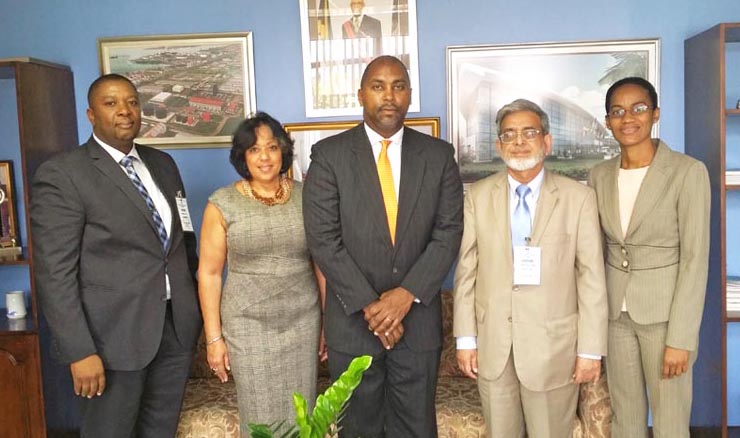 The Honourable Minister instructed Director-General ICENS to fully utilize COMSATS' platform for interactions of ICENS with regional and international counterparts. The Director-General expressed his commitment to do so by sending a representative of ICENS in the upcoming 18th COMSATS Coordinating Council meeting (12-13 May 2015); selecting students for admission in CIIT; asking for COMSATS' help in organizing IAEA-supported upcoming symposium on the use of mini neutron source reactors; and evaluating other offers of support by COMSATS. The Minister was gently reminded by the Executive Director of the need to continue annual membership payments to COMSATS, assuring him that the financial contribution made by the Government of Jamaica will be exclusively utilized to benefit Jamaican scientific community. The Honourable Minister and the Permanent Secretary both expressed their confidence in the organization's proactive approach, which is manifested by the visit of Dr. Qureshi.
The second meeting of significant administrative importance was held with Director-General NCST, Hon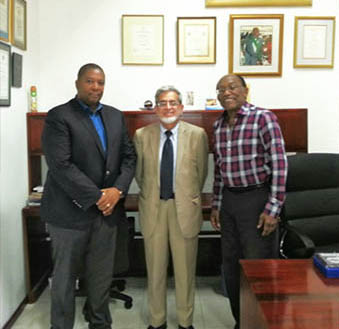 . Professor Errol Morrison, OJ, again in the company of Director-General ICENS, on 25th March, 2015. The NCST of Jamaica plays the role of a national authority responsible for devising policies and overseeing the development of S&T sector in the country. Prof. Morrison engaged Dr. Qureshi in broader discussion on the failure of developing countries to set aside adequate financial resources for R&D in order to achieve scientific capacity in crucial areas of economic importance. Dr. Qureshi informed him about COMSATS' initiatives in the fields of ST&I policy, science journalism, and science diplomacy. He agreed that the need for science advocacy should never be underestimated and applauded COMSATS' efforts in this respect. He encouraged the Director-General ICENS to open up the Centre and venture into new interdisciplinary areas with COMSATS' support. The Director-General ICENS assured him that he would be willing to play the role of a coordinator in fully exploiting all areas of S&T supported by COMSATS. The meeting ended with an expression of commitment to strengthen the role of Jamaica in COMSATS' programmes and possibly act as a regional hub for COMSATS' activities.