The Executive Director of the Commission on Science and Technology for Sustain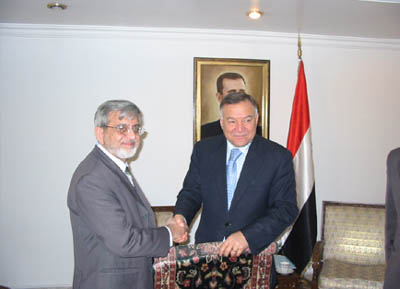 able Development in the South, Dr. Imtinan Elahi Qureshi, visited two of the COMSATS member countries, Syria and Egypt, during January 10 – 16, 2010. The visit was made in connection with the recommendations of the 12th COMSATS Coordinating Council Meeting held in Nigeria in April 2009. The main aim was to review past activities and plan future programmes in order to reinvigorate the role of Centres of Excellence. The preparations for the 13th Coordinating Council meeting to be held in May 2010 in Trieste (Italy) and the Commission meeting later during the year were also on the agenda of these meetings. The visit is the first of the series wherein all the member countries of COMSATS will be visited in clusters. Prior to the visits, the Syrian and Egyptian ambassadors in Pakistan were consulted and briefed in this regard.
During the visit to Syria, a meeting was held with H.E. Dr. Giath Barakat, Minister of Higher Education along with Deputy Minister Dr. Najeeb Abdul Wahed, on 11th January 2010. The Minister appreciated the COMSATS programmes for Syria, especially the establishment of Syrian-COMSATS-COMSTECH IT Centre (SCC-ITC) which has bee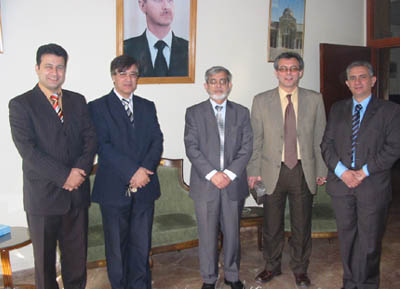 n working since 2001. Earlier, a visit to SCC-ITC and the Syrian Centre of Excellence, 'Higher Institute for Applied Science and Technology' (HIAST) was arranged, where the presentations about the respective centres were made. The heads of both centres held detailed discussions with Dr. Qureshi to formulate future programmes to be conducted through the platform of COMSATS.
In the second phase, Dr. Qureshi visited Egypt and met the senior Egyptian officials that included: H.E. Mr. Hany Helal, Minister of Higher Education and Scientific Research of Egypt and Professor Dr. Maged Al Sherbiny, Assistant Minister for Scientific Research. Later, Dr. Qureshi visited the Egyptian Centre of Excellence of COMSATS, 'National Research Centre' (NRC). Important points that came under discussion during these meetings were: Egypt's participation in the upcoming COMSATS Commission meeting; COMSATS' past, present and future activities with Egypt; and Egypt's Annual Membership Contribution to COMSATS. Another highlight of Dr. Qureshi's sojourn in Egypt was his visit to Mubarak City for Scientific Research and Technolog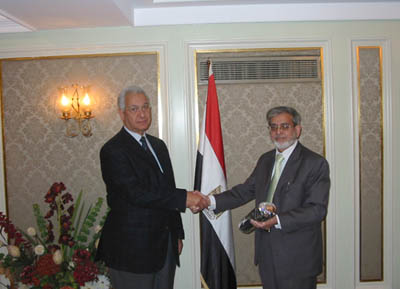 ical Applications located at New Borg El Arab City, west of Alexandria.
It is hoped that these and other visits of this series would help strengthen relationship between COMSATS Secretariat and the Member States hence paving way for a strong participation in the programmes and activities of COMSATS Secretariat, as well as in the upcoming Commission meeting. It is also expected that a more effective coordination between the members of its Network of Centres of Excellence would be developed for the achievement of COMSATS' mission of sustainable development in the developing countries.