The Executive Director COMSATS, Dr. Imtinan Elahi Qureshi, visited the Iranian Research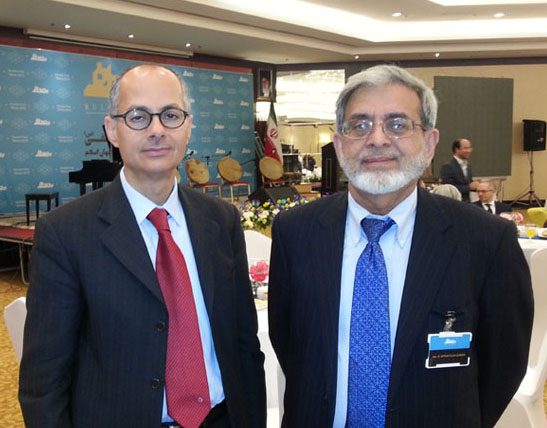 Organization for Science and Technology (IROST), which is the Centre of Excellence of COMSATS in the Islamic Republic of Iran. He held a meeting with the newly appointed President of IROST, Prof. Fathollah Moztarzadeh, on 26th December 2015. Also present on the occasion were Prof. Abdolreza Samimi, Vice President for Technology Development IROST, and Dr. M. Molanejad, Acting President for International Cooperation IROST. Arranged by Mustafa Prize Foundation, the visit to Iran was primarily undertaken to participate in the Mustafa Prize 2015.
In his meeting with IROST officials, Dr. Qureshi discussed the harmonized Statutes of COMSATS, the extension of COMSATS' Strategic Plans for the next five years, the purpose and procedure of International Thematic Research Groups (ITRG) and the offer of 100 Scholarships for graduate studies at COMSATS Institute of Information Technology (CIIT), Pakistan. The following issues came under discussion during the meeting:
IROST's proposal to establish a 'Centre for Human Research Development in Advanced Science and Technology';
IROST's offer to lead an ITRG on 'Renewable Energy';
Participation of IROST in active ITRGs, in particular the 'Climate Change and Environmental Protection' group led by the COMSATS' Centre of Excellence in China;
IROST's offer of scholarships for PhD studies/Post-doc visits by the researchers from COMSATS' Member States;
Availing of scholarships offer of graduate studies at CIIT by Iranian students;
Participation of IROST scientists in COMSATS' publications;
Iran's Annual Membership Contribution to COMSATS and donation towards its Endowment Fund;
Support for COMSATS Technology Park by IROST Incubation Centre and Pardis Technology Park, Tehran.
The intensive and candid discussions on the above-mentioned issues led to a better understanding of IROST's position on different matters. The important developments taking place at IROST Incubation Centre were shared by Dr. Molanejad. It was also informed by him that Prof. Nasrin Moazami would lead the COMSATS' ITRG on 'Renewable Energy'. The Executive Director strongly advised that correspondence should be conducted by Prof. Moazami to select her Group Members. Prof. Samimi assured Dr. Qureshi that the issues raised by him and the decisions made in the 17th and 18th Coordinating Council Meetings will be carefully followed up and feedback sent to COMSATS Headquarters. The Executive Director requested Prof. Samimi to go through the report of Rapporteur-General of the 3rd General Meeting of COMSATS held in Accra, Ghana, in October 2015, and to extend support for implementing relevant decisions. Prof. Moztarzadeh while receiving COMSATS 20th Anniversary plaque assured Dr. Qureshi that IROST will continue to actively participate in future activities of COMSATS.
| | | |
| --- | --- | --- |
| | | |
Held for the first time, the Mustafa Prize awarded high-valued prizes in four categories of: (i) Life Science and Medical Sciences; (ii) Nano Science and Nanotechnologies; (iii) Information and Communication Science and Technologies; and (iv) Top Scientific Achievement in other fields. For the first three categories, the recipients are required to be citizens of one of the 57 countries belonging to the Organization of Islamic Cooperation (OIC), while for the fourth category the nominee must be a Muslim but not necessarily a citizen of OIC Member State. Only two scientists were recognized this year in categories (ii) and (iv), each getting a cash prize of US$ 500,000/- and a Mustafa Prize medal. The winners in these categories were, respectively, Prof. Omar M. Yaghi, Co-Director of Kavli Energy Nanosciences Institute and faculty member of University of California, Berkeley; and Prof. Jackie Y. Ying, CEO and faculty member of the Institute of Bioengineering and Nanotechnology of Singapore. Both Laureates achieved international fame by virtue of their highly innovative works, bringing about enormous benefits to society. Prof. Ying made several breakthroughs in nano structured materials and systems for biomedical applications, while Prof. Yaghi pioneered the revolutionary methodology of creating Metal Organic Frameworks, with possibilities of creating molecules designed to possess desired properties for applications in energy, environment, water resources and a plethora of industrial uses. It was noted that these two contemporary Muslims scientists had revolutionized the medical and chemical sciences with a potential of bringin unlimited benefits to the mankind.
Other high-points of Dr. Qureshi's visit to Iran included visits to Pardis Technology Park, AryoGen Biotechnology Company, and Iran Nanotechnology Initiative Council (INIC). During the course of the visits to these Centres and interactions with local and foreign S&T leaders participating in Mustafa Prize ceremony, the programmes and activities of COMSATS were highlighted and collaborations sought wherever feasible.