Dr. S. M Junaid Zaidi Executive Director Executive, Commission on Science and Technology for Sustainable Development in the South (COMSATS), a 27-member countries' high-level Commission on Science and Technology for countries of the South, has emphasized over equipping youth with modern techniques of entrepreneurship so that may be helpful in creating job opportunities for other young people. He was interacting with the members of organizing committee, ambassadors and bloggers of International Students Convention and Expo 2018 at COMSATS headquarters Islamabad. Dr. Afzal Rao former vice chancellor the Islamia University Bahawalpur was also present on the occasion.
He said that he was pleased to learn that first ever International Student Convention is being organized in Pakistan. It is hoped that this mega activity would provide an opportunity to the educated youth for deliberating over the common challenges by sharing their strengths.
He remarked that Young people have a crucial role in achieving the Sustainable Development Goals (SDGs) by 2030. About 700 million youth, 60% of people aged between 15 and 24 live in Asia and the Pacific. 20 targets across six SDGs are strongly focused on youth: zero hunger, quality education, gender quality, decent work & economic growth, reduced inequalities and climate action.
He stressed upon need to encourage active participation of youth in every sphere of life especially in achieving the desired level of sustainable socio-economic development. He hoped that a special session on Sustainable Development Goals (SDGs) would highlight the effective role of youth in this regard.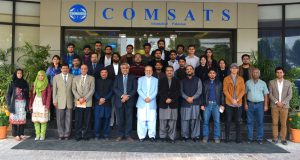 He said that as COMSATS was partnering in organizing this international activity in Pakistan, he assured utmost cooperation in hosting this mega activity at Islamabad.
Sharing the main features of the activity, Murtaza Noor National Coordinator Inter University Consortium for Promotion of Social Sciences Pakistan informed that International Student Convention (ISC) and Expo scheduled to be held on 11-13th December, 2018 at Islamabad under the theme of "Securing our future". The main objectives of this mega activity includes revitalizing the crucial role of youth towards development, peace building, and achieving Sustainable Development Goals (SDGs) .
The ISC Convention and Expo 2018 would offer a unique opportunity for Pakistani youth constituting of 64% of the population, to interact with their international peers and discuss youth issues. There will be interesting composition of participants, hailing from more than 30 countries creating a diverse learning experience. The minimum footfall is expected to touch 40,000 excited visitors visiting various pavilions, stalls of different universities and other related organizations. More than 30 sessions and competitions related to youth issues have been designed to ensure maximum participation of students. In addition, a special supplement covering profile/programs and advertisements of the partner/ participant organizations will also be published.