The Executive Director COMSATS, Dr. S. M. Junaid Zaidi participated in the 24th annual session of Board of Governors of International Centre for Genetic Engineering and Biotechnology (ICGEB) on 10th and 11th May 2018 in Trieste, Italy. He was among over 100 delegates from more than 50 countries that bore witness to this important statutory meeting of ICGEB.
The Board drives the Governance of the Centre and determines its direction and activities. Under the presidency of Victor Smirnov of the Russian Federation, the session opened with statements delivered by Philippe Scholtès, Managing Director of the United Nations Industrial Development Organization (UNIDO), Vienna; Fabrizio Nicoletti, Head, Bilateral and Multilateral Scientific and Technological Cooperation Unit; DG for the Promotion of the Country System, Ministry of Foreign Affairs of Italy and Mauro Giacca, Director-General of ICGEB.
The Director General ICGEB provided update on cooperation agreements with International and Intergovernmental organizations and working groups within and beyond the UN common system. He explained that over the last four years, the partnerships with multilateral organisations have flourished and listed a number of Organisations already working with ICGEB, which include the European Union, COMSATS, BRICS, IILA, JRC, UNIDO, UNU-BIOLAC, UN-SAB, UNIACB and WHO.
A highlight of the meeting was the signing of a collaboration agreement between ICGEB and, Health Consumers and Reference Materials of the Joint Research Centre (JRC) of the European Science Hub, the largest research institute of the European Commission.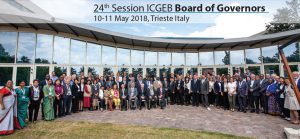 The Director-General announced his departure from the office after 2019. The Board expressed great appreciation for his work and has activated the procedure to seek a new Director General for the organization for the next five-year term: 2019-2024.