The Executive Director of the Commission on Science and Technology for Sustainable Development in the South (COMSATS), Ambassador Dr. Mohammed Nafees Zakaria, was invited by the UAE Government to the 10th World Government Summit at Dubai on 12-15 February 2023. The theme of the summit this year was "Shaping Future Governments".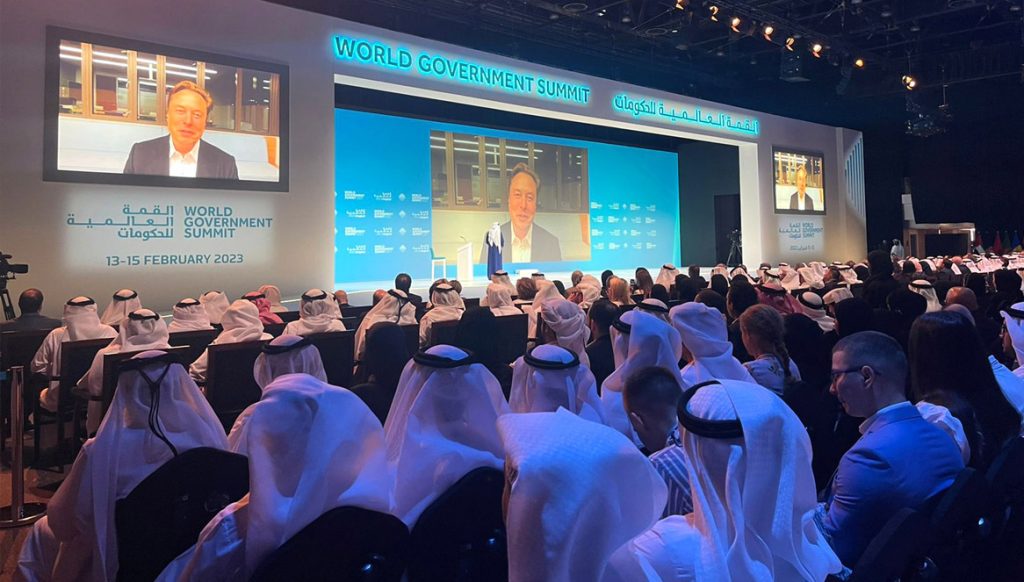 Ambassador Zakaria was accompanied by COMSATS' experts on Artificial Intelligence, Technology, Science, and Innovation, Mr. Kamil Mehmood and Mr. Parvez Abassi. During the Summit, he had the opportunity to meet UAE Ministers, including H.H. Sheikh Nahyan bin Mubarak Al Nahyan, Minister for Culture, Youth and Social Development, H.H. Omar bin Sultan Al Olama, Minister of State for Artificial Intelligence, Digital Economy and Remote Work Application, H.E. Sarah Amiri, Minister of State for Advanced Technology and Chairwoman of UAE Space Agency.
Speaking with His Highness Omar Sultan AlOlama, Dr. Zakaria thanked UAE governmen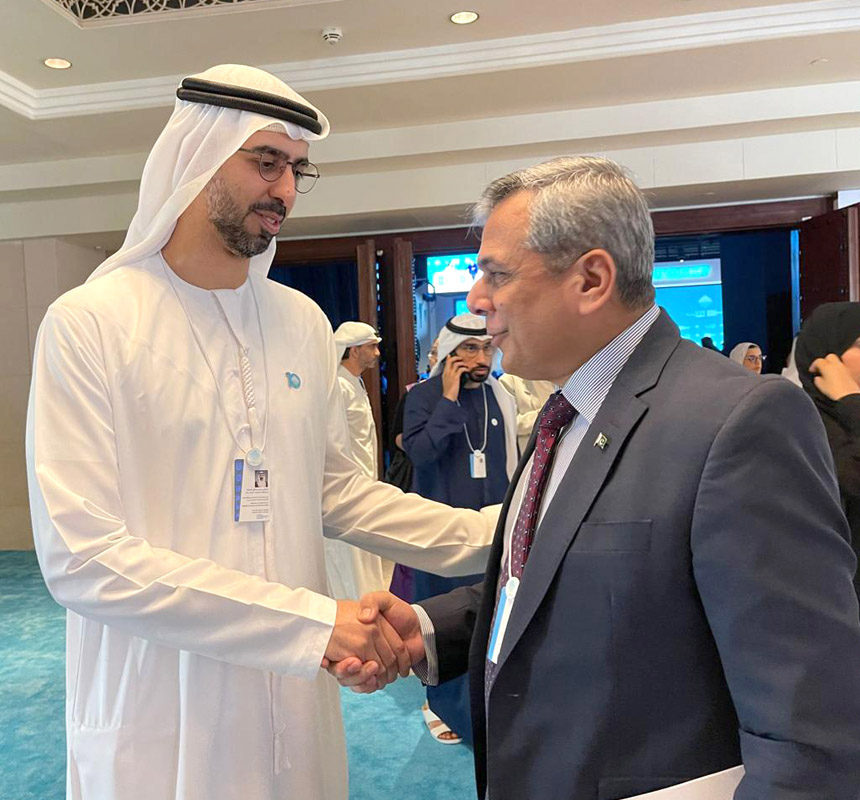 t for the invitation to attend the Summit and praised UAE Leadership's vision and successfully organization of the Summit. The Minister welcomed Amb. Zakaria and appreciated his active participation.
In his meeting with Ms. Amiri, Amb. Zakaria apprised Her Excellency about COMSATS and highlighted potential for cooperation. The UAE's commitment to ensure the peaceful use of space for humanity was lauded.
Dr. Zakaria admired the visionary leadership of the UAE and the strides the country had made in diverse fields in recent years, most prominently in education, and Science & Technology. He extended sincere thanks to the UAE Government and its Ambassador to Pakistan, H.E. Mr. Obaid Alzabbi, for his facilitation and courtesies.
He also met H.E. Jessica Alupo, Vice President of Uganda, and apprised her of COMSATS' activities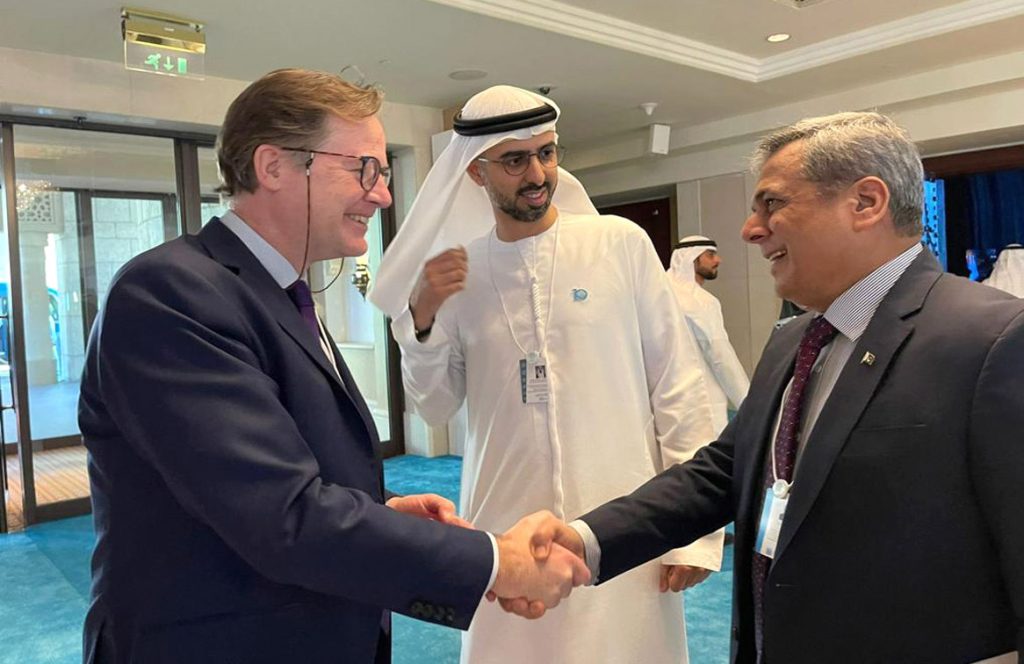 and Uganda's active participation as a member country. The Vice President appreciated the briefing and expressed interest in learning more about COMSATS.
On the sidelines of the Event, Dr. Zakaria also exchanged views with Sir Nick Clegg, Former Deputy Prime Minister UK. During his career as a diplomat, Amb. Zakaria had represented Pakistan as High Commissioner to the U.K. in 2019-20.
Ambassador Zakaria also met the Nobel Laureate Prof Roger Konrad, who accepted the Executive Director's invitation to visit Pakistan. In his meetings, Ambassador Zakaria discussed various aspects pertaining to the theme of the summit, growing relevance of AI in every sphere of life, the role of science, technology and innovation in shaping the future of governments. He underlined the importance of collaboration and cooperation among countries to address common challenges and achieve shared goals. He expressed COMSATS' keenness towards collaborating on such endeavors.
Amb. Zakaria also had fruitful interaction with the Ministerial delegation from Pakistan, including Minister for Planning, Development, and Reform Prof Ahsan Iqbal, Minister for Petroleum Senator Musadik Malik, Minister for Overseas Pakistanis and Human Resource Development, Mr. Sajid Hussain Turi, and Senior Officials.
The Executive Director actively participated in various sessions. He also met experts on Space te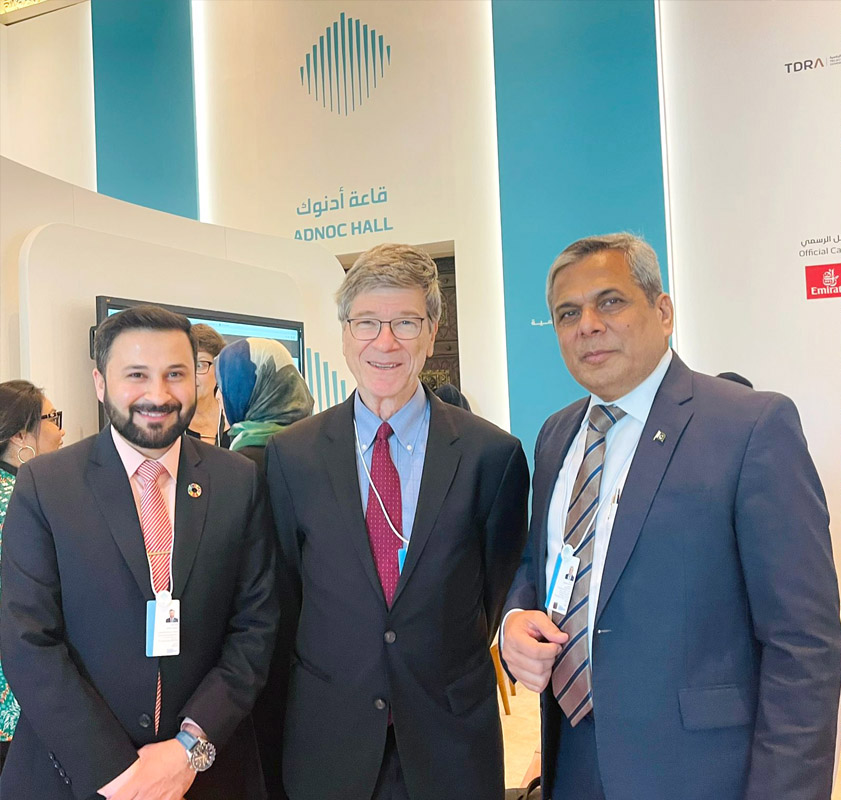 chnologies, AI, and Science and apprised them about COMSATS and its programmes. Other important figures met included Prof. Dr. Ashraf Sobhy, Egyptian Minister for Youth and Sports; Prof. Jaffery Sachs an American Economist, and a number of other dignitaries.
Other prominent international figures who attended the sessions, included Presidents of Turkey, Egypt, UN Secretary-General and Elon Musk.
Sharing his thoughts with the lead media in the UAE, Dr. Zakaria appreciated the UAE Leadership's vision that was evident, inter alia, from successfully holding the Summit fostering necessary international cooperation. He also underlined relevance of science and technology in every sphere of life and hence the necessity of policy intervention by the governments to regulate, encourage and benefit.