On May 22nd 2018, the Executive Director COMSATS, Dr. S.M. Junaid Zaidi, visited Commonwealth Secretariat to hold a meeting with the sixth Commonwealth Secretary General, Rtd. Hon Patricia Scotland QC. The meeting was also attended by the Assistant Secretary General of Commonwealth, Dr. Nabeel Goheer, and other officials.
The agenda of the meeting comprised of an introduction session of COMSATS an in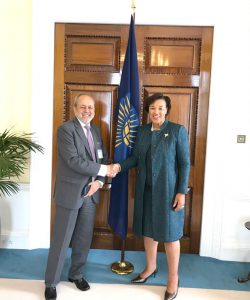 ternational, intergovernmental organization, as the realization of the idea of Dr. Abdus Salam. Dr. Zaidi provided a brief overview regarding the presence of the Commission in the South, with aims of seeking partnership opportunities in the North.
Dr. Zaidi also discussed the recent application of COMSATS for Accreditation to the Commonwealth, for which the final decision is due to be received in June 2018. The Secretary General reassured Dr. Zaidi of the decision, and looked forward to welcoming COMSATS to the Commonwealth, once accredited.
The Secretary General discussed the potential opportunities of collaboration between COMSATS and the Commonwealth in areas including Climate Change, Sustainable Development Goals (SDGs), and the Commonwealth Innovation Hub amongst other areas of interest. Dr. Zaidi positively endorsed the ideas presented for collaboration in the areas highlighted by the Secretary General, and expressed willingness of COMSATS to take further action for implementation.
She also mentioned that such potential collaborations would help develop synergies in areas of interest and enhance the strength and impact of joint activities. The meeting ended on a positive note for further collaboration while COMSATS looks forward to joining the Commonwealth.