Dr. S. M. Junaid Zaidi, Executive Director COMSATS, call upon the High Commissioner of South Africa in Pakistan, H. E. Mpendulo Jele Kumalo, on August 24, 2017. During the meeting, the High Commissioner was accompanied by Ms. M. S. Mkhwebane, First Secretary (Corporate Services). Other COMSATS' officials attending the meeting included Mr. Tajammul Hussain, Advisor (Programmes), Ms. Fauzia Nasreen, Advisor (Centre for Policy Studies), COMSATS Institute of Information Technology (CIIT), Ms. Huma Balouch, Senior Assistant Director (Programmes), Ms. Farhat Noor, President, Institute of Peace and Diplomatic Studies (IPD), Mr. Shahzad Ahmed, Manager (IR), and Mr. Zubair Iqbal, Senior Programme Officer.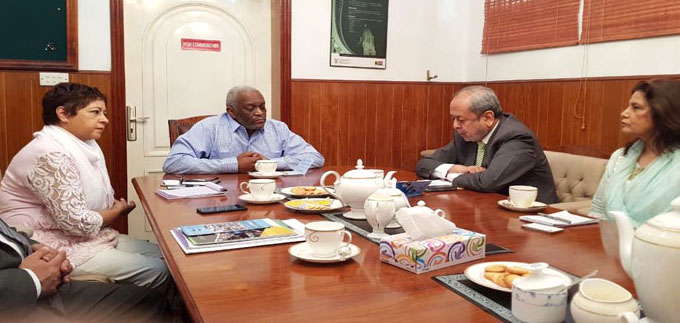 One of the purposes of the meeting was to harness the goodwill of South African foreign mission leading to the country joining COMSATS as a Member States. This is in line with the new campaign of COMSATS Secretariat to expand the organization's membership.
Dr. Zaidi was warmly received by the High Commissioner based on his earlier meeting with him in his capacity as the Rector CIIT and congratulated him on his appointment as the Executive Director COMSATS.
Tracing COMSATS back to Prof. Abdus Salam's idea to attain socio-economic development of the South through cooperation in S&T, Dr. Zaidi informed the High Commissioner about COMSATS' international programm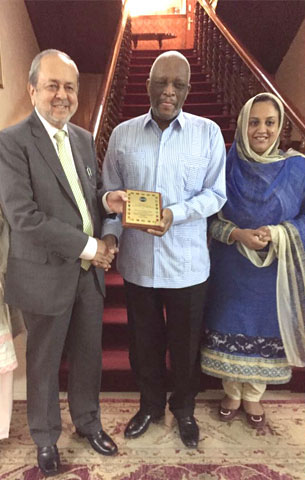 es and activities conducted through a network of 21 Centres of Excellence, predominantly from its 25 Member States. The High Commissioner was informed that His Excellency, Hon. Nana Addo Dankwa Akufo-Addo, the President of Republic of Ghana is the present Chairperson of COMSATS.
His Excellency was informed about the number of benefits that the Republic of South Africa can avail by joining COMSATS that include: postgraduate, doctoral and postdoctoral scholarships at COMSATS' Centres of Excellence in China, Egypt, Bangladesh, and Pakistan; participation in technology-transfer programmes as well as Collaborative Research Programmes (CRP) in partnership with COMSATS' partner international donor/development agencies; training programmes at selected CoEs, participation in International Thematic Research Groups (ITRGs), help and advice by a panel of experts on ST&I policy, and exchange visits of scientists for exploring bilateral cooperation avenues between institutions having common research interests.
On the matter related to the financial obligations of the Member Countries towards COMSATS, Dr. Zaidi informed that Member States make voluntary contributions which are used solely for the projects and programmes involving the contributing country. In view of his term as the High Commissioner ending by the end of the year, His Excellency proposed to dispatch a letter, addressed to the relevant Ministry in South Africa, bearing necessary information on COMSATS and formal invitation to the Government of South Africa to join as Member State.
During the meeting, the Advisor (Programmes) recounted COMSATS' support extended to the scientific community of South Africa over the years in various forms, including travel grants to two South African scientists for facilitating their participation in capacity-building meetings, as well as organization of three capacity-building events in South Africa.
The honourable High Commissioner appreciated COMSATS' programmes aimed at South-South cooperation and scientific capacity-building of its Member States, and pledged to approach the South African Ministry of Science and Technology.
The meeting concluded with the invitation from Executive Director to His Excellency Mpendulo Jele Kumalo to visit COMSATS Secretariat.