The Executive Director COMSATS, Dr. S. M. Junaid Zaidi, called upon H.E. Ali Alizada, Ambassador of Republic of Azerbaijan to Pakistan, at the Embassy of Azerbaijan, on 21st August, 2017. The primary objective of the meeting was to offer COMSATS' membership to the Republic of Azerbaijan as well as to explore opportunities of collaboration with the R&D organizations and universities in the country. The Executive Director was accompanied by Mr. Tajammul Hussain, Advisor (Programmes) COMSATS; Mr. Asif Noor, Director IPD; Mr. Farhan Ansari, Senior Assistant Director (Programmes) COMSATS; and Mr. Shahzad Ahmed, Manager (IR), COMSATS Institute of Information Technology (CIIT).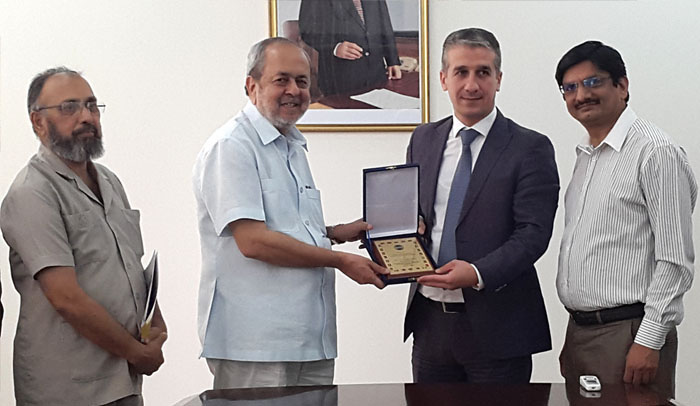 The Executive Director introduced COMSATS and shed light on its organizational structure, statutory bodies, and ongoing programmes and activities. In this regard, he highlighted the expertise and technical facilities available at the 21 Centres affiliated with COMSATS' Network, as well as the opportunities of postgraduate scholarships and postdoctoral fellowships offered by these Centres. The Executive Director invited the Republic of Azerbaijan to join COMSATS as a Member State, in order to fully avail the opportunities available at this forum for South-South cooperation in science and technology.
The honourable Ambassador thanked the Executive Director COMSATS for his visit, and expressed pleasure to have learnt about the ongoing activities of COMSATS. He considered COMSATS as an able platform for the promotion of South-South cooperation for achieving S&T led socio-economic progress in developing countries. He thanked COMSATS for the offer of membership to Azerbaijan, and pledged to convey the feedback of Azerbaijan's Foreign Ministry in due course of time. He also informed the visitors about the recent initiatives of the government of Azerbaijan for strengthening S&T sector in the country, including the establishment of S&T Parks and Research Institutions. He took special interest in the scholarships offered by COMSATS' Centres of Excellence, and requested for further details in this regard. He also invited the delegations of COMSATS' Member States to Azerbaijan in order to explore possibilities of collaboration in the areas of mutual interest.
The Executive Director thanked the honourable Ambassador for his words of encouragement, and hoped that Azerbaijan will soon join COMSATS' family. The Advisor (Programmes) praised the capacity of Azerbaijan's scientific institutions and universities. He proposed that Azerbaijan's universities may offer scholarships for other developing countries, including COMSATS Member States. He informed the honourable Ambassador about capacity building activities of COMSATS, including a workshop on Internet Security scheduled to be held in Kazakhstan in December 2017, for which nomination of a suitable scientist from Azerbaijan was invited for participation.
The honourable Ambassador pledged to follow-up COMSATS' requests with the relevant organizations in Azerbaijan. The Executive Director presented to the honourable Ambassador COMSATS' informational material for further reading. The meeting concluded with the presentation of a Shield to the honourable Ambassador by Executive Director COMSATS.