The Executive Director COMSATS, Dr. S. M. Junaid Zaidi, called upon H.E. Erik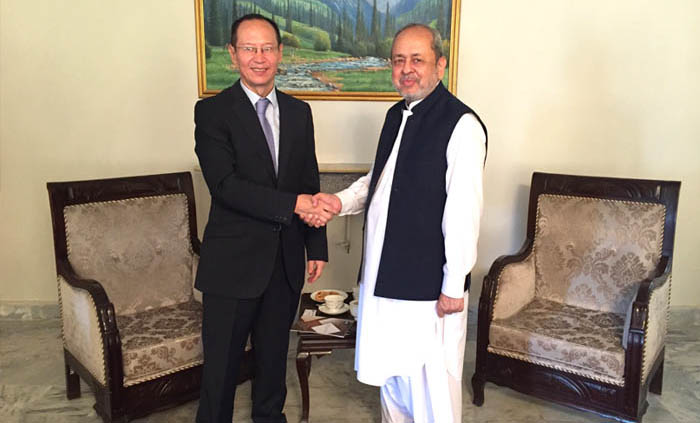 Beishembiev, Ambassador of Kyrgyz Republic to Pakistan, at Embassy of Kyrgyz Republic, on 4th August, 2017. The agenda of the meeting was to offer COMSATS' membership to Kyrgyz Republic and explore the opportunities of cooperation between COMSATS' network of Centres of Excellence and R&D organizations in the country. The meeting was also attended by Mrs. Farhat Asif, President Institute of Peace and Diplomatic Studies (IPD); Mr. Asif Noor, Director IPD; Mr. Farhan Ansari, Senior Assistant Director (Programmes), COMSATS; and Mr. Shahzad Ahmed, Manager (IR), COMSATS Institute of Information Technology (CIIT).
The Executive Director introduced COMSATS and highlighted its contributions for promotion of Science and Technology in Member States since its inception. He opined that the scope of COMSATS' activities can be enhanced by expanding its state membership. Upon inquiry, the Executive Director explained to the Ambassador, the procedure of how a country can become a member of COMSATS' Commission. It was informed that COMSATS would be sending a membership proposal along with relevant documents for consideration of Kyrgyz Embassy and the Ministry of Science and Technology in Kyrgyz Republic.
He further briefed His Excellency about the Annual Membership Contribution from Member States and its utilization for the collaborative programmes in respective Member States. The Executive Director also shared COMSATS' informational material with the Ambassador and highlighted the importance of working for South-South and North-South cooperation.
Mr. Asif Noor, Director IPD, informed the Ambassador about the working arrangement between COMSATS and IPD established through a recently signed MoU to work on mutually beneficial programmes. The Ambassador was informed that COMSATS is providing support to IPD for the promotion of its training programmes among COMSATS' Member States. Similarly, IPD is promoting COMSATS' activities within diplomatic communities of Pakistan.
The Executive Director also expressed that COMSATS is willing to provide all kinds of support for establishing new universities in member countries. A discussion was carried out on the experience of establishment and progress of COMSATS Institute of Information Technology which could serve as a model of Academic Excellence for other member states. The Ambassador informed that he had visited CIIT Lahore Campus for participating in a workshop and praised the facilities which CIIT is offering to the students and also showed interest in visiting CIIT Islamabad campus. The Executive Director extended invitation to the Ambassador for visiting COMSATS and CIIT in Islamabad which he graciously accepted.
The meeting ended on a note of commitment to engage stakeholders for working on advancement of developing countries through Science and Technology.