COMSATS Institute of Information Technology (CIIT) held its 19th Convoca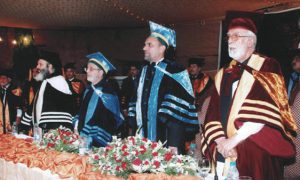 tion on 16th May 2009, at Lahore Campus. Senior Advisor to the Chief Minister Punjab, Sardar Zulfiqar Ali Khan Khosa, graced the occasion as the Chief Guest, in place of the Chief Minister. Federal Minister for Science and Technology, Mr. Muhammad Azam Khan Swati, who is also the Chancellor CIIT; Executive Director COMSATS, Dr. Imtinan Elahi Qureshi, in his capacity as Chairman Board of Governors (BOG) of CIIT; Rector CIIT, and other members of BOG of CIIT also participated in the event.
In his address, the Chief Guest deemed the progress in information technology vital for a country to become financially independent. He, therefore, expressed the Government of Pakistan's intent to provide Pakistan with a sound economic infrastructure by promoting information technology. Earlier, Dr. S.M. Junaid Zaidi, Rector, CIIT highlighted major activities and programmes of the Institute. Mr. Azam Khan Swati, delivered a welcoming address and praised the merit-based policies of the Punjab Government. Expressing the need to strengthen S&T institutions like CIIT in order to improve Pakistan's image globally, he apprised the participants that the Ministry of S&T aims at making CIIT financially independent, for which an endowment found of 5 billion rupees is required. In this regard, he particularly requested the Government of Punjab for a grant of 10 million rupees towards this fund.
At the conclusion of the ceremony, the Chief Guest awarded 281 students with degrees in the fields of Computer Science, Management Science, Electrical Engineering, Chemical Engineering, Mathematics, Architecture, Biomedical Material Sciences and Physics, as well as medals to 16 position holders.