Third lecture under 8th session of COMSATS' Lecture Series on "South – South and Triangular cooperation for Socio-economic Development in the South" was delivered by Mr. Declan Kirrane, Director, Intelligence in Science (ISC), Belgium. Held on 9th March 2021, the lecture was titled "The Contribution of the EU Horizon Europe and Neighborhood, International Development and Cooperation Instrument, NDICI, to Science Capacity Building to Support the United Nations Sustainable Development Goals, and the Potential Role for COMSATS".
It was informed by Mr. Kirrane that Horizon Europe is the main research and science progr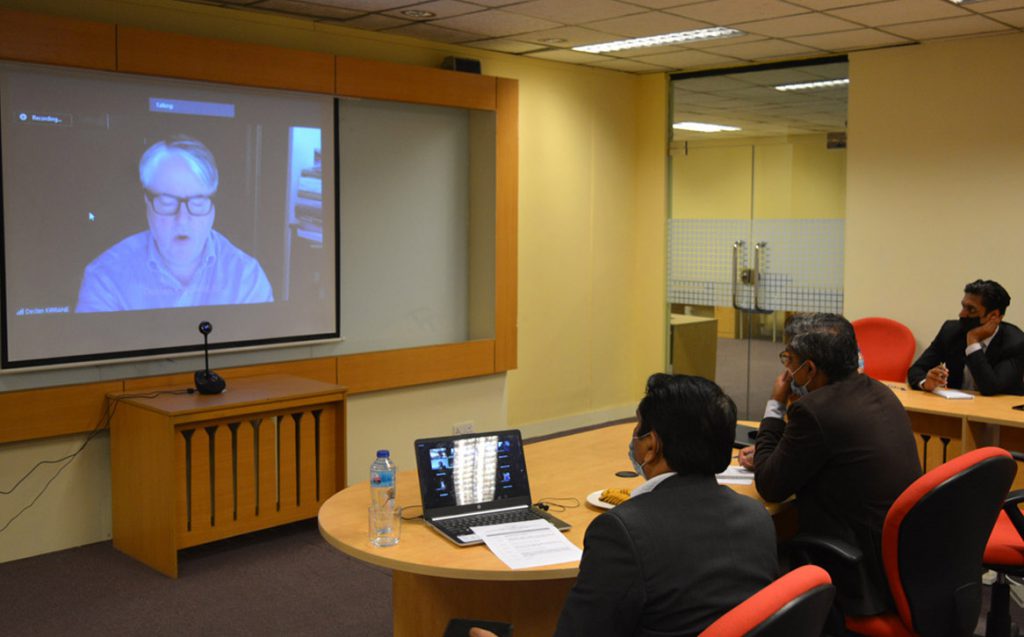 amme funded by the European Union (EU) having various editions, including Horizon 2020. The programme supports EU's collaborative research activities and has opportunities for all to participate and contribute. It was learnt that new Horizon programme will be launched in April 2021, which would also provide a platform for COMSATS' Member States to engage and collaborate with EU to help address global issues. Additionally, a meeting has been scheduled for June 2021, the focus of which would be collaboration between EU and Africa.
Mr. Kirrane also informed that ISC and other collaborators are planning to organize a series of events on the sidelines of United Nations General Assembly in September 2021. The objective of the afore-mentioned events would be to raise awareness of the role and contribution of science to SDGs. He also proposed cooperation with COMSATS in organizing one-day activities with participation of Ministers from COMSATS' Member States.
Neighborhood, Development and International Cooperation Instrument (NDICI) was mentioned as another programme of the European Union, which was proposed by the European Commission on 14 June 2018, as part of a dedicated communication titled 'a modern budget for a union that protects, empowers and defends'. The aim of the afore-mentioned instrument is to make the financing of EU external action more coherent, transparent and flexible, and allows EU to effectively uphold and promote its values and interests worldwide. NDICI is EU's main financial tool against poverty and for promoting sustainable development, prosperity, peace and stability. It was also informed that the NDICI programme is the principal instrument whereby the European Union supports development. The programme though not a science-led programme holds science central to achieving its objectives in the areas of education, agri-food, economic development, and governance. Mr. Kirrane urged COMSATS' Member States to engage in priority setting process which is handled by EU delegations in each of the eligible nations. He also informed that NDICI programme of the European Union have opportunities for over 80 countries.
Furthermore, it was communicated that an annual flagship Research and Innovation event of EU – European Research and Innovation Days (EU R&I) – is scheduled to be held on 23rd and 24th June 2021. The event brings together policymakers, researchers, entrepreneurs and the public to debate and shape the future of research and innovation in Europe and beyond. Mr. Kirrane proposed organizing "COMSATS Information Day" to help explore synergies with Horizon Europe as well as other organizations participating in the event.
During the discussion session, Eng. Abeer Arafat, Assistant to the President for Special Projects, Royal Scientific Society (RSS), Jordan, requested for detailed information on Horizon programme as well as inquired about available opportunities for Jordan under the said programme. Mr. Kirrane pledged sharing information and relevant documents on Horizon programme.