Mr. Khalil-ur-Rahman Hashmi, Director General (UN), Ministry of Foreign Affairs, Government of Pakistan, visited COMSATS Headquarters and held a meeting with the Executive Director COMSATS, Dr. S.M. Junaid Zaidi and other officials on 14th November 2018.
The Executive Director COMSATS made a brief presentation coverin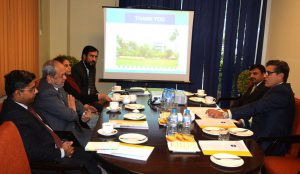 g the scope, activities, and capacity building programmes, and notable achievements of the organization. Dr. Zaidi gave a detailed insight on the flagship projects of COMSATS namely, COMSATS University Islamabad (CUI), COMSATS Internet Services (CIS), and COMSATS Tele-Health Services. He continued, COMSATS University Islamabad (CUI), is one of the big achievement of the organization. It is one of the leading Universities with 7 fully functional campuses in various cities of Pakistan, ranked at top-most position in the country. He also stated that COMSATS wishes to set-up universities in other Member States, especially in China, Nigeria and Sri Lanka. Highlighting the COMSATS' Network of International S&T 22 Centres of Excellence, Dr. Zaidi stated that the Network comprise of highly reputed R&D Centres of the south, while efforts are being made to bring some top institutions from the North in the Network. In order to solicit support from Foreign office of the host country, Dr. Zaidi put forward the following desires: to seek support in COMSATS' membership drive; the Ministry can play its role to get benefit from COMSATS towards Pakistan in many ways including inviting expert / scientists from COMSATS member states, establishment of top-class universities in the country, capacity building programs, experts opinions on socio-economic development initiatives etc.
The Director General was impressed by the accomplishments of COMSATS and its flagship projects, he also appreciated the pivotal role of COMSATS for the socio-economic development of its member states, and valued its contribution in the field of science and technology. He, in his remarks, assured full support of his Ministry in supporting activities of COMSATS and pledged to assist in further networking, international representation and bilateral engagements with missions abroad.
The meeting concluded with a pledge to broaden and deepen their cooperation in S&T to advance their ties and presentation of COMSATS' publications to the Director General.