H.E. Mr. Zardasht Shams, Deputy Head of Mission of Afghanistan to Pakistan, visited COMSATS Secretariat on 31st October 2017 on invitation from the Executive Director COMSATS, Dr. S.M. Junaid Zaidi. The visit was a part of COMSATS membership campaign. His Excellency was accompanied by Mr. Daud Mohseni (First Secretary), and Mr. Hamayun Ali (Education Attaché). Senior officials of COMSATS were also present during the meeting.
After a formal welcome, Dr. Zaidi thanked His Excellency for his visit to COMSATS Secretariat and shared his views on potential cooperation between Afghanistan and COMSATS. Dr. Zaidi expressed his desire to develop a research institute or university in Afghanistan in line with country's needs.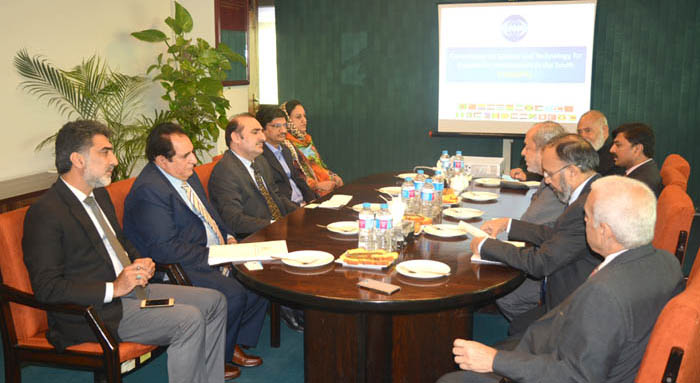 He introduced COMSATS as a unique intergovernmental organization working for science-led sustainable growth in the South with 25 Member States and a network of 21 International Centres of Excellence. The organization, he noted is helping to accomplish its goals by providing essential scientific and technological resources. He highlighted the flagship projects of COMSATS including COMSATS' Telehealth, COMSATS Internet Services (CIS), and COMSATS Institute of Information and Technology. Dr. Zaidi hoped that Afghanistan would benefit more from COMSATS by joining the organization.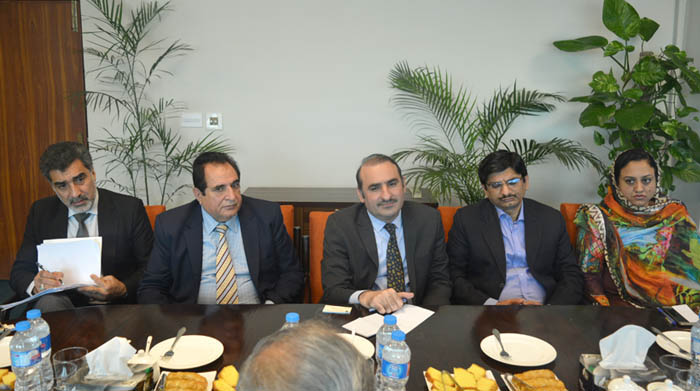 Dr. Zaidi shed light on Tele-health project and shared a concept paper with the Ambassador in this regard. Dr. Zaidi noted that tele-health is the mutual interest area for Afghanistan and COMSATS. Telehealth centres can be operated from Kabul to provide immediate and best health services to the remote areas in Afghanistan. The Ambassador showed great interest in learning more about this project. Dr. Zaidi also mentioned the benefits of joining COMSATS as a member state. His Excellency was also briefed about the AMC (Annual Membership Contribution) and was informed that these funds are kept separate and are used only for the contributing member country.
The Ambassador thanked Dr. Zaidi for his invitation and appreciated the efforts made by COMSATS to enhance international collaboration. He explained the transition period of development that Afghanistan is undergoing and hoped that the country continues to grow in future. He was willing to know which ministry would help in correspondence and collaboration between Afghanistan and COMSATS. Dr. Zaidi informed the Ambassador that the Ministry of Foreign Affairs may be appointed as a focal point of correspondence and collaboration between Afghanistan and COMSATS. His Excellency was keen to share all the information with relevant officials of Afghanistan to open new doors of collaboration between the two.
Speaking on the occasion, a senior official of COMSATS, Dr. Abdul Aziz Khan, delineated on benefits of joining COMSATS. He noted that any researcher or scientist from Afghanistan can join the International Thematic Research Groups (ITRGs) established by COMSATS. It will enhance their capacities by attending the annual meetings, and seminars and workshops that are organized by COMSATS. His Excellency suggested to invite the experts of relevant fields from Kabul to COMSATS for discussion and future policy, at later stages of correspondence.
Mr. Tajammul Hussain, Advisor (Programmes), further added that joining COMSATS as a Member State will be beneficial for Afghan students and scientists as many scholarships are offered by COMSATS Centres of Excellence.
The meeting concluded with the handing over of promotional documents of COMSATS to Deputy Head of Mission of Afghanistan.