The senior officials of COMSATS Headquarters, led by Dr. I.E. Qureshi, Execu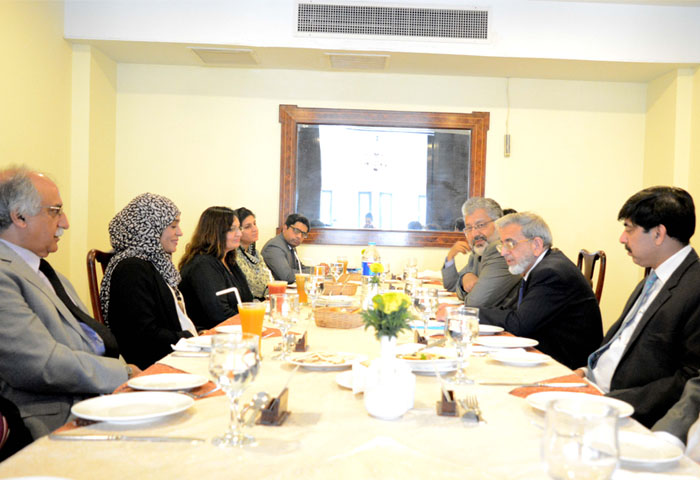 tive Director COMSATS, held a luncheon meeting with H.E. Dr. Amina Obaid Ramadhan Alhajri, Deputy Director General ISESCO, on 21st February 2015, in Islamabad, in order to discuss matters related to expanding cooperation between the two organizations for the benefit of their common Member States. Also attending the luncheon meeting were Prof. Dr. Mukhtar Ahmed, Chairman, Higher Education Commission (HEC) of Pakistan, as well as senior officials of COMSATS Institute of Information Technology (CIIT), including its Registrar, Prof. Dr. Izhar Hussain; Incharge of International Office, Dr. Arshad Saleem Malik; and Director, Planning, Development and Human Resource Development, Mr. Tahir Naeem (also Executive Director of the Inter Islamic Network on Information Technology (INIT)). Dr. Alhajri was present in Islamabad in connection with her participation in the Vice Chancellors' Forum on Universities in the Islamic World: Facing Global Challenges (February 23-24, 2015, Islamabad, Pakistan).
The Executive Director overviewed the cooperation between COMSATS and ISESCO whereby the two organizations jointly organized 30 capacity building events/activities since 2004, while six are planned to be held during 2015. He noted that some of these joint activities have become periodical and a regular feature of COMSATS-ISESCO cooperation programmes. He thanked the honourable Deputy Director General ISESCO for her personal interventions with regard to identifying a suitable institution in Oman to host the 8th COMSATS-ISESCO National Training Workshop on 'Repair and Maintenance of Scientific Equipments in Universities, Research Institutions, and Small Scale Industries' during 2015. He informed that this series of workshops has helped the R&D organizations and universities of the developing countries in building their capacities for indigenously repairing and maintaining their scientific equipment and instruments. Details regarding the 7th workshop of this series held during 2014 in Iran were shared by Mr. Nisar Ahmad (Deputy Director, COMSATS Headquarters).
| | | |
| --- | --- | --- |
| | | |
The Executive Director also acknowledged the support of INIT as a partner organization for conducting the series of events on topics such as Internet Security; National Innovation System and Intellectual Property; and applications of ICTs. While overviewing the activities of COMSATS' International Thematic Research Groups (ITRGs), the Executive Director gratefully acknowledged ISESCO's financial support towards the research projects of ITRGs on 'Mathematical Modeling' (launched in December 2014) and 'Agriculture, Food Security and Biotechnology' (planned to be launched in June 2015). Further details on this subject were shared by Sr. Assistant Directors at COMSATS Headquarters, Mr. Farhan Ansari and Ms. Huma Balouch. The Executive Director recalled that COMSATS is maintaining the web-portal of ISESCO Center for Promotion of Scientific Research (ICPSR), and also offered support for maintaining the websites/web-portals of two other subsidiary organs of ISESCO, the Federation of the Universities of the Islamic World (FUIW), and the Islamic Body on Ethics of Science and Technology (IBEST).
Dr. Alhajri stated that ISESCO greatly values its cooperation with COMSATS, and wishes to continue the same in future. She informed that ISESCO is, currently, in the process of chalking-out its programmes for the years 2016-18. In this regard, Dr. Alhajri invited COMSATS to submit a proposal for a regional training programme for Gulf countries. She also welcomed COMSATS' offer of maintaining websites of IBEST and FUIW, and advised to submit a formal proposal in this regard. The Deputy Director General informed that ISESCO has requested the Oman National Commission for Education, Culture and Science, to host the afore-mentioned national training workshop on repair and maintenance of scientific equipments/instruments. She opined that this joint activity of COMSATS and ISESCO will be highly beneficial for the engineers, scientists and technicians of R&D organizations and universities of Oman, which may also open avenues for Oman's accession to COMSATS as a Member State. Dr. Alhajri also shed light on the newly initiated scholarship programme of ISESCO, and expressed ISESCO's willingness to support the research projects of other ITRGs of COMSATS, in addition to the two groups working in the fields of mathematical modeling and agriculture, food security and biotechnology, respectively.
The participating officials of CIIT and HEC also discussed matters related to their collaboration with ISESCO. The meeting concluded with the commitment of pooling human and technical resources available with COMSATS and ISESCO for addressing the challenges facing the socio-economic development of their Member Countries.