Mr. Tajammul Hussain, Advisor (Programmes), COMSATS Headquarters, visited Accra, Ghana, from 9th to 15th August 2015, in order to undertake consultations with the Ghanaian Government officials in connection with the preparations of forthcoming 3rd Commission Meeting of COMSATS to be held in Accra, Ghana, on 27-28 October 2015. The Commission Meeting will be preceded by the 3rd Meeting of COMSATS Consultative Committee (26th October 2015).
During his visit, the Advisor (Programmes) participated in two meetings of the Planning Com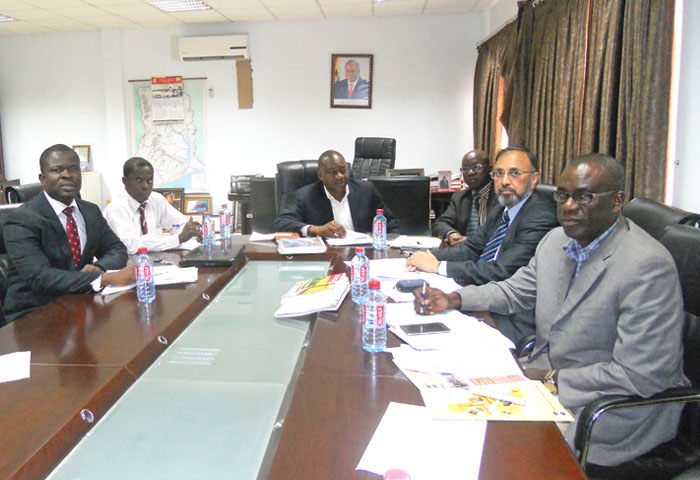 mittee, constituted to organize the Commission and Consultative Committee meetings, which were held on 10th and 14th August 2015, respectively. The meetings were chaired by Hon. Rashid Pelpuo, Minister of State in charge of Private Sector Development & Public-Private Partnerships, Government of Ghana, in his capacity as the Chairman Planning Committee. The meetings were attended by the following members of the Planning Committee: Dr. Yahuza Mohammed Gomda, Director (Science, Technology and Innovation), MESTI; Dr. Eugene Atiemo, Director, Building and Road Research Institute (BRRI); Prof. Innocent J. K. Aboh, Deputy Director General, Ghana Atomic Energy Commission; Mr. Marcus Addo, State Protocol Department; Ms. Adelaide A. Asante, Deputy Director (S.T.I), MESTI; and Mr. J.K. Arthur, Research Scientist, MESTI.
During the meeting held on 10th August 2015, the Advisor (Programmes) made a detailed power-point presentation in which he shared COMSATS' experience of organizing the last Commission Meeting in April 2012 in Islamabad with the participating members of the Planning Committee. The Planning Committee briefed the Advisor (Programmes) regarding the preparations being made for the holding of afore-mentioned meetings, and informed that the invitation letters to the Commission Members have been dispatched by the office of the honourable President of Ghana (Chairperson of COMSATS) during June 2015. During discussion on various documents to be prepared for the meetings, it was decided that the Council for Scientific and Industrial Research (CSIR), Ghana, will prepare a document titled 'Information Guide and S&T Panorama of Ghana'. During the Planning Committee meeting held on 14th August 2015, discussions were held on matters related to the venue, budget and other administrative arrangements for the meetings. It was agreed that necessary actions will be taken to follow-up the invitation letters sent to the Commission members by the relevant departments of the government of Ghana as well as COMSATS Secretariat.