COMSATS Facilitates UNOSSC in organizing Capacity Building Webinar on Digital Government and Transformation: Exploring South-South and Triangular Cooperation Innovations
One of the partnerships that COMSATS has forged in recent years is with the United Nations Office for South-South Cooperation (UNOSSC) to advocate for and coordinate South-South and Triangular Cooperation (SSTC). As a key facilitator for capacity development programmes on South-South and Triangular cooperation, COMSATS was invited to participate in UNOSSC's Capacity Building Webinar on 'Digital Government and Transformation: Exploring South-South and Triangular Cooperation Innovations', held on from 2nd to 5th November 2021. This webinar was organized in partnership with the Asian and Pacific Training Centre for ICT for Development, a regional institute of the Economic and Social Commission for Asia and the Pacific (ESCAP), and Amazon Web Services Institute. Managers and mid-level professionals from central and local governments, as well as government agencies in charge of digital project creation and implementation, were invited to participate.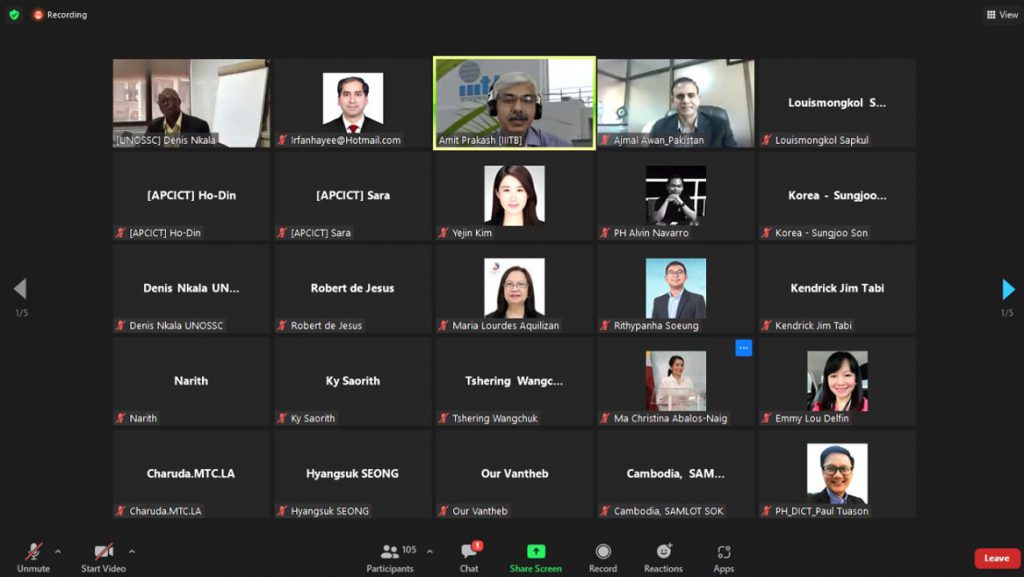 In view of COMSATS' strength in the form of its Network of International S&T Centres of Excellence, UNOSSC also requested COMSATS to nominate relevant subject expert to conduct a technical session on 'Emerging Technologies' as guest speaker on 4th November 2021. In consultation with one of its Centres of Excellence – The Scientific and Technological Research Council of Turkey (TUBITAK) – COMSATS nominated Deputy Director, TÜBİTAK BİLGEM Software Technologies Research Institute (YTE), Dr. Nuriye Ünlü, to speak on key emerging digital government trends; potential of Artificial Intelligence (AI) technologies in digital government and ethical concerns associated with AI; as well as to discuss the need for and importance of robust data governance and digital identity systems.
During her presentation, Ms. Ünlü noted that Turkish government has developed its National Artificial Intelligence Strategy for the years 2021-2025. Developed by the Presidency's Digital Transformation Office and the Ministry of Industry and Technology, the strategy aims to consolidate Turkey's artificial intelligence objectives and provide the groundwork for a more aggressive investment plan. Plans and efforts are underway to prepare Turkey's public institutions for integrating next-generation technology and to have effective data-driven decision-making processes. She also noted that Turkey has launched several production and incentive opportunities to support R&D activities in emerging technology fields with high impact including; information security, energy storage, advanced functional materials & energetic materials, biotechnological medicine, broadband technologies, electro mechanic systems, artificial intelligence & machine learning technologies, micro-nano optic electronic systems, robotics, mechatronics & automation, motor technologies, big data and data analytics and Internet of Things (IoT).
Under one of the agenda items of the webinar, national digital government strategies and programmes of selected countries in Asia and the Pacific were discussed. Availing on this opportunity, COMSATS liaised with the Ministry of Information Technology and Telecommunication (MoIT&T), Government of Pakistan to make their participation possible for the event through presentation of the country's national strategy. This resulted in Mr. Ajmal A Awan, Member International Coordination, MOIT&T, representing Pakistan in the session.
Mr. Awan highlighted the programmes and projects of the Government of Pakistan to increase the com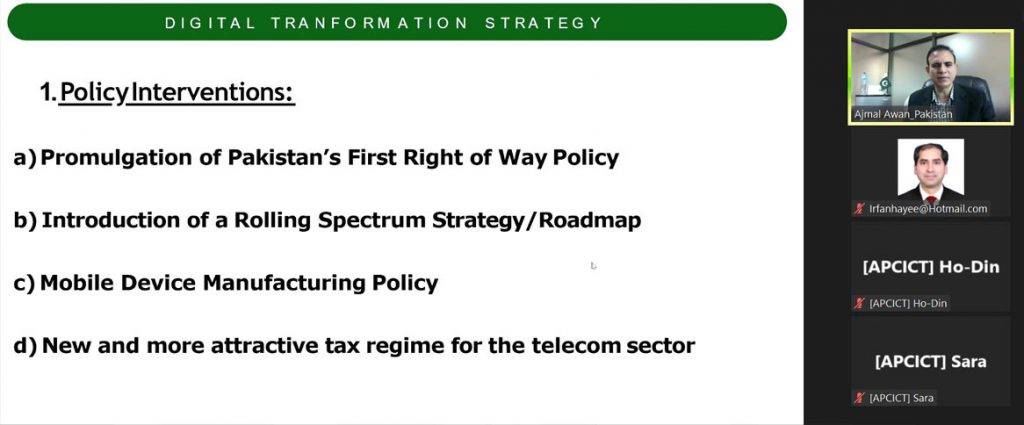 petence of individuals, institutions and companies in the field of emerging technologies, including big data and artificial intelligence. He also stated that Pakistan was already committed to bringing about a major digital transformation even before the COVID-19 pandemic, expedited further by the Pandemic. The Pakistani government's latest digital initiatives – particularly the Digital Pakistan Policy 2021, three-year rolling Spectrum Strategy, Digiskills training program, supportive Regulatory Regime, tax benefits for the ICT industry will help increase production of scientific, indigenous and unique advanced technology products and systems. Mr. Awan stressed that achieving digital transformation is fundamental for long-term prosperity of countries in the South in the post-pandemic age.
In other technical sessions of the webinar, the discussions and deliberations focused on information-sharing on digital initiatives and strategies; design approaches for digital government and governance; digital government technology trends; as well as policy and operational aspects related to implementation of digital government programs and projects. Moreover, intellectual discourse was held on open source and government digital transformation.
The webinar provided an opportunity for participants in developing better understanding of the nature of policy frameworks across different sectors of governments for effective and coherent digital government transformation and required components in establishing the institutional foundations needed to support digital government strategies.