Young scientists receive training on 'Industrial Synthetic Biotechnology' organized by COMSATS Joint Centre for Industrial Biotechnology (CCIB-TIB), China
The ten-day training on 'Industrial Synthetic Biotechnology' concluded on 30th December 2021 after building scientific capacity of 80 scientists and scholars from 17 developing countries in various frontier technologies.
The training was organized by COMSATS Joint Centre on Industrial Biotech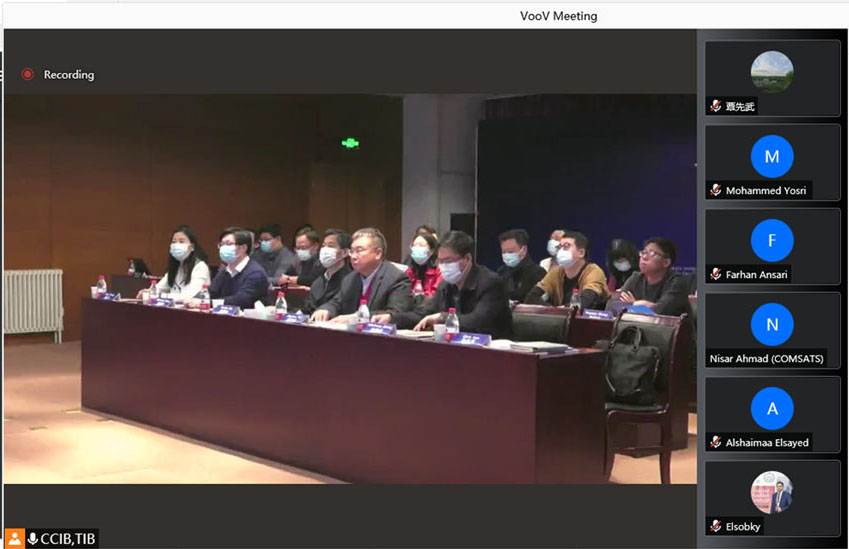 nology (CCIB) and hosted by one of COMSATS' Centres of Excellence, the Tianjin Institute of Industrial Biotechnology (TIB), China. TIB is a leading institute of Chinese Academy of Sciences, well equipped with state-of-the-art facilities, excels in the field of synthetic biology and green bio-manufacturing.
The Alliance of International Science Organizations (ANSO); the Department of International Cooperation, Ministry of Science and Technology (MOST-China); the Commission on Science and Technology for Sustainable Development in the South (COMSATS); and United Nations Educational, Scientific and Cultural Organization (UNESCO) provided patronage for the training program. Patronage from COMSATS and UNESCO was provided under a project framework "South-South Regional Technical Cooperation Programme. Besides MOST-China and three intergovernmental agencies, the CAS-TWAS Center of Excellence for Biotechnology, China; and Innovation Cooperation Center, Bangkok supported the organization of the event that was held from 20th to 30th December 2021.
The broad objectives of the training were to provide theoretical and practical laboratory training on fundamentals underlying the industrial synthetic biotechnology and introduce the participants on the progress in frontier technologies in various areas, including biomedicine, bio-agriculture, future food, bio-chemicals, bio-based materials, and bioenergy. The training program primarily comprised six technical sessions having keynote lectures and talks by subject experts focused at applications of industrial synthetic biotechnology; as well as six experimental sessions, and a group discussion focused at fostering interaction and future collaboration among participating researchers from developing member countries.
The training had notable international participation mainly covering member states of COMSATS and that of the Road and Belt Initiative (BRI). Fifty international trainees belonged to Bangladesh, Cambodia, China, Egypt, Ghana, Pakistan, Iran, India, Jordan, Kazakhstan, Morocco, Nepal, Nigeria, Sri Lanka, Rwanda, Tanzania, and Zimbabwe. In the wake of COVID19 pandemic and related travel restrictions, the medium for training was kept online, and only 40% participants from the host country, China, were allowed to attend the training in person.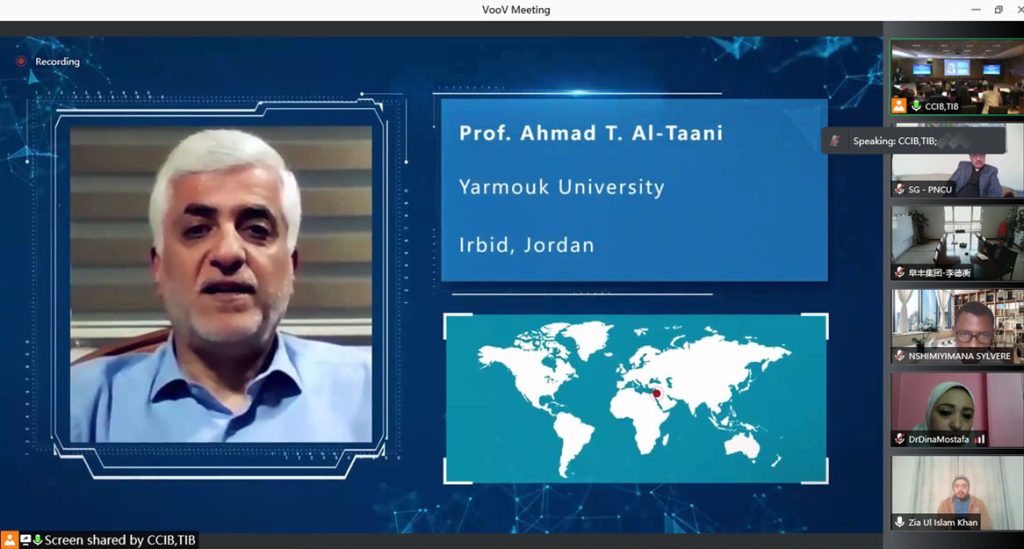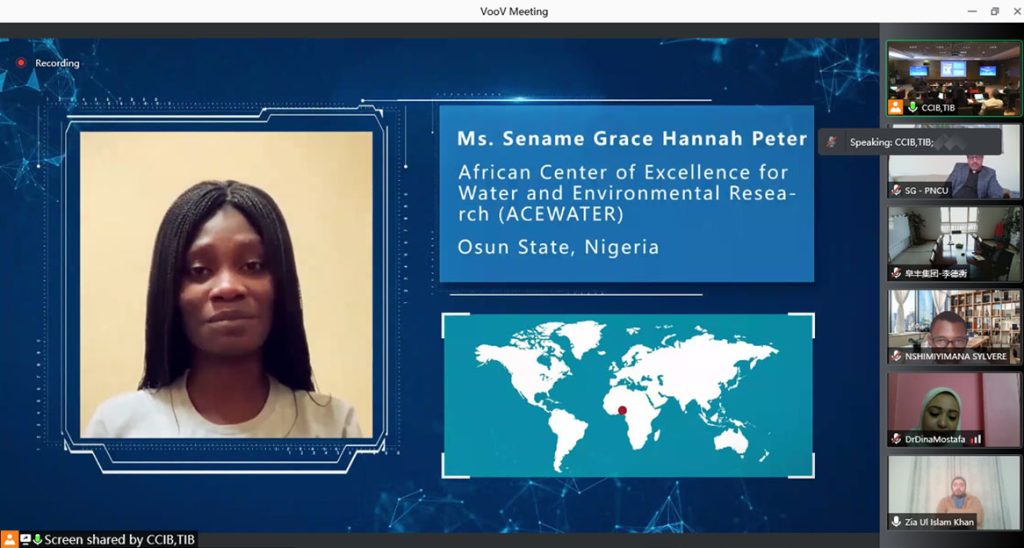 During the training program, emphasis remained on highlighting advancements in synthetic biotechnology and how innovations in synthetic biology could benefit humanity in providing solutions to medical, environmental, and agricultural challenges. The training course also addressed other areas where synthetic biotechnology can be applied and challenges and opportunities regarding production strategies and applications of microbial cell with emphasis on food and energy applications were also highlighted.
Some of the main topics covered under six themes were: 1) Frontier Technology on Biomedicine: Biosynthesis of Plant derived natural products, green bio-manufacturing of fine chemicals including pharmaceuticals; 2) Frontier Technology on Bio-agriculture: biomass degradation and bio-based chemical production, synthetic microbiome and its application in Agriculture, intelligent design of artificial biological nitrogen fixation system and its application in agriculture; 3) Frontier Technology on Future Food: progress in production technology and industrialization of microbial polyunsaturated fatty acids, technology development of carbohydrate engineering, bio-manufacturing of artificial meat; 4) Frontier Technology on Bio-chemicals: Biochemical industry using bio-catalysis, challenges and opportunities for bioconversion of low-cost biomass into biofuels, bio-manufacturing and intelligent control systems; 5) Frontier Technology on Bio-based Materials: bio-based production of materials monomers; synthesis of biodegradable plastic polyactic acid in the era of SynBiotech, key technologies for strengthening the synthesis process of bio-based materials; 6) Frontier Technology on Bioenergy: progress of anaerobic digestion technology for biogas production, construction of bio-electrochemical system for bioelectricity conversion, synthetic microbial consortia for biofuel and natural products production.
During the experimental sessions, instructional videos, especially developed for this training program, provided step-by-step guidance on how to operate equipment, software or follow a technical process for high throughput and automated genetic engineering, technology of systems biology in metabolic engineering, X-ray Protein crystal structure determination, DNA synthesis, intelligent fermentation technology, and designing of metabolic pathways based on genome-scale metabolic network.
The trainers represented various Chinese academic and R&D institutions including Biotechnology Research Institute, Chinese Academy of Agricultural Sciences; Nanjing Tech University; Jiangnan University; Xi'an Jiaotong University; Guangdong Technion Isreal Institute of Technology; Institute of Microbiology, Chinese Academy of Sciences; Chongqing University, as well as Washington State University, USA. The speakers provided many useful ideas based on years of experience and expertise in their field.
During the concluding session, Director-General TIB, Prof. Jibin Sun, delivered a brief presentation on COMSATS Joint Centre for Industrial Biotechnology (CCIB). He noted that CCIB was established under the framework of National Technology Innovation Center of Synthetic Biology (NIC-Synbio) that is a comprehensive, integrated, open, and shared platform for COMSATS Member States to promote industrial biotechnology collaboration and bio-industry development. Highlighting the progress and ongoing research activities of the Centre, he informed that six R&D collaborative groups, comprising members from COMSATS Network of Centres of Excellence, aim to leverage collective expertise, resources and knowledge to support, enhance, enable and efficiently coordinating the human resource development, research, and industry crucial for economy.
In his closing remarks, Prof. Sun noted that the training course on synthetic industrial biotechnology – one of the very first capacity building initiatives in this niche – proved to be a great platform for not just reviewing what has been accomplished in the subject thus far, but also for setting out ideas and working out a roadmap for how research in this area could be expanded in the future. He appreciated the strenuous efforts of the organizers and partner institutions in making the event a success.
During the group discussion session, which provided extensive networking opportunities, the trainees held discussions on some of the major research endeavours over the last decade devoted to industrial synthetic biotechnology with a view to establishing prospective partnerships and form new synergies. At the end of graduation ceremony, the participants shared the information regarding their different skillsets, vast research experience and diverse academic backgrounds and agreed to collaborate for interdisciplinary research projects of CCIB's R&D Groups on bio-medicine, bio-agriculture, future food, bio-energy, bio-chemical, and bio-based materials.