The Executive Director COMSATS held a meeting with Mr. Stoyan Bantchev, Chief of UNESCO's Participation Programme Section at UNESCO Headquarters in Paris on 6th May 2013. He was accompanied by Ms. Humaira Zia Mufti, Deputy Permanent Delegate of the Islamic Republic of Pakistan to UNESCO. Among the major points discussed on the occasion were: COMSATS role, as an inter-governmental organization of 21 countries spread across three continents, in promoting South-South Cooperation in Science and Technology; joint capacity-building activities held under UNESCO participation programme by COMSATS during the past few years; and future role of COMSATS in relation to UNESCO's international activities for the promotion of scientific research and education.
Dr. Qureshi briefed Mr. Bantchev about the 16th Coordinating Council meeting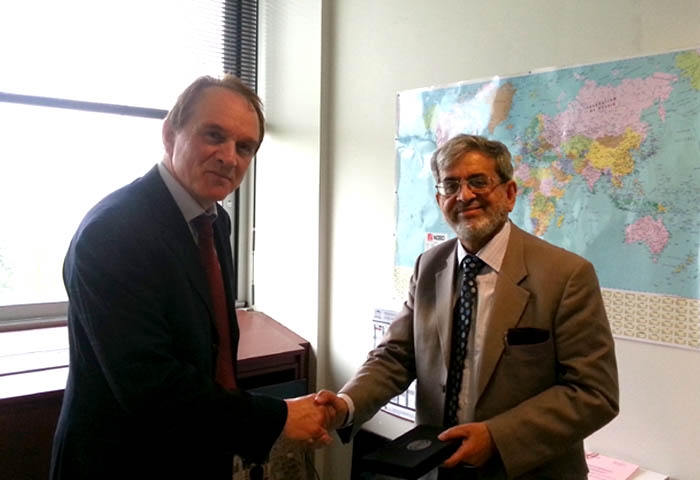 of COMSATS held in Accra (Ghana) on 2 – 3 May 2013. He emphasized that the COMSATS' Council meetings, attended by Heads of R&D organizations of Member States, provide a platform for S&T leaders of developing countries to exchange information about their current and future R&D efforts and learn from one another about the best practices and possibilities of cooperation. He thanked UNESCO for sending an observer to participate in Accra meeting. The UNESCO representative, Mr. Yoslan Nur, was kind enough to make a power point presentation outlining the role of ST&I Policy for Sustainable Development from UNESCO's perspective, for the benefit of Council Members. Learning about the scientific achievements of COMSATS' Network of Centres of Excellence was a highly informative experience for Mr. Nur, which he promised to report to relevant UNESCO officials. Mr. Bantchev noted that COMSATS' previous engagements with UNESCO in its participation programme through the offices of Pakistan National Commission for UNESCO (PNCU) in Islamabad have been very productive. With respect to the biennial 2012 – 13 for which the approval of COMSATS' proposal is still pending, he cited UNESCO's budgetary constraints and some pending issues with PNCU. Nevertheless, he assured the Executive Director that COMSATS' project will be accorded high priority on the recommendation of Deputy Permanent Delegate of Pakistan, Ms. Humaira Mufti. In her remarks, Ms. Mufti explained the position of PNCU and stressed the fact that the UNESCO's support for COMSATS-administered participation programmes have a multiplicative effect since COMSATS Headquarters as well as COMSATS Centres of Excellence make substantial contributions towards the scientific events credited to UNESCO.
In the end, Dr. Qureshi expressed his desire to create deeper institutional relations between COMSATS and UNESCO. He hoped that UNESCO will continue to participate in the meetings of COMSATS' statutory bodies, and likewise COMSATS would be invited in UNESCO's meetings as observer organization.
Earlier, the Ambassador of Pakistan and Permanent Delegate of Pakistan to UNESCO, H.E. Mr. Ghalib Iqbal welcomed the Executive Director in his office and showed keen interest in COMSATS' activities aimed at fostering scientific cooperation among its Member countries. He assured Dr. Qureshi that the office of the Permanent Delegate to UNESCO will extend full cooperation in strengthening COMSATS' ties with UNESCO. He advised the COMSATS administration to send informational material about their on-going programmes to relevant UNESCO division, with a copy to the Embassy of Pakistan.