Under the framework of COMSATS-UNESCO Technical Cooperation Programme 2020-2021, COMSATS collaborated with its Centre of Excellence in Islamabad, the COMSATS University Islamabad (CUI), and the United Nations Educational, Scientific, and Cultural Organization (UNESCO) to organize a two-day International Seminar on 'Sustainable Technologies in Modern Energy: A Roadmap Towards Green Economy', from 7th – 8th March 2022.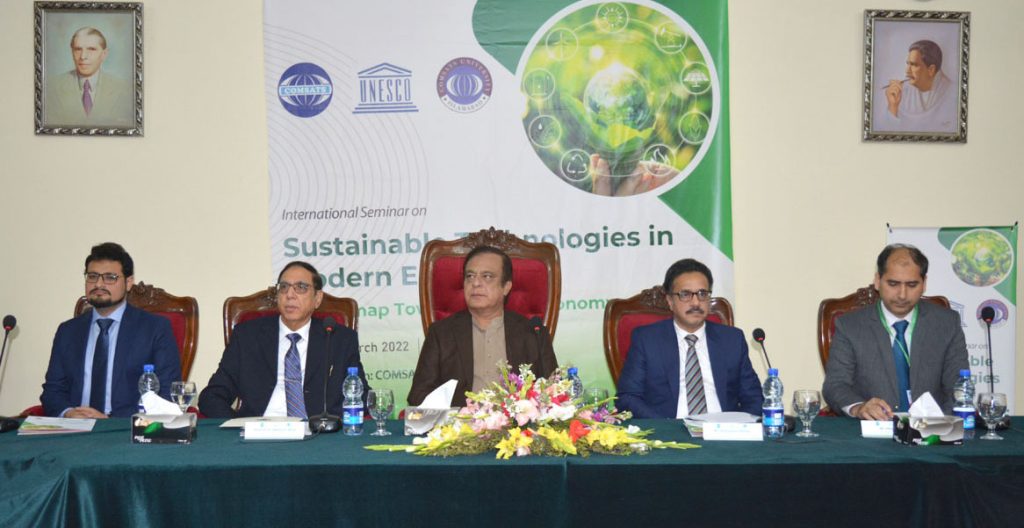 The event was held with an objective to highlight the critical role of sustainable and renewable energy technologies in driving progress towards developing green economies in developing countries; review socio-economic and policy implications, practical implementation challenges and innovative solutions adopted for sustainable energy; discuss policy recommendations to support multi-sectoral adoption of technical/engineering solutions for sustainable and renewable energy production, storage and integration; as well as to build capacities and strengthen linkages among R&D/S&T organizations, academic institutions, and other stakeholders by providing stakeholders a forum for discussion.
The two-day event was inaugurated by H.E. Mr. Shibli Faraz, Federal Minister for Science and Tec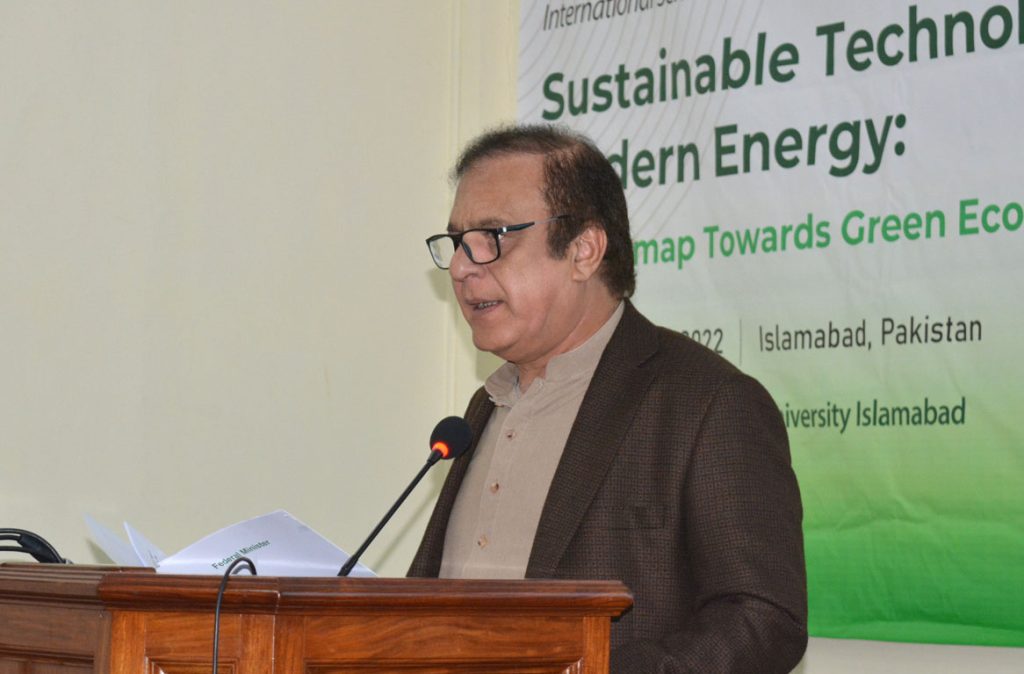 hnology, Government of Pakistan, on 7th March 2022, in a ceremony hosted at the premises of Pakistan Academy of Sciences (PAS), Islamabad.
In his welcome speech, Rector CUI, Prof. Dr. Muhammad T. Afzal, offered his institution's support in setting up Pakistan's first Fuel Cell Research Institute to spearhead development of fuel cell technology under the Government's knowledge economy initiative. He pointed out that more research and development is needed in grid technology to bring it in line with modern energy needs, which has a huge potential of drawing investors in smart grids.
Speaking on the occasion, Mr. Syed Junaid Akhlaq, Secretary General Pakistan National Commission for UNESCO (PNCU), remarked that the advancement of sustainable innovative technologies in modern energy will improve energy security, environment, economy, mechanical manufacturing, construction, transportation, and industry, as well as contribute to the creation of new jobs.
During his virtual participation, Prof. Dr. Ashraf Shaalan brought in the perspective of COMSATS Coordinating Council. As the Council's Chairperson, he lauded CUI for being a valuable resource for the Commission in executing various capacity-building activities in Pakistan and other member countries. He considered nations' abilities to keep up with technological progress and innovation critical for socio-economic growth. He further underscored international organizations' role in South-South and Triangular cooperation in science and technology and appreciated the present joint activity as a good example of the same.
Speaking on the occasion, the Honourable Minister appreciated the role of developing sector and academia in highlighting the issues and initiating key debates on RETs, sustainable development, and green economy. He highlighted the growing and unmet energy needs of Pakistan as the 5th largest population in the world. "The Government of Pakistan intends to pursue this objective of harnessing power from renewable resources with the full participation and collaboration of the private sector."
A total of 13 speakers from Pakistan and abroad, having diverse backgrounds from academia, industry, and public sector contributed to the technical programme of the event. More than 200 participants, including students, faculty, and stakeholders from local industry, as well as from COMSATS member countries attended the seminar.
Prof. Nadeem Sheikh from International Islamic University Islamabad (IIUI), Islamabad, Pakistan, talked about the role of Digital Engineering in sustainable integration of current energy system of Pakistan and presented case studies of building envelopes and techniques to reduce power consumption in indoor temperature regulation. Dr. Ajaz Bashir Janjua, General Manager R&D at Heavy Mechanical Complex (HMC), Taxila, Pakistan, spoke about the need to better harness the full hydroelectricity-potential of Pakistan. He emphasized paying more attention to indigenous R&D in hydropower related components such as different types of turbines, gates, and draft tubes. Dr. Tauseef Anwar from University of Lahore, Pakistan, and Dr. Ghuzanfar Saeed from Pusan National University of South Korea, in their separate talks gave an overview of the ongoing research in materials to enhance the energy density of batteries and super capacitors to act as long-term storage for the intermittent energy production by renewable energy sources such as wind and solar.
Dr. Tahseen Amin and Professor Hassan Sayyad, from Ghulam Ishaq Khan Institute of Science and Technology (GIKI), Swabi, Pakistan, described semiconductor technologies and fabrication processes used for producing panels used in solar photovoltaic systems. Professor Bernabé Marí Soucase from University of Valencia, Spain, talked about the research in fuel cell technologies to convert Hydrogen into electricity, and photo electrolysis based on semiconductors such as III-V, Perovskites, and Delafossites.
Professor Muzaffar Ali from University of Engineering and Technology (UET), Taxila, Pakistan, talked about the integration of Solar Thermal Air Conditioning Technologies for Intelligent Buildings. He emphasized that indoor temperature regulation typically holds the major share in a building's energy consumption such that utilizing solar thermal air conditioning can substantially reduce a building's energy footprint especially in solar rich countries like Pakistan.
On the second day of the event, Dr. Ali Abbas Kazmi from the US-Pakistan Center for Advanced Studies in Energy at National University of Sciences & Technology (NUST), Islamabad, Pakistan, elaborated the fundamentals of smart grids including their architecture and modeling approaches. He highlighted key implementation challenges in the Pakistani context such as the weak transmission network and the thermal-dominated generation in the overall energy mix.
Dr. Kamal Shahid from the Institute of Electrical, Electronics and Computer Engineering at Punjab University, Lahore, Pakistan, discussed some of the generic challenges in implementing digital distribution grids and microgrids such as fault detection and localization, data fusion from heterogeneous measurement subsystems, obtaining accurate grid insights despite missing measurements and erroneous data, and optimizing the operation while using the existing grid infrastructure.
Dr. Irfan Yousuf, Advisor Technical – Renewable Energy at the National Electric Power Regulatory Authority (NEPRA), Islamabad, Pakistan, gave an overview of the current electricity mix of Pakistan and explained the major issues contributing to high electricity prices. Dr. Yousuf also highlighted some of the work on policy directives for future energy mix to ensure energy security and market competitiveness.
Dr. Masroor Hussain from GIKI, Swabi, Pakistan, laid emphasis on the importance of high-performance computing and artificial intelligence technologies in decarbonization of the energy sector. Dr. Sobia Baig from the Energy Research Centre at Lahore Campus of COMSATS University Islamabad (CUI) highlighted the need of digitalization of power networks for the reliable, secure, and cost-effective distribution of power. She emphasized the need to accelerate indigenous R&D activities focusing on energy innovation solutions such as energy digitization, energy conservation, and incorporation of new technologies such as micro-grids.
After technical presentations, a panel discussion was held by a group of eminent panelists from public sector, industry, and academia on the topic of 'Transition to Clean Energy' with an aim to formulate policy recommendations. It covered a range of topics, including short-term and medium-term regulatory measures to support transition towards clean energy; energy conservation; the role of microgrids/mini grids (off grid or on grid); as well as the role of academia viz. solving power sector problems in the country.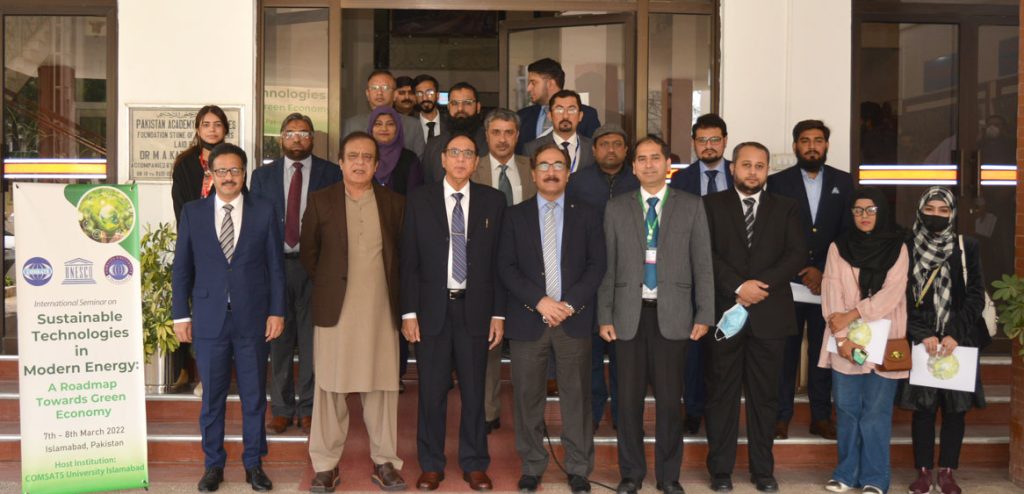 The Dean Faculty of Engineering, COMSATS University Islamabad (CUI), Prof. Dr. Shahzad A. Malik closing the event expressed gratitude to the seminar's sponsors, UNESCO and COMSATS for collaborating for organizing this seminar. He also thanked the organizers from CUI, especially Prof. Dr. Laiq Khan, Dr. Shurjeel Wyne and Mr. Ahsan Malik, and their other team members, as well as organizers from COMSATS Secretariat, including Mr. Irfan Hayee and Dr. Huma Balouch, for making excellent arrangements for holding the event.