On June 28, 2018, Pr. Medical Officer/Telehealth Coordinator at COMSATS S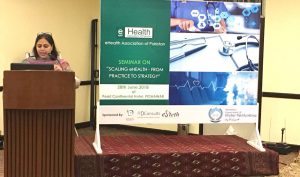 ecretariat and Telehealth Manager from COMSATS Internet Services participated in an eHealth Advocacy Seminar on "Scaling eHealth – From Practice to Strategy" organized by the e-Health Association of Pakistan (eHAP) held in Peshawar, Khyber Pakhtunkhwa (KPK).
COMSATS has been associated with the eHAP since the foundation of the association in 2008 and regularly participates in its events. Support is provided in the form of institutional membership and hosting its board meetings. Dr Azeema of COMSATS Telehealth is one of the founding members of the association and has held the positions of Vice president and Joint Secretary in the past.
The objective of the seminar was to improve the awareness about eHealth among health and IT related institutions and organizations in Khyber Pakhtunkhwa, to develop understanding about the benefits of eHealth strategy for the success of healthcare programs in the province, and help build synergies between the KP government and other organizations to develop eHealth strategy.
The event was attended among others by Director General Health, KPK, Dr.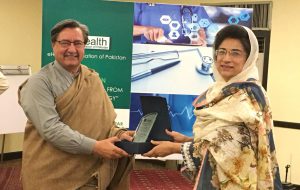 Ayub Roze, Dr. Jamal Nasir, MS Services Hospital Peshawar, eHAP board members, representatives from UNDP and UNICEF and health community in KPK.
During the event, COMSATS' Telehealth project in KPK being undertaken in collaboration with KPK-IT board was appreciated by the local health authorities. The project has economically catered to a large number of patients. Representing OCMSATS on the occasion, Dr. Azeema highlighted and appreciated the presence of a number of health community representatives and important Government officials during her vote of thanks at the concluding session of the event.