COMSATS Tele-health is trying to increasing its outreach and regional partnershi
ps. A step in this regard was CTH participation in the Summer Tourism Festival Mirpur, Azad Kashmir organized by Tourism Department of Azad Jammu & Kashmir, from April 27th to 29th, 2018. Officials from COMSATS and CIS Technology Park arranged a stall where the Tele Health services were demonstrated.
The event was inaugurated by Mr. Masood Khan, President of AJK. The honorable President visited CIS stall accompanied by Mr. Mushtaq Hussain Minhas, Sr. Minister for Tourism, Archaeology and Information AJK. The President who has visited the telehealth resource center at CIS technology park earlier this year showed appreciation for COMSATS Tele-Health Services. Upon his advice, the Tele health clinic was connected with the Dr. Nadia Rasheed, Consultant Tele Health for on-site facilitation of the event participants. About 40-45 patients were examined by the doctor and medical prescriptions were given to them as per doctor's advice. On the se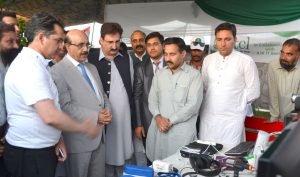 cond day, about 35-40 patients were examined by Dr. Aleena Basit Tahir, Medical Officer, Tele-Health, CIS. On the third day, 40-50 patients were examined by Dr. Azeema Fareed, Principal Medical Officer, COMSATS, and Dr. Nadia Rasheed, Consultant Tele-Health, CIS.
A number of distinguished guests visited the stall, including Madam Midhat Shahzad, Secretary Tourism & Archaeology AJK; Dr. Khalid Rafique, Director General/Secretary IT Board AJK; and Ch. Muhammad Saeed, Minister of Sports, AJK.
The Prime Minister of Azad Jammu & Kashmir, Mr. Raja Muhammad Farooq Haider Khan, concluded the event on 29th April 2018.