A symposium on Sustainable Environment for Socio-economic Development was held on June 6, 2012, by the Commission on Science and Technology for Sustainable Development in the South (COMSATS) and its Centre of Excellence in Pakistan, the COMSATS Institute of Information Technology (CIIT). The event featured talks on topics relating to the World Environment Day 2012 observed globally.
Dr. Ishfaq Ahmad, Senior Advisor on Climate Change and Development, Planning Co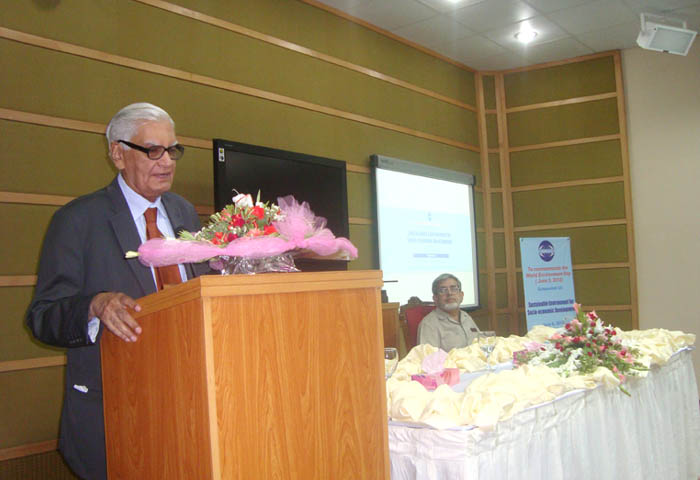 mmission of Pakistan, graced the occasion as the Chief Guest. In his Keynote Address, Dr. Ahmad appreciated the holding of the symposium to highlight the global concern viz environmental degradation and climate change. Giving a historical perspective of the efforts for this global concern in Pakistan, Dr. Ahmad noted that owing to the exacerbating environmental conditions, the world in general and Pakistan in particular is heading towards extreme weather conditions having serious implications on all sectors of life. He considered over population, and complex life styles as retarding factors to the efforts for amelioration of the worsening situation of environment and climate change. He underscored the need of social equity to realize sustainable development.
Speaking on the occasion, Dr. Imtinan Elahi Qureshi, Executive Director COMSATS, welcomed the participants and hoped that the deliberations of this symposium would generate important recommendations for policy makers. Dr. Qureshi stated that COMSATS and CIIT are one step ahead of other institutions working in the environment and climate change studies as apart from holding capacity building events, they are also conducting active research in collaboration with relevant organizations in other developing countries. One such initiative, Dr. Qureshi noted, was the establishment of International Thematic Research Group of COMSATS on 'Climate Change and Environmental Protection', which is being headed by the Director of the International Centre for Climate and Environment Sciences (ICCES), Beijing, China. The specific project, 'Characteristics and Mechanism of the Extreme Climate Events under the Climate Change Background', is being conducted with the participation of scientists from Iran, Nepal, Sudan, Jamaica and Thailand. Dr. Qureshi acknowledged the enormous contributions made by Dr. Ishfaq Ahmad in the field, which includes the establishment of Global Change Impact Study Centre (GCISC), which is the only research centre in Pakistan devoted to study the implications for global climate change.
Earlier in his welcome address Dr. Arshad Saleem Bhatti, Dean Faculty of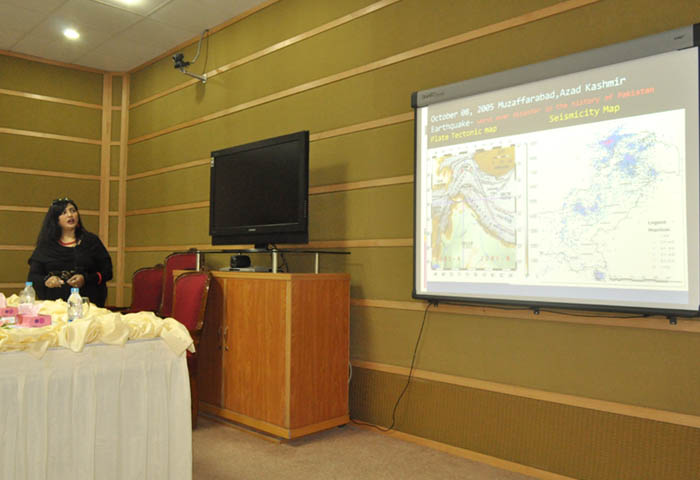 Science, CIIT, gave the background of the World Environment Day and highlighted the importance of this year's theme of the Day, 'Green Economy: Does it Include you?'. He thanked the organizers and speakers for being a part of the event that showed their solidarity to the global efforts to address the concerns relating to environmental degradation and climate change.
Subsequently, four technical talks were delivered on key topics relating to the theme of the event. These were: 'Green Economy' by Mr. Arif Goheer, Global Change Impact Studies Centre (GCISC); 'Impact of Global Climate Change on Pakistan's Environment' by Dr. Shahina Tariq, Department of Meteorology, CIIT; 'Winter Fog Variability over South Asia and its effects on Environment' by Dr. Faisal Saeed Syed, Pakistan Meteorological Department, Islamabad; and 'Land-Slide Hazards and Environmental Intensity Scale for Azad Kashmir, North-West Himalayas, Pakistan' by Dr. Mona Lisa, Department of Meteorology, CIIT.
It was noted in these presentations that natural resource wastage, population explosion, poor management and economic policies on the use of these resources may be the key aggravator of climate ch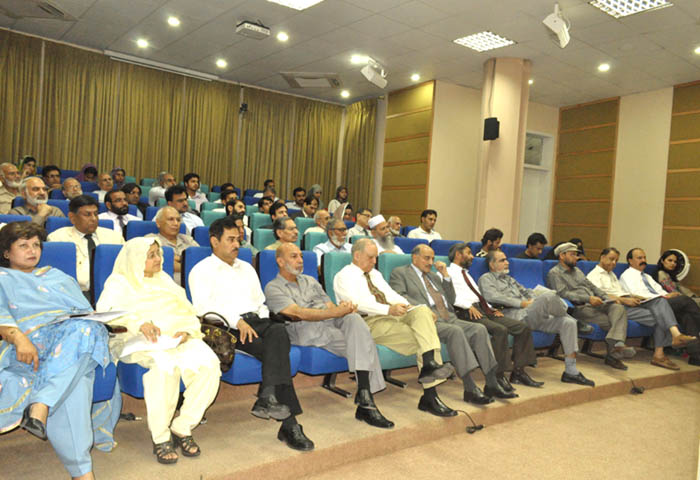 ange leading to the degradation of environment. It was discussed that climate change manifests itself in the form of more frequent and powerful cyclones and hurricanes; frequent and intense floods and heavy snowfalls; severe and longer drought periods; unexpected climatic events and changes in weather patterns such as short winters, earlier springs and longer summers. The technical talks also highlighted the correlation of landslides and earthquakes, and the increasing trend in fog frequencies over South Asia. These events adversely affect economy, water resources, agriculture, forestry, biodiversity, health, and tourism among many other fields of life. The experts believed that green economy – characterized by low-carbon use, resource efficiency and social equity – may be an effective means to mitigate the effects of climate change and lead to socio-economic development by, inter alia, better food, water and energy security; ecosystems' stability; and alleviation of poverty by creation of new jobs.
In view of the climate change phenomenon and its impact on the lives of the people, the speakers generally called for shifting the focus from resource exploration to resource efficiency, lessening dependence on fossil fuels and using renewable energies, judicious use of natural resources, turning to simpler ways of living, enhanced role of academia in sensitizing the communities towards green economy, and creating public awareness on impact of climate change.