Executive Director of the Commission on Science and Technology for Sustainable Development in the South (COMSATS), Dr. Imtinan Elahi Qureshi, visited Pe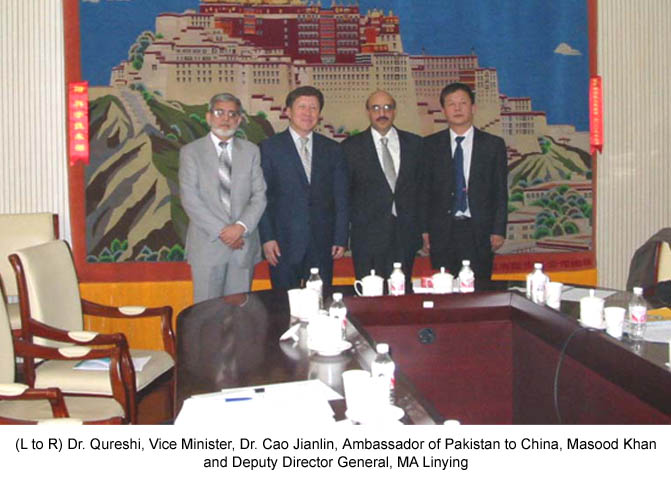 ople's Republic of China from 22nd to 26th March 2010. Matters related to stronger participation of Centres of Excellence in COMSATS' sponsored scientific activities in different Member States was the main agenda. The preparations for the 13th Coordinating Council meeting to be held in May 2010 in Trieste, Italy, were also reviewed. During his five-day visit, the Executive Director met Chinese Vice Minister for Science and Technology, Head of International Centre for Climate and Environmental Sciences (ICCES) and Director of the Bureau of International Cooperation, Chinese Academy of Sciences (CAS). He also visited Guanghua School of Management in Peking University and Zhongguancun Software Park (Z-Park) in Beijing.
On 22nd March 2010, Dr. Qureshi met the Vice Minister (Incharge of International Affairs), Ministry of Science and Technology, China, H.E. Mr. Cao Jianlin. The two officials, inter alia, extensively discussed a proposal for S&T cooperation programme between COMSATS and the Ministry of Science and Technology, China. In the light of the unprecedented development that China has made in a relatively shorter span of time, the programme has been developed by COMSATS Secretariat to showcase Chinese S&T capacities and technical expertise as an impetus for member countries of COMSATS. Based on China's strengths, the Programme defines major areas of cooperation between China and other COMSATS' member countries, explores means for joint research and capacity building of scientists/students from COMSATS' member countries, as well as proposes a possibility of holding Chinese Technology Exhibitions in COMSATS' member countries. Mr. Cao made a strong commitment to continue the financial and technical support for COMSATS and agreed to enhance China's role in COMSATS activities through active participation in its statutory bodies.
Dr. Qureshi visited the ICCES on 23rd March 2010, where he met Dire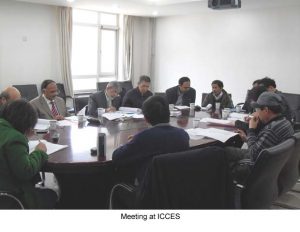 ctor ICCES, Prof. Dr. Lin Zhaohui. The matters brought under discussion included: reinvigoration of the role of ICCES as COMSATS' Network member; thematic research activity on "Climate Change and Environmental Protection"; technology sharing and joint research projects between ICCES and other members of COMSATS. The Director ICCES and the Executive Director COMSATS agreed to plan a joint strategy for developing ICCES as a role model for other members of COMSATS' Network of Centres of Excellence. A Memorandum of Understanding (MoU) was signed on this occasion to undertake joint academic activities under a yearly action plan. The MoU provides for the training of upto three scientists from COMSATS' member countries at ICCES. As indicated by its officials, the Chinese Academy of Science will contribute towards financial support for training programmes.
The Executive Director COMSATS, being the Chairman of the Board of Governors of COMSATS Institute of Information Technology (CIIT), also visited Peking University and had a meeting with the Director of the Office of International Cooperation of Guanghua School of Management to explore avenues of collaboration for the faculty and student exchange between the two institutes.
During the visit to Z-Park, its Chairperson Ms. Zhou Fang assured the Executive Director that advisory consultations for establishing similar software parks in COMSATS' member countries will be provided at request.
The interactions made during this visit are expected to promote close cooperation among the COMSATS' Centres of Excellence and Chinese institutions.