To observe this year's United Nations Day for South-South Cooperation (12 September 2022), COMSATS brought together institutions and individuals from development sector, diplomatic community, inter-governmental organisations, and academic and R&D institutions to foster discussions and encourage debates on issues pertinent to climate change and explore its dimensions related to Climate Diplomacy, including Democracy and South-South Cooperation, fostering climate change advocacy; nexus between climate change, policy and multilateral diplomacy; climate-related security risks; and role of climate finance for effective climate diplomacy.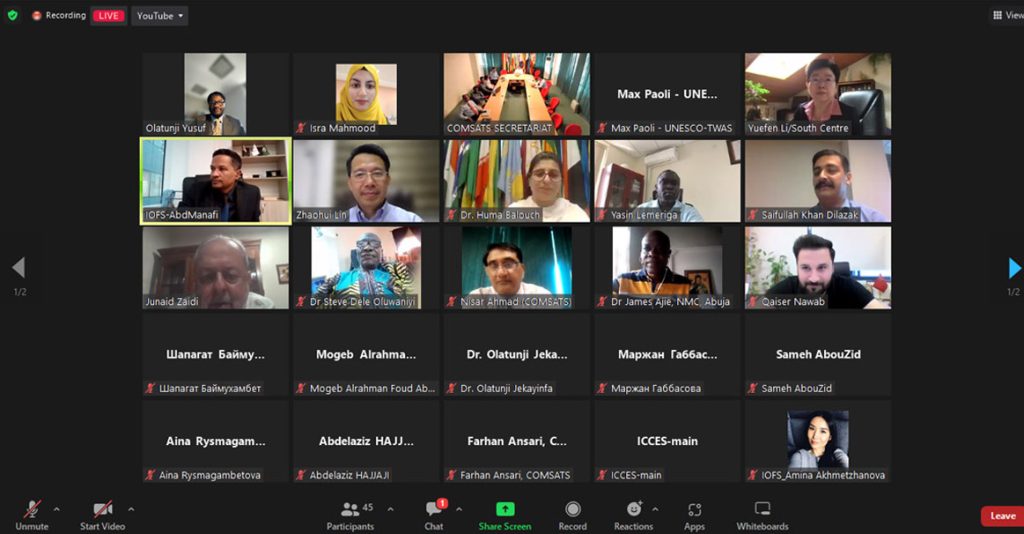 The webinar entitled "South-South Cooperation and Climate Diplomacy" was organized under the premise of COMSATS Centre for Climate and Sustainability (CCCS) on 21st September 2022. It resulted in exchange of institutional knowledge, expertise and experiences, as well as best practices in implementing S&T programmes and initiatives for climate action supporting South-South cooperation.
Hosted from COMSATS Secretariat Islamabad, the event brought in perspectives on key topics from African Climate Foundation (ACF), South Africa; Islamabad Centre for Regional Studies (ICRS), Pakistan; South Centre, Switzerland; The World Academy of Sciences (TWAS), Italy; Islamic Organization for Food Security (IOFS), Kazakhstan; International Centre for Climate and Environmental Science (ICCES), China; and Islamic Development Bank (IsDB), KSA.
The Executive Director COMSATS, Dr. Muhammad Ghulam Memon (Federal Secretar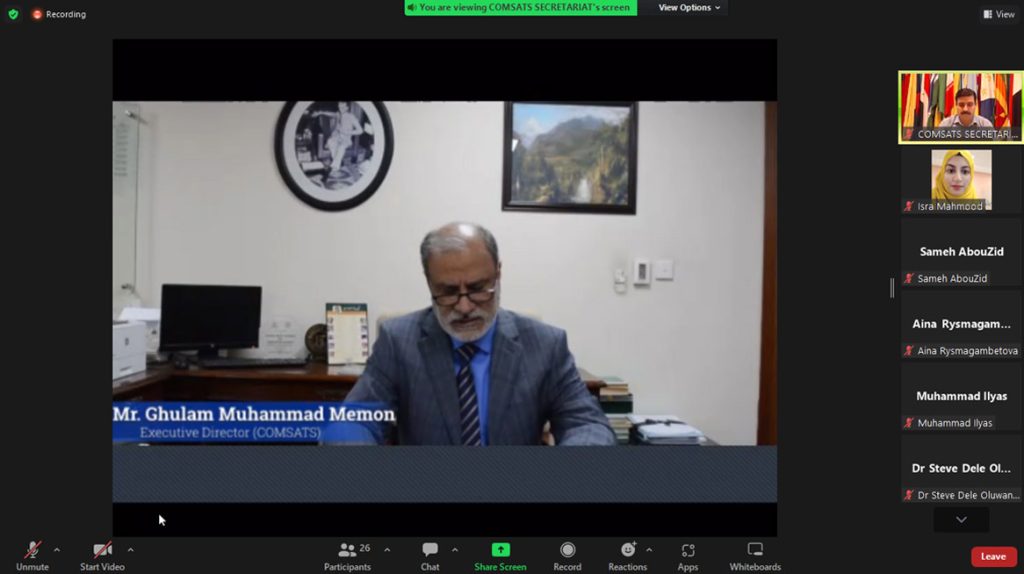 y, Ministry of Science and Technology, Government of Pakistan), opened the event with a welcome note. In his video recorded message, Dr. Memon considered it high time for governments to address climate security vulnerabilities and focus on strategic climate action, especially those aimed toward and from within developing countries who are most vulnerable in this regard and have fewer coping mechanisms. He urged for stronger climate diplomacy and international cooperation aimed towards decarbonisation and environment friendly developments during this decade and considered recognition of diverse national situations and capacities important in this regard. He highlighted COMSATS' strong role in raising awareness on key related issues and presented COMSATS Centre for Climate & Sustainability (CCCS) and important initiative for shaping the organization's interventions towards climate action and other related Sustainable Development Goals. Dr. Memon also outlined the key objectives of the webinar that related to: understanding climate change in special context of developing countries; and mutual exchange of knowledge and ideas on possible solutions and mechanisms.
The technical talks commenced with that of Dr. Saliem Fakir, Executive Director ACF, who noted that the fruitful outcomes of the global climate debate would be building the narrative around economic resilience and enhancing global political governance in this regard. He noted that climate-related challenges can further weaken the economic systems already battered by recent crises, including COVID-19 pandemic. According to Dr. Fakir, need for having climate strategy is a by-product of the economy's transition towards services rather than the outcome of "real ambition." Highlighting the impact of extreme weather events on South Africa and Pakistan, he stated that economies depending solely on natural resources are particularly susceptible to the effects of past and present climatic events, making these a bigger threat to the developing countries.
Ambassador (R) Fauzia Nasreen, President ICRS, delineated the multifaceted nature of security issues resulting from the varied effects of changing climate, including human and community health, food and water security, and economic and national security. According to her, the existing socio-economic and environmental challenges posed by climate change hinder adequate and efficient implementation of developmental policies. Sharing her thoughts on the floods that had unprecedented devastating effect on most of Pakistan, Ambassador Nasreen stated that the quest for climate justice is becoming stronger.
In her talk, Mrs. Yuefen LI, Senior Adviser on South-South Cooperation and Development Finance, South Centre, emphasized the need for a collective response for addressing the global issue of climate change and considered advocacy at the local community level an effective tool in aiding such coordinated response. She highlighted the need for evidence-based advocacy campaigns through success of the campaign for adoption of Heavily Indebted Poor Countries (HIPC) Initiative (1996), where images of starving African babies were used that successfully communicated the message that African countries had no capacity to service the international community's debts.
Dr. Massimo Paoli, Programme Coordinator for Sustainable Development and Capacity Building, TWAS, elaborated on general high levels of ignorance about the causes and consequences of climate change, including facts such as the amount of carbon dioxide in the atmosphere has increased from 280 to 416 P.P.M after the 4th industrial revolution. He stressed that it is crucial to have a clear understanding of individual responsibility to environmental sustainability that also requires change in habits, research streams and preferences, technologies and innovations, economic decisions, and investments.
Mr. Abdula Manafi Mutualo, Senior Liaison Officer at IFOS, Kazakhstan, provided an overview of the activities carried out by IOFS to address climate change in its member countries. These included: governance enablement, food crisis response, capacity-building, industry development, and resource mobilization. He further informed that IFOS lays strong emphasis on partnerships, collaborations, and exchange of experiences on inter-sectoral policy frameworks and implementation to help develop sustainable food systems in OIC countries.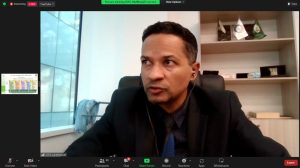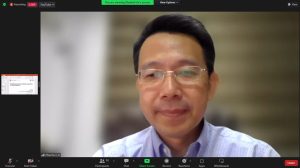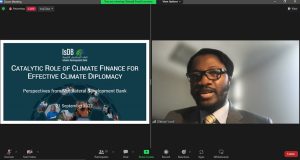 Prof. Dr. Lin Zhaohui, Director ICCES, shared information on China's plan for climate change mitigation. According to this plan, China is expected to become climate neutral by 2060 and is moving towards clean and low-carbon technologies. He also shed light on how software, supercomputers, and regional climate models play a part in predicting the future of climate based on simulations, hence affording the policy makers, technologists and innovators crucial information for evidence-based decision making.
Mr. Olatunji Yusuf, Senior Climate Change Specialist at IsDB, provided information on the Bank's experience in addressing climate change through initiatives on accelerating rehabilitation, combating poverty, strengthening resilience, and promoting green economic development. In this regard, it was informed that IsDB is focusing on social and urban infrastructure development, climate-smart agriculture, renewable energy technologies, transportation, universal health and education, food security, livelihoods for resilience, climate finance, capacity-building, and youth and women participation for green economic growth. He also highlighted the 'reverse linkage' programme of IsDB, through which member countries assist Muslim populations in non-member states by resource and knowledge sharing, and technology transfer.
Subsequent to the talks, Ambassador (R) Nasreen moderated a discussion session based on several viewpoints that touched upon different aspects of the earlier talks: the role or importance of regional climate adaptation agenda in integrating climate change adaptation into national and regional economic and development policies; incorporation of grassroots and middle level actors in formulation of negotiating strategies; role of G20 in potentially creating a mechanism for South-South climate financing; and segregated, multilayer approach to Climate Diplomacy.
Emphasising the effectiveness of advanced prediction or model system, the panelists pointed out that the climate, weather, food and water system will experience enormous changes in the coming years as a result of both rapid advances in science and technology as well as a rapidly shifting landscape of stakeholders with rapidly changing responsibilities and capabilities. They also emphasised that international donors and IGOs must play a pivotal role in assisting governments of developing countries in their attempts towards integrating climate change resilience-building in their development agendas and policies.
The event attracted participation from diplomatic community and government institutions, including Jamaican Ministry of Science, Energy and Technology and a number of development sector organizations, higher education institutions and research and development organizations.
Islamic World Educational, Scientific and Cultural Organization (ICESCO), Morocco; United Nations Educational, Scientific and Cultural Organization (UNESCO), Paris; Environmental Management Association of Ghana, were among the participating development sector organizations.
Universities from Uganda, Egypt, Spain and Pakistan also participated in the event through virtual platform. These were: Mbarara University of Science and Technology; Heliopolis University for Sustainable Development; Egypt-Japan University of Science and Technology; Universidad de Antioquia; and Quaid-I-Azam University.
Research organizations attending the event included: Uganda National Bureau of Standards, Uganda; National Research Institute of Astronomy and Geophysics (NRIAG), Egypt; and National Agricultural Research Centre (NARC), Jordan. Moreover, COMSATS' Network through Centres of Excellence in Jordan, Kazakhstan, Nigeria, and Tanzania, and Pakistan: Royal Scientific Society (RSS), Al-Farabi Kazakh National University (KazNU), National Mathematical Centre (NMC), Tanzania Industrial Research and Development Organisation (TIRDO), and COMSATS University of Islamabad also participated in the webinar.