His Excellency Alexey Yurievich Dedov, the Ambassador of Russian Federation to Pakistan, visited COMSATS Secretariat, Islamabad, upon invitation from Dr. S. M. Junaid Zaidi, Executive Director COMSATS, on M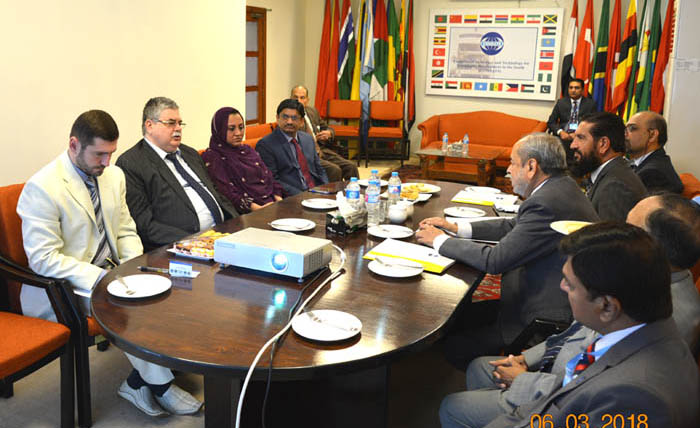 arch 6, 2018. The Ambassador was accompanied by Mr. Pavel Didkovsky, First Secretary to the Embassy of Russian Ambassador.
Welcoming His Excellency, Dr. Zaidi apprised the Ambassador of the mandate and achievements of COMSATS. He further sought the Ambassador's counsel for exploring different avenues for expansion of COMSATS' membership with the involvement of Russia. The Executive Director COMSATS requested His Excellency to arrange a meeting with President of Russian Academy of Sciences in order to engage the academy for exchange of students and scientists, and identification of institutes for collaborations with ITRGs as well as of potential Centres of Excellence of COMSATS.
Dr. Zaidi also expressed his desire to involve the Russian government for achievement of the Sustainable Development Goals. COMSATS also requested the Ambassador to take up COMSATS' proposal matters with the Russian government for support to the COMSATS Member States through sponsorship of projects like development of tele-health facilities in COMSATS Member States. Cooperation of Russian institutions for possible establishment of technology parks in COMSATS Member States was also sought.
The Russian Ambassador appreciated the role COMSATS Secretariat has been playing for S&T-led development through South-South Cooperation and pledged all possible support to COMSATS programmes.