On 24th of June 2009, an Orientation Camp was organized at COMSATS Headquarters for the young Pakistani scientists for participation in 59th Meeting of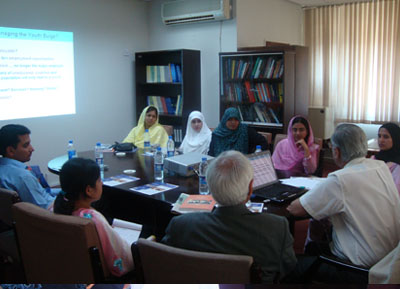 Nobel Laureates to be held in Lindau, Germany, from 28th June to 3rd July 2009. The Lindau Nobel Laureate Meetings provide a globally recognized forum for the exchange of knowledge between Nobel Laureates and young researchers. Researchers from all over the world are selected to participate in the Meeting after being nominated by a global network of Academic Partners and then evaluated by a review panel.
The Camp was organized by Pakistani node of Council for Lindau Nobel Laureates Meetings. A panel of experts delivered lectures so as to familiarize the group of 6 selected Pakistani researchers with the scientific and social programmes of the Meeting. The panel comprised: Dr. N. M. Butt, Representative of Council for Lindau Nobel Laureate Meetings in Pakistan; Dr. I. E. Qureshi, Executive Director COMSATS; Ms. Kathrina Lack, Head of Cultural Section, German Embassy Islamabad; Dr. Ishfaq Ahmad, Advisor on Science and Technology, Planning Commission of Pakistan, Dr. Shaukat Hameed Khan, Member Planning Commission (Social Sector), Government of Pakistan, as well as academicians from various Pakistani Universities.