COMSATS participated in the 2nd term of ANSO-BIDI School on 'Innovation, Sustainable Development and Leadership Enhancement – 2021.
Under a Memorandum of Understanding signed between COMSATS and the Centre for Environmental Economics of the University of Chinese Academy of Sciences (CEE-UCAS) during 2020, the two organizations are collaborating to promote capacity-building of the developing countries in the fields of S&T. Both COMSATS and UCAS are members of the Alliance of International Science Organizations (ANSO), China. In this regard, under the Belt & Road International Innovation Development Institute Network (ANSO-BIDI Institute Network), COMSATS, ANSO and CEE-UCAS joined hands to organize the 2nd term of ANSO-BIDI School (online training) on 'Innovation, Sustainable Development and Leadership Enhancement' (November '21 to January '22).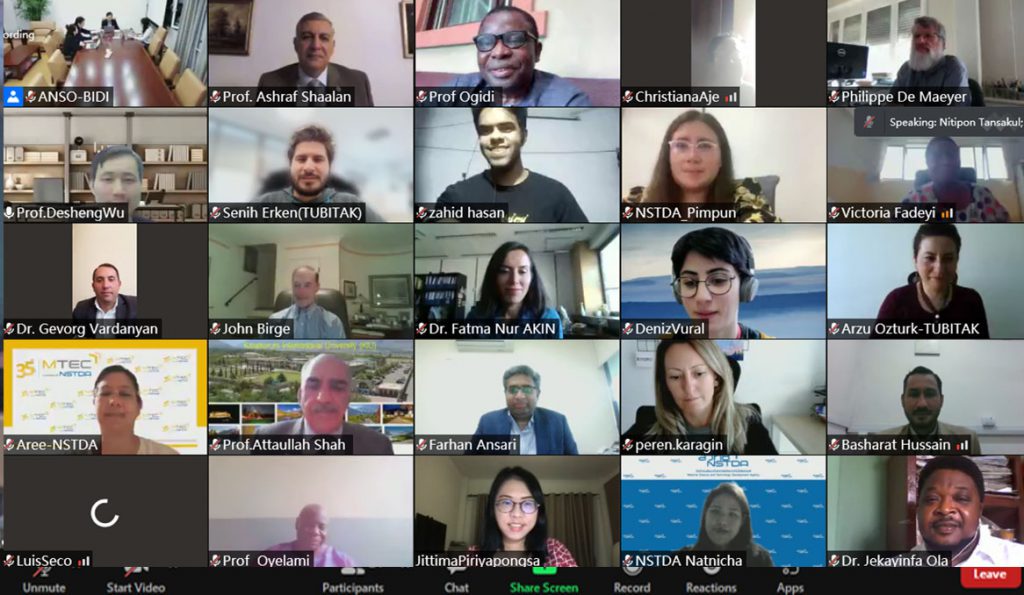 The opening ceremony of the event was held virtually on 17th November 2021, and was attended by over 150 participants from various countries. Among others, 85 trainees belonging to various Centres of Excellence from 7 Member Countries of COMSATS, including Egypt, Iran, Kazakhstan, Nigeria, Pakistan, Sri Lanka, and Syria, as well as COMSATS Secretariat are participating in the training course.
The inauguration session of the training was opened by Prof. Desheng Wu, Dean of the Belt a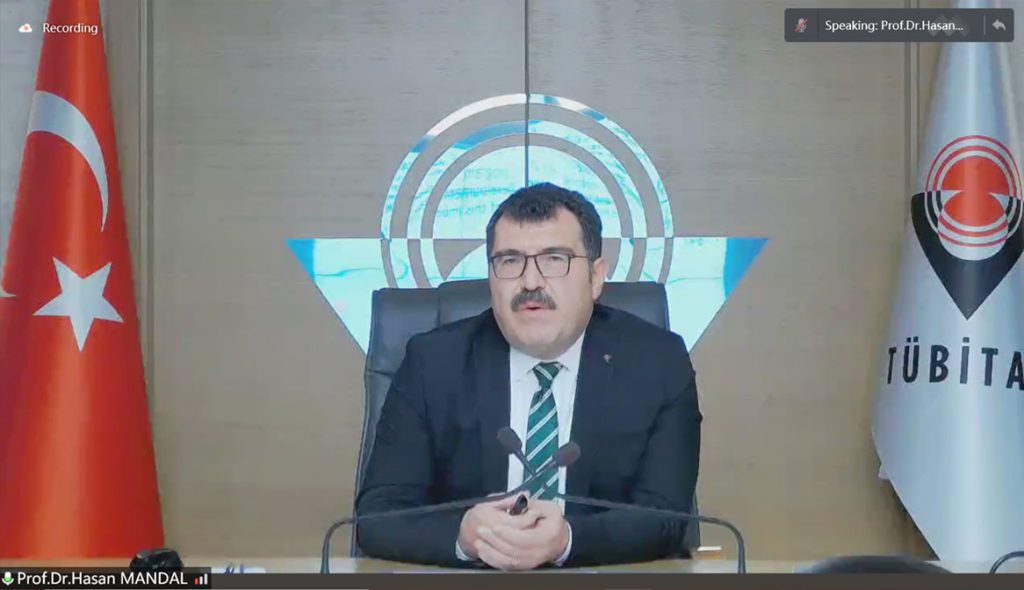 nd Road College of UCAS, Director of the Research Centre for Environmental Economics of UCAS, China. Moreover, various leaders from collaborating organizations, including Prof. Jinghua Cao, Executive Director, the Alliance of International Science Organizations (ANSO), China; Prof. Junshe Dong, Vice President and Executive Deputy Secretary of the Party Committee of the University of Chinese Academy of Science; Prof. Dr. Ashraf Shaalan, Chairperson COMSATS' Coordinating Council; Prof. Dr. Hasan MANDAL, President, The Scientific and Technological Research Council of Turkey (TUBITAK), Turkey; Prof. Dr. Attaullah Shah, Vice Chancellor, Karakoram International University (KIU), Pakistan; Dr. Lily Eurwilaichitr, Vice President of National Science and Technology Development Agency (NSTDA), Thailand; Prof. Gevorg Vardanyan, National Academy of Sciences, Republic of Armenia (NAS RA), Armenia; Dr. Atichat Preittigun, Advisor, Thailand Science Research and Innovation (TSRI), Thailand; Prof. Luis Seco, Professor, Director, RiskLab, President and CEO Sigma Analysis and Management, Canada; and Prof. Dr. Philippe De Maeyer, Senior Professor, Department of Geography, Ghent University, Belgium, participated in the opening ceremony and delivered speeches.
Speaking on behalf of COMSATS, Prof. Dr. Ashraf Shaalan, Chairperson COMSATS' Coordi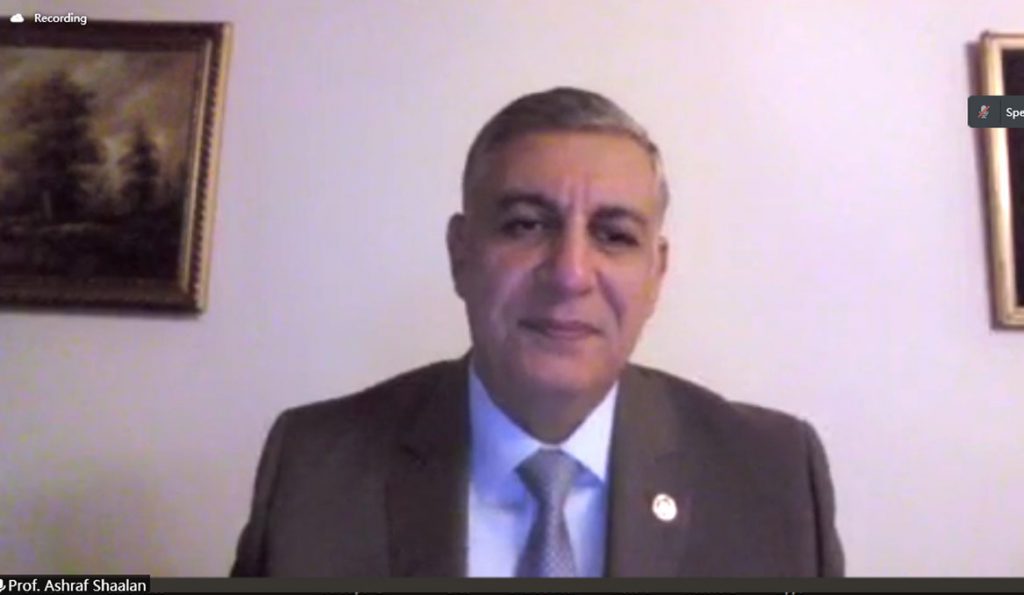 nating Council, stated that concerted efforts by all stakeholders, including governments, business sector, scientific community, policymakers, society, and individual citizens, are needed to address the ongoing socio-economic challenges being faced by the South particularly the battle against COVID-19 pandemic and achievement of Sustainable Development Goals. He laid emphasis on education, science, technology, indigenous R&D, and innovation at all levels for addressing these challenges. Prof. Shaalan stated that COMSATS has been promoting South-South and Triangular cooperation in the fields of science and technology through various initiatives related to capacity-building; collaborative research and development; and exchange of knowledge, experiences, good practices and technological resources, etc. Recalling the ongoing mutually beneficial cooperation between COMSATS, ANSO and UCAS, he assured the ceremony of COMSATS' support for the activities of ANSO-BIDI Institute Network to achieve common objectives. Prof. Shaalan thanked the organizing committee, trainees and subject experts for their participation in this important event, as well as the leaders of the partner organizations for their collaboration.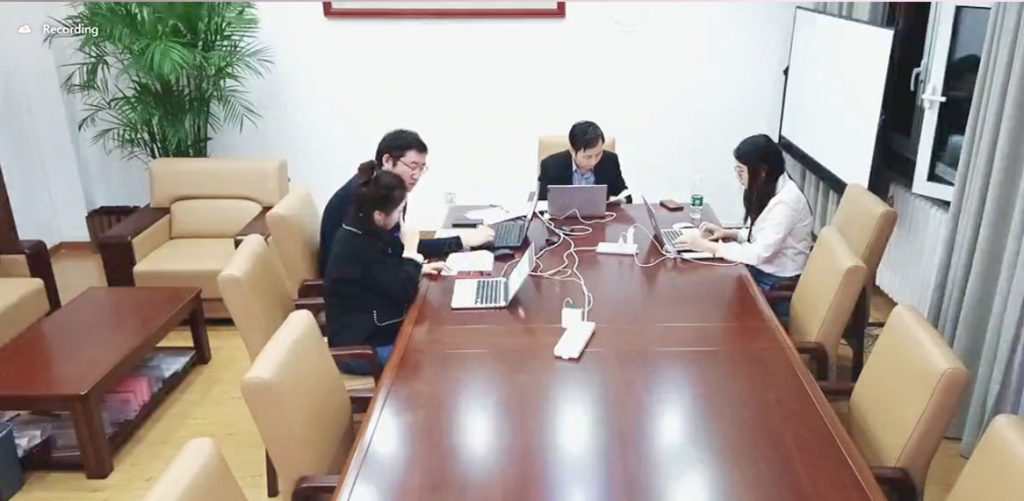 The online training would have 9 weekly modules spanning over 2.5 months during which distinguished professors from well-known universities and leaders of prestigious international organizations based in Belgium, Canada, China, Sweden, Switzerland, and USA will give lectures on several topics, including organizational management, risk management, resource integration and deployment.