The Executive Director COMSATS, Dr. S. M. Junaid Zaidi, participated as a Panelist in Regional Consultation on South-South Cooperation in Asia and the Pacific: Towards the Buenos Aires Plan of Action 40th Anniversary, held in Bangkok, Thailand, from 27 to 29 June 2018. The event was organized by the United Nations Economic and Social Commission for Asia and the Pacific (UNESCAP), the United Nations Office for South-South Cooperation (UNOSSC), and the Ministry of Foreign Affairs of the Kingdom of Thailand.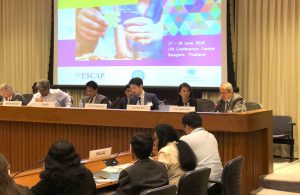 </he conference centered on fashioning out concepts, global processes, state of the South-South cooperation in Asia and the Pacific and the way forward. The themes of the conference related to Trends and diversity of the South-South cooperation landscape in Asia-Pacific – turning challenges into opportunities; Institutional arrangements and management of South-South and triangular cooperation – experience and good practice; modalities to strengthen regional and sub-regional cooperation through South-South and triangular cooperation for sustainable development; roles of the United Nations Development System and other stakeholders including the civil society organizations and the private sector; and alternative approaches to sustainable development.
The Panel that comprised Dr. Zaidi among others steered discussion on a session on examples and good practices of transformative South-South and Triangular Cooperation in Asia and the Pacific at the regional and sub-regional levels. Speaking on the occasion, Dr. Zaidi suggested some of the critical areas in which the South has been lagging behind. In this regard, he deemed lack of good human resource of researchers and scientists, absence of a steady supply of financial and ancillary resources, and political will among the crucial ingredients needing reinforcement for development of the South. He also called for more support from the North, as well as the international organization and funding agencies to help address relevant challenges.
Dr. Zaidi expressed COMSATS' commitment to assist the international community and the governments in the South achieve lasting sustainability for development through science and technology.
The conference was attended by Heads of Member States and representa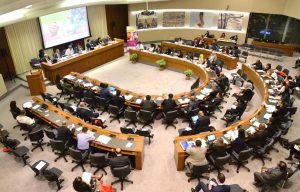 tives from Australia, Afghanistan, Azerbaijan, Argentina, Bangladesh, Bhutan, Cambodia, China, Democratic People's Republic of Korea, Fiji, India, Indonesia, Iran, Kazakhstan, Kiribati, Lao People's Democratic Republic, Malaysia, Maldives, Mongolia, Myanmar, Nepal, Palau, Philippines, Republic of Korea, Russian Federation, Samoa, Singapore, Thailand, Timor-Leste, Turkey, Tuvalu, Uzbekistan and Vanuatu. Representatives from other key stakeholders including Asian Development Bank (ADB), United Nations Office for the Coordination of Humanitarian Affairs (OCHA), and United Nations Agencies and Bodies also attended the conference.
On the sidelines of the event, Dr. Zaidi held meetings with Dr. Vijavat Isarabhakdi, Advisor, Ministry of Foreign Affairs, Thailand; Sikama Sanghirun, Programme Officer, Thailand International Cooperation Agency (TICA); Lorenzo Santucci, United Nations ESCAP; Dr. Subrata Sinha, United Nations Environment Programme; and Srinivas Tata, UNESCAP.
The event concluded on 29th June 2018.