A four-member delegation of COMSATS participated in the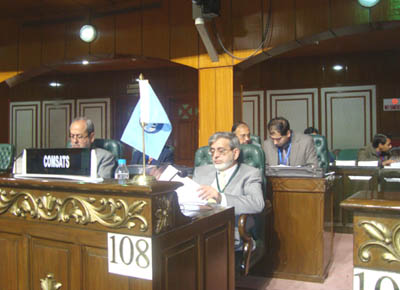 14th General Assembly Meeting of the Organization of Islamic Conference (OIC) Standing Committee on Scientific and Technological Cooperation (COMSTECH), held in Islamabad from 11-13 January 2011. As a Ministerial Standing Committee, all the 57 member states of the OIC are members of COMSTECH, out of which 12 are also the members of COMSATS.
The COMSATS' delegation headed by the Executive Director COMSATS comprised: the Director General (International Affairs), Mr. Tajammul Hussain; Advisor (International Affairs), Dr. Hasibullah; and Senior Assistant Director (Programmes), Mr. Irfan Hayee. COMSATS was invited to the ministerial-level meeting as an International Inter-governmental Organization.
The 14th General Assembly spanned three days and was divided into 7 sessions that included an Inaugural Session, a Concluding Session and 5 intermediate Plenary Sessions. The Inaugural Session held on 11th of January 2011 was presided over by the Prime Minister of Pakistan, H.E. Syed Yousaf Raza Gilani, who is also the co-chairman of COMSTECH.
A total of 32 member states and 24 international organizatio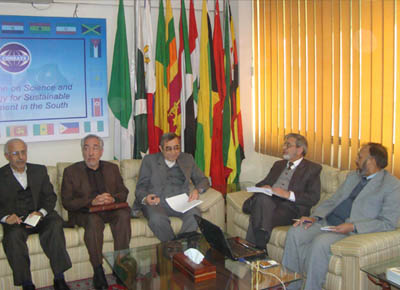 ns were represented in the General Assembly meeting in which over 275 delegates participated in the proceedings. Availing the presence of a large number of dignitaries in Islamabad, COMSATS' delegation held side-line meetings with the officials from the OIC member states. The Executive Director COMSATS met 10 Ministers and 2 Deputy Ministers. Matters pursued during the discussions related to: COMSATS' Membership; the designation of more scientific institutions as COMSATS' Centres of Excellence, participation in the Thematic Research Groups, COMSATS' country-specific programmes and activities and other issues of mutual interest. Five developing countries previously approached with the offer of COMSATS' Membership were consulted to ascertain the progress made in this direction, while three other developing countries were handed over invitation letters along with pertinent documents to join COMSATS.
The Iranian Deputy Minister for Science, Research and Technology, H.E. Dr. Abbas Taeb, who is also the Head of COMSATS' Centre of Excellence in Iran, the Iranian Research Organization for Science and Technology (IROST) paid a visit to COMSATS Headquarters along with his delegation members. The discussions on this occasion had a special focus on the Thematic Research Group activities of COMSATS, wherein a more vigorous participation on part of IROST was requested. Dr. Taeb was informed about the commitment of COMSATS to sponsor the foundation meeting of the thematic group on 'Space Technology' in Iran.
COMSATS' delegation held a meeting with the Syrian delegation comprising the Syrian Mi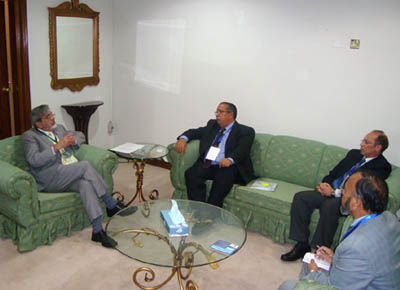 nister for Higher Education, H.E. Prof. Dr. Ghias Barakat and the Director of Syrian-COMSATS-COMSTECH Information Technology Centre (SCCITC), Dr. Bassel Al-Khatib. In a thorough discussion among these officials, matters relating to holding of a training workshop on 'Internet Security' in Syria (2011) and up-grading the level of excellence of SCCITC as an higher institute of learning were deliberated upon. The Rector COMSATS Institute of Information Technology (CIIT), Dr. S. M. Junaid Zaidi, who had contributed to the establishment of the Centre, also participated in the meeting. The Minister invited Dr. Zaidi to Syria for consultation for enhancing the Centre's stature. Dr. Zaidi reiterated the offer of scholarships for students from COMSATS' member states, made during the Coordinating Council meetings held during the recent years.
A brief meeting was held with Prof. Dr. Ashraf Shalaan, the President of COMSATS' Network member in Egypt, the National Research Centre (NRC). Matters of mutual interest were discussed, especially regarding the initiation of group activity of COMSATS' Thematic Research Group on 'Agriculture Biotechnology', of which NRC is the Lead Centre. It was noted that two other Groups on 'Natural Products Sciences' and 'Climate Change and Environmental Protection' have already held their foundation meetings during November 2010, and it was hoped that NRC would soon follow the suit. The Executive Director in a meeting with the Honourable Egyptian Minister for Higher Education, H.E. Dr. Hany Mahfouz Helal, was assured that funding for COMSATS' activities in Egypt would be made available.
Request letters to the relevant Ministries for designation of appropriate scientific institutions to join COMSATS' Network of Centres of Excellence were handed over to: Kazakhstan's Minister for Education and Science, H.E. Mr. Bakhytzhan Zhumagulov; Senegalese Minister for Higher Education and Scientific Research, H.E. Prof. Amadou Tidiane BA; and the Secretary to the Ministry of Science and ICT of Bangladesh, Mr. Abdur Rob Howlader. These officials were also informed about the benefits of joining COMSATS' Network of Centres of Excellence and its programmes.
Earlier offers to join COMSATS' membership were followed u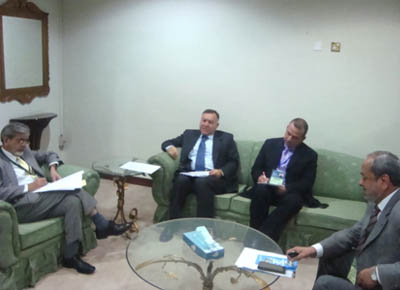 p in the meetings with delegations of Algeria, Azerbaijan, Morocco, U.A.E. and Malaysia, while new membership offer-letters were handed over to the delegates of Afghanistan, Indonesia and Oman. The officials contacted in this regard include: H.E. Prof. M. Rachid Haraoubia, Minister for Higher Education and Scientific Research (Algeria); H.E. Prof. Dr. Ali Abbasov, Minister for Communications and Information Technology (Azerbaijan); H.E. Mr. Ahmed Akhchichene, Minister of National Education, Higher Education, Training and Scientific Research (Morocco); H.E. Mr. Suharna Surapranata, Minister for Research & Technology (Indonesia); H.E. Prof. Dr. Rawya Al Busaidi, Minister for Higher Education (Oman); H.E. Datuk Haji Fadillah bin Yusof, Deputy Minister of Science, Technology and Innovation (Malaysia); Dr. Sayed Sher Shah Sadaat, Head of Foreign Relation & International Affairs, Ministry of Higher Education (Afghanistan); and Mr. Saif Rashed Al Mazroui, Assistant Under Secretary for Institutional and Support Services (U.A.E.).
A visit to CIIT was arranged by COMSATS Secretariat for the visiting delegates of OIC member countries and representatives of international organizations on the last day of the General Assembly Meeting to highlight the progress of this flagship project of COMSATS and the benefits associated with having any cooperative ties with CIIT. These included country-delegates and diplomats of Bangladesh, Iran, Sudan, Senegal and Syria and representatives from Islamic University in Uganda (IUIU) and the Academy of Sciences for the Developing World.