A one-day awareness and advocacy seminar on "Use of Information and Communication Technology in Pakistan Healthcare Setup" was held by the eHealth Association of Pakistan (eHAP) in Lahore, on 30th July 2011. The seminar was organized in collaboration with the University of Health Sciences (UHS) Lahore. Dr. Asad Ashraf, Member of Provincial Assembly, Punjab and Ex-Advisor (Health) to Chief Minister, Punjab, inaugurated the event.
The seminar was one of the series of seminars that wo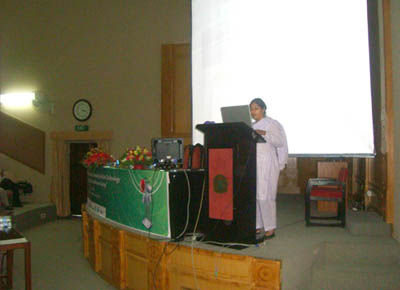 uld be held in different parts of Pakistan by eHAP. The objectives of this particular seminar were to: promote eHealth awareness among health and IT-related institutions and organizations in Punjab Province; promote collaboration for e-Health activities; and bring together key e-Health stakeholders in Punjab. A number of health and IT-related professionals from various institutions and organizations of Lahore attended the seminar.
Sr. Medical Officer COMSATS Headquarters, Dr. Azeema Fareed, participated in the seminar in her capacity as the Vice President of eHAP. During the seminar, Dr. Azeema gave a presentation on COMSATS' eHealth initiatives, highlighting recent and past activities of COMSATS Telehealth Programme. It was noted that COMSATS has recently made an assessment of the available resources and ground situation for establishing a tele-health set-up in Zhob, Balochistan, and is soon going to initiate its tele-health services in the district in addition to its on-going programme in Skardu.