A delegation of COMSATS participated in the Second International eHealth Conference, held in Islamabad on 22nd & 23rd January 2011. The Conference that had been organized by eHealth Association of Pakistan (eHAP) was co-sponsored by COMSATS. Other sponsors included: the World Health Organization; the Rockefeller Foundation; and the National ICT R&D Fund, Ministry of Information Technology, Government of Pakistan. This year, the Conference was given the theme "eHealth and the Road to Millennium Development Goals".
The Executive Director COMSATS, Dr. Imtinan Elahi Qures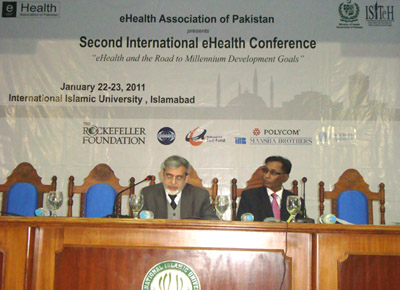 hi heading the COMSATS' delegation, also chaired one of the technical sessions on "mHealth", during which national and international speakers presented their R&D work on the application of mobile technology for healthcare. The other members of COMSATS' delegation included Mr. Tajammul Hussain, Director General (I.A.), Dr. Azeema Fareed, Senior Medical Officer, and Mr. Nisar Ahmad, Senior Assistant Director (Systems).
The eHAP aims to share and enhance knowledge and advocate policy support for broader implementation of eHealth programmes across Pakistan. The Association was founded in 2008 and has had active participation of COMSATS in its activities since then. Dr. Azeema Fareed has been a permanent board member of the Association.
COMSATS is honored to announce that in recognition of the long standing relationship and continuous support of COMSATS for eHAP, Dr. Azeema has been elected as the Vice President for the next term and Trustee of eHAP.