On 13th October, 2020, the 5th session of presentations, in continuation of the 23rd Coordinating Council meeting, cover progress of Al-Quds University (AQU), Palestine and Higher Institute of Applied Sciences and Technology (HIAST), Syria.
The session was virtually attended by 12 Centres of Excellence including Royal S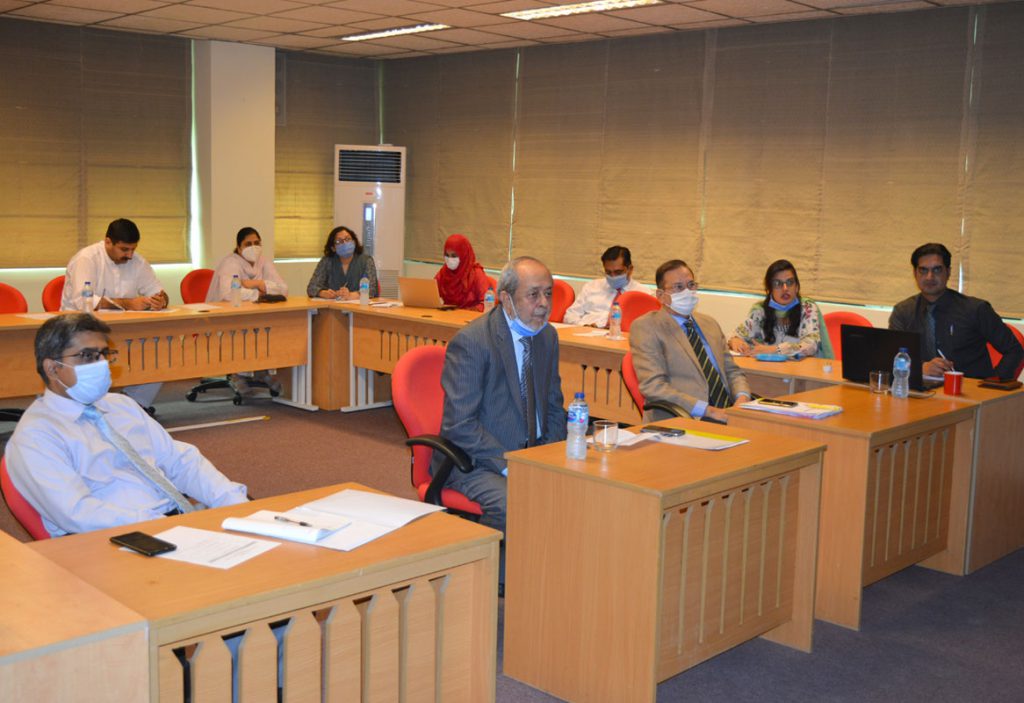 cientific Society (RSS), Jordan; International Center for Climate and Environment Sciences (ICCES), China; Al-Farabi Kazakh National University (KazNU), Kazakhstan; COMSATS University Islamabad (CUI), Pakistan; Al-Quds University (AQU), Palestine; Higher Institute of Applied Sciences and Technology (HIAST), Syria; The Scientific and Technological Research Council of Turkey (TUBITAK), Turkey; National Mathematical Centre (NMC), Nigeria; Tanzania Industrial Research and Development Organization (TIRDO), Tanzania; National Research Centre (NRC), Egypt ; University of The Gambia (UTG) ,Gambia and Sepuluh Nopember Institute of Technology (ITS), Indonesia. In addition, 11 officials from COMSATS also participated in the meeting from COMSATS Secretariat, Islamabad.
Dr. Radwan F. H. Qasrawi, Assistant Professor of Information & Communication Technology, Al-Quds University (AQU), Palestine, apprised the Network members regarding University's activities, structure and achievements since the last Coordinating Council meeting. He informed that AQU has 13 specialized labs and 5 multidisciplinary research centers including Al-Quds Cognitive Neuroscience Lab; Center for Chemical & Biological Analysis; and Soil & Hydrology Laboratory. It was informed that the AQU is interested in several areas of research including innovative solutions for mitigation and adaptation to country development, which is composed of six main units including i) The Sustainable Natural Resources Management; ii) Environmental and Sustainability Innovation Technology; iii) Biomedical Technology; iv) Sustainable Energy Solutions; v) Agro-technology; and vi) Educational Technology.
Dr. Qasrawi also briefed about the Environmental and Sustainability Innovation Technol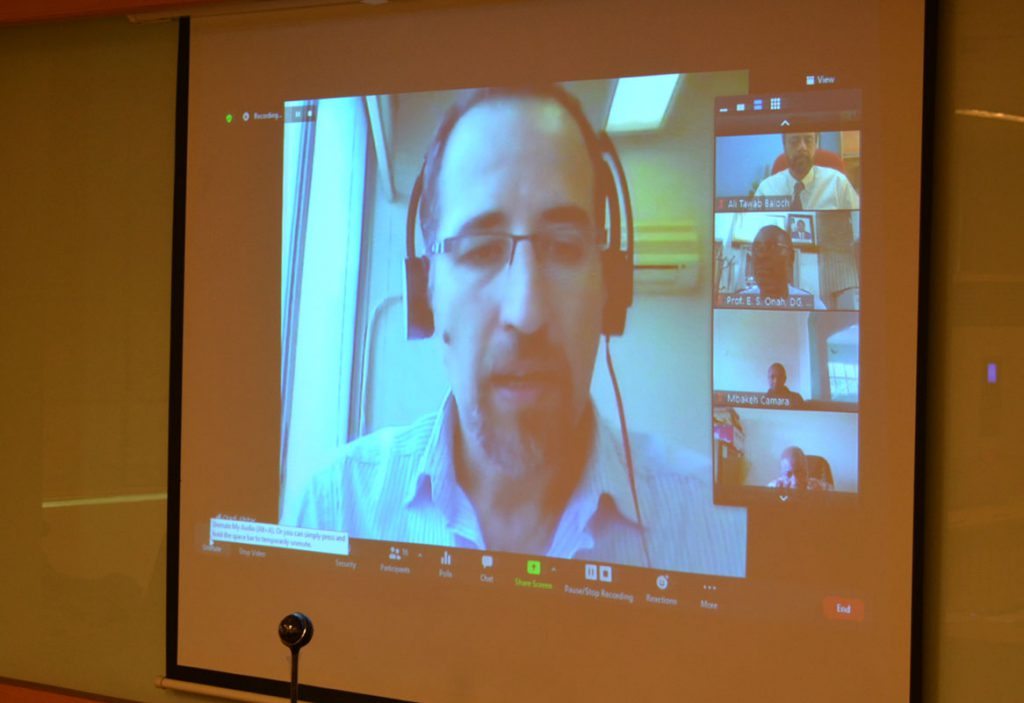 ogy (ESIT), which is a research facility that helps develop a comprehensive, multidisciplinary and interdisciplinary approach to research, education, policy, and development to overcome Palestine's energy obstacles. He also noted the three hubs of the institute: 1) Clean Technology Innovation Hub; Waste Water treatment Innovation Support Hub; and Science and Technology Innovation Support Hub. Dr. Qasrawi also informed that the university has established Al-Quds Business Center for innovation, technology, and entrepreneurship (B-CITE) that currently has 182 entrepreneurial projects, conducted 8 training programs, has 517 partnerships, and 6878 beneficiaries.
While discussing the future plans and opportunities, Dr. Qasrawi expressed willingness to collaborate with other Centres of Excellence in areas of mutual interest including researchers exchange programs, and knowledge-transfer.
Subsequently, Dr. Chadi Albitar, Director of Scientific Collaboration, Media and Publishing, HIAST, Syria, made a detailed presentation. He informed that HIAST, established in 1983, is producing highly qualified engineers and researchers in many applied science fields such as Informatics, Telecommunication, Electronic Systems, Mechatronics, Materials Science and Aeronautics. He noted that HIAST is offering Bachelor of Science in Engineering (BSE), Masters and PhDs, programmes, and 44 Engineers, 71 Masters, and 6 PhDs has graduated from HIAST during the period 2019-20. In addition to this he stated that HIAST has published 8 Scientific Books and 25 Research papers in International Scopus ranked journals during this period.
It was learnt that HIAST is organizing national workshops in big data system, rabic digital con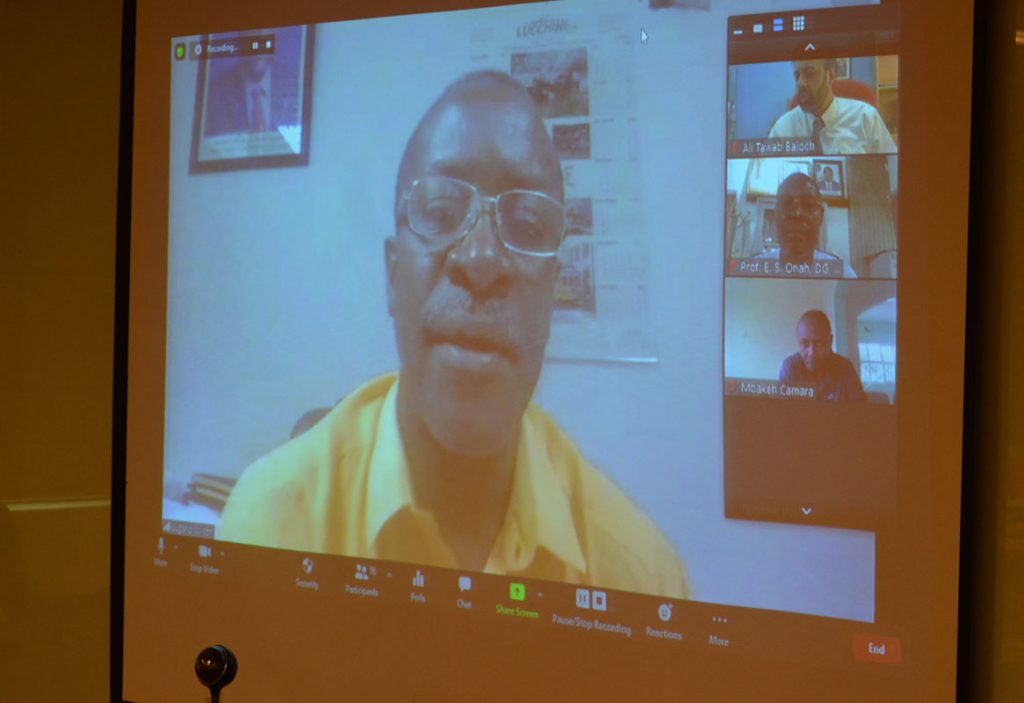 tent, Metallurgy and Quality assurance, as well as developed software for the public institutions. HIAST has software projects for Ministries of Agriculture, and Finance and health sector. Dr. Albitar also highlighted two-day workshop on: "Challenges and Innovations in Nanotechnology Regarding collaborations" organized by HIAST with support from COMSATS and in collaboration with the Arab School for Science and Technology (ASST), the Higher Commission for Scientific Research in Syria (HCSR) and the Atomic Energy Commission of Syria (AECS).
Dr. Albitar stated that HIAST and COMSATS Centre in Iran, Iranian Research Organization for Science and Technology (IROST), are collaborating in the fields of solar and fuel cell, hybrid PV systems, Nanotechnology. He noted that a student from HIAST has availed a PhD scholarship offered by KazNU-Kazakhstan.
Mentioning HIAST's effort to linkage other Syrian research organizations with COMSATS' Centers of Excellence, Dr. Albitar informed that the following three organizations are interested for cooperation in the field of biotechnology: Research Institute for Pharmaceutical and Chemical Industries (RIPCI), Atomic Energy Commission of Syria (AECS), and National Commission for biotechnology (NCBT).
Dr. Albitar also noted that HIAST is helping Syria in achieving SDGs by providing advance training to public and private customers covering many advanced technologies and specialized industrial tools. Moreover, HIAST has been cooperating with the Ministry of Agriculture to implement management information system for animal resources in Syria. HIAST has also initiated joint research with the General Commission for Scientific Agriculture Research (GCSAR) to improve pomace oil extraction, and providing water and air pollution assessments.
Regarding the future plans of HIAST, Dr. Albitar informed that the institute plans to build a new nanotechnology laboratory, launch a new Master program in Aeronautics, and upgrade its educational system to comply with credit system standards. In this regard, HIAST is ready to collaborate with other Centres of Excellence in the R&D domains of common interests.