An International Health Expo was organized by Mass Comm Solutions at Pak-China Friendship Centre from 5th – 7th October 2018. The event gathered healthcare stakeholders at one platform with the purpose to provide edutainment, networking, investment, and knowledge sharing opportunities. The main attraction of the event was the exhibition of stalls by various healthcare and medical institutions; pharmaceutical companies; diagnostic service providers; hospitals; surgical equipment manufacturers; NGOs/INGOs; health insurance companies; and other health care services providers. COMSATS Tele-Health, which is the pioneer of tele-health in Pakistan, installed tele-consultation desk for live consultations from the Basic Health Units (BHUs) located in far flung areas.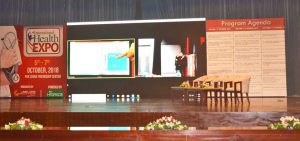 The event was inaugurated on 5th October 2018, by Mr. Aamir Mehmood Kiani, Federal Minister for National Health Services, Regulation and Coordination. At the inauguration ceremony attended by leading figures of healthcare and IT sector, Dr. S. M. Junaid Zaidi, Executive Director COMSATS, state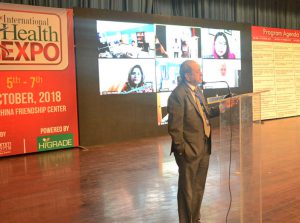 d that there is need, more than ever before, to promote and encourage research in medicine owing to the fact that new strains of bacteria and viruses are constantly emerging partly due to abrupt climatic changes. Further, Dr. Zaidi proposed to allocate a Universal Access Number (UAN) for accessing doctor(s) online 24/7.
On the sidelines of the Expo, COMSATS Tele-Health hosted a knowledge sharing seminar on e-health with the purpose to create awareness among health community about e-health and its importance as well as to share with the participants, experiences in various e-health domains including telemedicine, patient information systems, mobile applications and education. The seminar attracted around 50 participants including representatives from Human Development Foundation (HDF), PIMS (ORIC), Heartfile Pakistan, COMSATS University Islambad (CUI), Centre for Information Technology (CIT), GKAZ HealthCare, CYGNET Technologies, Islamabad Diagnostic Centre (IDC), PEITS, Excel Labs, and American Teleclinic among others.
Speaking at the opening, Dr. Azeema Fareed, Principle Medical Offi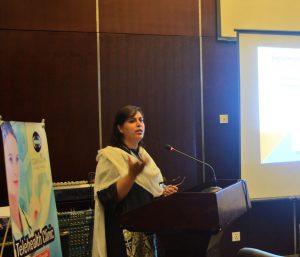 cer at COMSATS Headquarters, communicated the significance of tele-health components (i.e. tele-medicine, m-health, e-pharmacy, health informatics, internet of things (IoTs), Electronic Medical Records (EMR), and smart gadgets) for patients and healthcare stakeholders and stated that these interlinked components apart from facilitating the communication and expediting patient record keeping, assists in the decision support system, supply chain and equipment asset management. She added that tele-health is the rightful tool to achieve cost effective, time efficient and instant universal health coverage which is in line with the targets of Sustainable Development Goal (SDG3). Further, Dr. Fareed acquainted the participants with COMSATS Tele-Health Project which, started in 2001, has been benefitting people especially women and children in remote areas of Pakistan through 13 Tele-Health Clinics set-up all across Pakistan from Gilgit/Skardu to Gawadar.
While highlighting the significance of health informatics, Dr. Shafaat Ahmed Khan, Head of Health Informatics Department, COMSATS University Islamabad (CUI), stated that innovation and creativity in healthcare delivery is at the stake of health informatics. The Founder of DreamSofTech Pvt. Ltd. and Director of Membership & Marketing at Cloud Security Alliance (CSA), Pakistan, Ms. Sarah Shafqat presented the futuristic prospects of IoT enabled Smart Health over Cloud and gave an example of her case study pertinent to SmartHealth diabetes diagnostic system. Ms. Shafqat opined that despite its benefits, Smart Health over Cloud raises trust and security concerns for organizations as well as general public.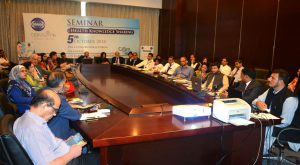 Mr. Ernest Kaliyev, Director of Centre of Biomedicine and Healthy Lifestyles at Al-Farabi Kazakh National University (KazNU), Kazakhstan, who participated through video conferencing, shared the experience of Kazakhstan-Korean in the implementation of digital healthcare in Kazakhstan. He stated that Kazakhstan signed two Memoranda of Understanding with Korea for development & optimization of digital healthcare in Kazakhstan. He expressed desire to expand Kazakhstan's digital healthcare project to other developing countries.
Mr. Ihtiram Ul Haque Khattak, Senior Manager at Heartfile Health Financ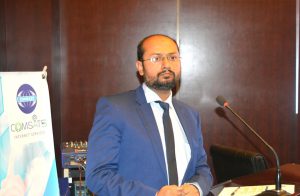 ing (HHF) Division, Islamabad, briefed the audience about the HHF Programme and stated that the said programme strives to overcome financial barriers to healthcare access for the underprivileged in society by linking the needy person with a donor.
Dr. Suhail Chughtai, Founder and Chairman of Medical City Online, who participated through video conferencing, acquainted the audience about his initiative and stated that Medical City Online offers e-healthcare services to medical professionals such as online medical meetings & peer to peer case projection for instant advice; live & interactive medical webinars with multiple presenters facility; live tele-supervision of operative procedures from distance for training & patient safety; and live tele-reporting of radiographs, MRI, CT scans.
Ms. Faiza Batta and Dr. Tayyab Saeed representing American TelePhysicians Group gave a briefing on Shifa4U – a project of American TelePhysicians (ATP). It was apprised that ATP utilizes innovative digital technology to bridge the gap between top healthcare facilities and the patients. Dr. Saeed notified that Shifa4U Tele-clinic provides live consultations by local physicians as well as expert American and UK based Specialist Physicians. He stated that Shifa4U also provides online healthcare education progr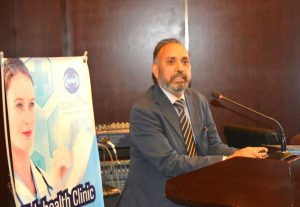 ams for doctors, nurses and hospital staff to educate them in dealing with procedures & commonly arising complex medical situations. It was informed that apart from collaborating with Pakistan based healthcare systems; ATP is collaborating with healthcare systems in US, UK as well as with international hospitals.
The seminar ended with a note of thanks from Mr. Tajammul Hussain, Advisor (Programmes), COMSATS Headquarters and distribution of souvenirs among the speakers.