Islamabad, 3 March 2023. The Special Advisor to the President of Ghana on Sustainable Development Goals (SDGs) and Liaison for COMSATS' affairs, Dr. Eugene Owusu, and Executive Director COMSATS, Ambassador Dr. M. Nafees Zakaria, exchanged views on Science, Technology and Innovation (ST&I) led regional development.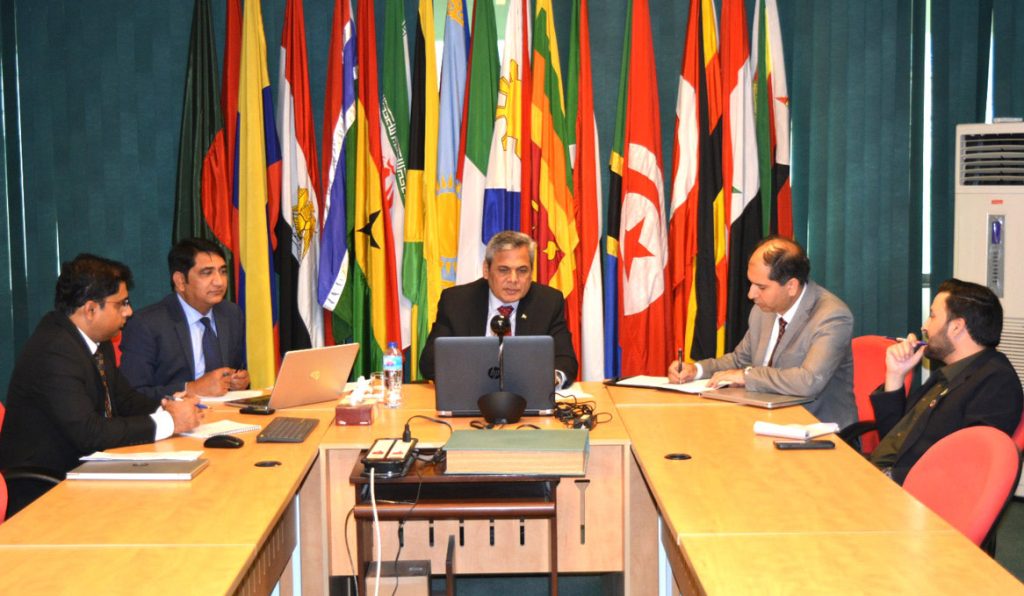 The Republic of Ghana holds the Chair of COMSATS and the incumbent President of Ghana, Hon. Nana Addo Dankwa Akufo-Addo is the incumbent Chairperson of COMSATS' Commission.
Being his first one-to-one interaction with the recently appointed Executive Director, Ambassador Zakaria, the Special Advisor congratulated him.
Ambassador Nafees briefed Dr. Owusu on various ideas and initiatives that he has earmarked to chart future course of action. He apprised the Advisor on the outcome of the 24th meeting of COMSATS Coordinating Council (comprising heads of International Centres of Excellence affiliated with COMSATS Network) at Karachi, Pakistan.
Both underlined that the expertise of the Centres of Excellence needs to be fully exploited. They agreed that R&D fund was essential to support the talent in the Member States.
Dr. Owusu appreciated the ideas shared by the Executive Director and considered them spot on for leveraging the overall operations of COMSATS as intergovernmental organization focused at ST&I led sustainable progress.
They agreed that the Executive Director may visit Ghana, in particular, and other Member States, to brief on his plans to the Members of the Commission. The Advisor said that the idea of holding Commission meeting during the current year with Accra Forum meeting alongside, was welcome.
They expressed firm resolve in working closely in order to strategically plan and mobilize scientific and technological resources for transformational development.