On May 29, 2017, the Vice President of TUBITAK Marmara Research Centre (MAM), Dr. Murat MAKARACI, visited COMSATS Headquarters, Islamabad, and discussed avenues for strengthening cooperation between COMSATS and MAM. Dr. Murat was on his visit to Pakistan in connection with the ongoing joint Reverse Linkage Project between the Pakistan Meteorological Department and Marmara Research Centre (MAM). Dr. Murat's meeting at COMSATS Secretariat was attended by senior officials of COMSATS, including Advisor (Programmes), Mr. Tajammul Hussain; Deputy Director (Systems), Mr. Nisar Ahmed, and Sr. Assistant Directors, Mr. Farhan Ansari, and Ms. Huma Balouch.
Welcoming Dr. Murat, Mr. Hussain introduced him to the technical team of COMSATS. During the meet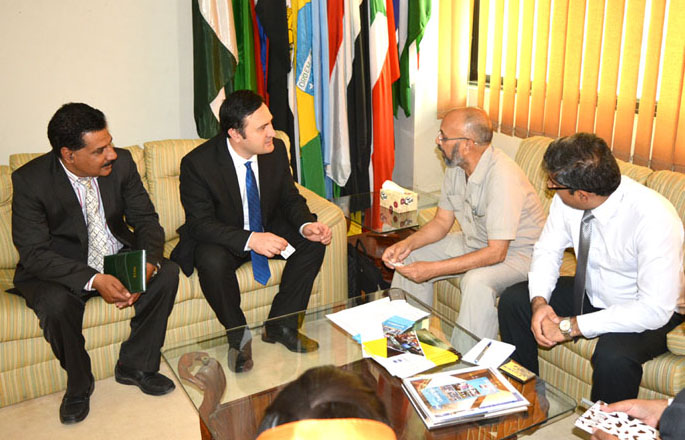 ing, the two sides discussed ways to enhance cooperation between COMSATS and TUBITAK MAM in the areas of common interest, particularly in the field of Cyber Security. Dr. Murat apprised that TUBITAK houses 19 research facilities in Turkey, nine of which are working in different fields of Information and Communication Technologies (ICTs) and electronics. Mr. Hussain expressed COMSATS' desire to enhance collaboration with TUBITAK on long-term basis for creation of critical mass of I.T experts. In this regard, Mr. Hussain requested Dr. Murat to identify the relevant experts from their institutes in the field of Cyber Security. Mr. Murat assured that he would contact the relevant persons in TUBITAK Informatics and Information Security Research Center (BİLGEM) and one of MAM's R&D supporting unit, National Academic Network and Information Center (ULAKBİM).
Considering the mobility of researchers is of high value for enhancing and institution's performance, Mr. Hussain urged TUBITAK MAM to offer scholarships for students from COMSATS' member countries. In this regard, Dr. Murat informed that agenda of scholarship programme customized for PhD and Postdoc for students from COMSATS' member countries will be presented for approval in the upcoming meeting of TUBITAK Board of Directors to be held in July 2017. Further he also informed that agenda for secondment from TUBITAK MAM at COMSATS Secretariat and consideration of payment of Annual Member Contribution to COMSATS Secretariat for operational expenses will also be presented to the Board meeting.
During the meeting, the performance and growth of COMSATS' flagship projects, COMSATS Institute of Information Technology (CIIT), and COMSATS Internet Services (CIS), was also brought to Dr. Murat's notice.
After the meeting, Dr. Murat, accompanied by Mr. Tajammul Hussain, proceeded to COM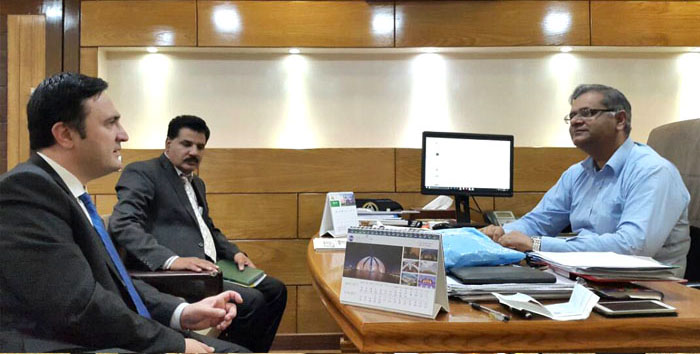 SATS Internet Services Technology Park, where he held a meeting with Mr. Jamshed Masood, Chief Executive Officer, CIS Technology Park, for briefing on its programmes and activities. During the meeting, Mr. Masood shed light on the historical background and achievements of CIS since its inception in 1996. He said that CIS is the most diversified Internet Service Provider of Pakistan. The CEO further noted that the services offered by CIS include: Wireless broadband, Domain & web hosting, On-demand broadband, Data Center Services, Video conferencing, Website designing and development, Search Engine Optimization, Virtual Private Servers, Networking, IT training, and Internet related research facilities. Further, Mr. Masood informed that CIS has over 10,000 corporate clients that include well-known national and international firms, software and business companies, foreign missions, consulates and embassies, non-governmental organizations, universities, social development and research organizations. Mr. Masood also showed Dr. Murat CIS' well-equipped Data Centre. Dr. Murat showed great appreciation for CIS as COMSATS' initiative in the field of ICTs and pledged to encourage the relevant companies in Turkey to visit CIS Technology Park.