Fourth session under COMSATS' Lecture Series themed on "South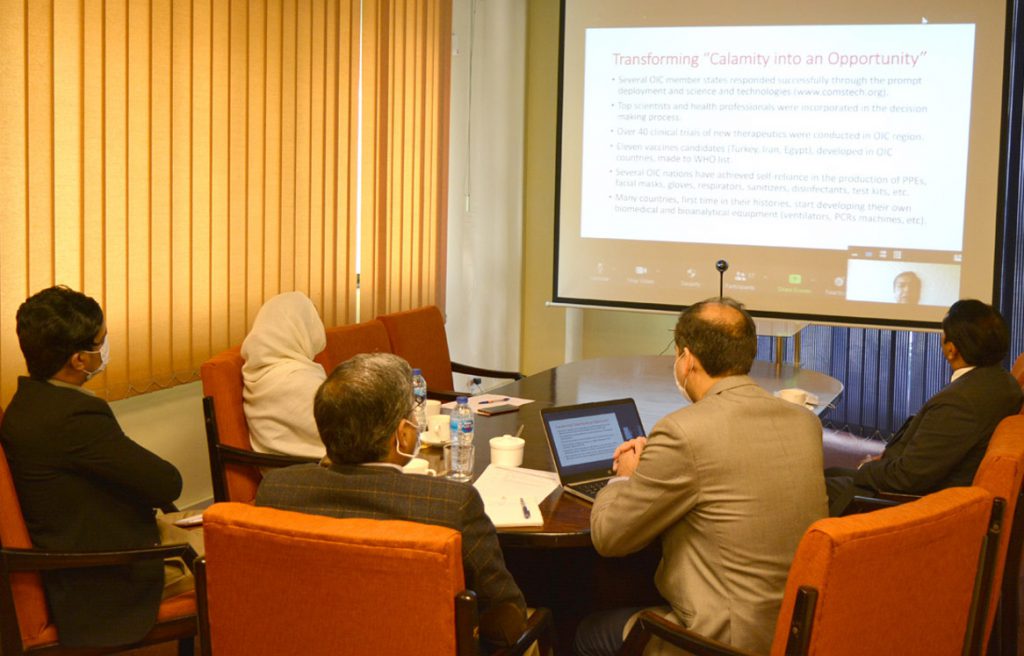 – South and Triangular cooperation for socio-economic development in the South" covered talk on 'Pandemic-associated Advances in Research and Development: Science and Technology at work in OIC Region'. Held on 2nd February 2021, the session was attended by representatives/heads of COMSATS' Focal Ministries, Centres of Excellence, and officials of COMSATS Secretariat.
The talk delivered by Prof. Dr. M. Iqbal Choudhary, Director of International Center for Chemical and Biological Sciences (ICCBS), Pakistan, and the Organization of Islamic Cooperation Standing Committee on Scientific and Technological Cooperation (COMSTECH), Islamabad, highlighted COVID-19 response of OIC Member States with special reference to Pakistan.
Discussing the coronavirus situation in the OIC region since the outset of the disease, Prof. Choudhary identified some key challenges faced by the Muslim world during this interval that included: inadequate testing facilities, fragile healthcare system, divided governance system, lack of indigenous capacity, and infodemic on coronavirus. He was of the view that the pandemic has reinforced the need of having good governance system, social justice, investment in health and education, and building indigenous capacity in S&T.
While sharing the S&T-related interventions of OIC countries, Prof. Choudhary stated that OIC countries achieved the self-reliance in the production of PPEs, facial masks, diagnostic kits, and other biomedical and bioanalytical equipment, as well as participated in the global clinical trials for COVID-19 vaccines. It was informed that the modern ICT tools were employed for contact tracing and tracking in many OIC countries, and clinical trials of vaccines and other therapeutics were also conducted.
Further, to encourage R&D as well as to support various research initiatives, Islamic Solidarity Fund of Islamic Development Bank (IsDB), Islamic World Educational, Scientific and Cultural Organization (ICESCO), and other institutions in OIC countries announced R&D support programmes. The Statistical, Economic and Social Research and Training Centre for Islamic Countries (SESRIC) and COMSTECH also created COVID-19 R&D observatories.
Prof. Choudhary also enumerated some of COMSTECH's initiatives during the pandemic as: Launching of a new 'Scholarship Programme for Capacity Building in Virology and Vaccine Development'; establishment of "OIC Network of Laboratories for Development of Diagnostics"; establishment of a web-portal to project latest technological developments against COVID-19 pandemic in the OIC world; launching of webinar series on the pandemic and its socio-economic fallout; and holding of exhibitions to showcase technologies to help combat coronavirus.

Further during his presentation, Prof. Choudhary detailed the COVID-19 response of Pakistan and informed that Pakistan established a 'National Task Force on COVID-19' in March 2020 to help support science-backed solutions and response to the pandemic. It was also informed that Pakistan built indigenous testing capacity, established 16 'super labs' and expanded from 0 to over 50,000 tests per day. The initiative 'Attack Coronavirus and Offer a Cure' was also launched by Pakistan to support drug discovery against COVID-19 and thereafter clinical trials were initiated in combination with other countries in OIC Member States.
Pakistan also started manufacturing and export of ventilator for prototype testing. It was also informed that ICCBS, Pakistan, is in the process of determining the structures of SARS-CoV-2 strains found in the country. In connection with this, ICCBS is conducting genomic surveillance to sequence the complete genome of the virus. Other research underway includes the study of mutations of SARS-CoV-2 virus; 100 SARS-CoV-II genome project; and vertical transmission studies, among others.
Some recommendations recorded by Prof. Choudhary for post COVID-19 world included:
Healthcare sector should be strengthened with the 'Emergence of Global Health Security Regime'.
SDGs should be rearranged with health and nutrition as the 'Critical Goals'.
R&D in healthcare should be prioritized for preparedness against the future pandemics that will also derive future scientific endeavors.
Subsequent to the talk, discussions were held on infrastructure expansion and capacity building in health sector; therapeutic interventions against COVID-19; role of S&T in finding solutions to contemporary challenges; COVID-19 vaccine development; as well as innovative methods to detect coronavirus.