Apart from its international programmes as an inter-governmental organization, COMSATS has a number of Pakistan-based projects launched over the years. One of these projects is the COMSATS Internet Services (CIS), which celebrated its "15 years of Internet Excellence" at a ceremony held in Islamabad on September 28, 2011. The Executive Director COMSATS, Dr. Imtinan Elahi Qureshi, graced the occasion as the Chief Guest, while the other guests included Former Director General CIS and currently the Advisor for CIS at COMSATS Secretariat, Mr. Parvez Ahmed Butt; and Dr. S. M. Junaid Zaidi, and Rector COMSATS Institute of Information Technology (CIIT). The ceremony was also attended by officials of CIS, COMSATS Secretariat, and CIIT.
In his welcome address on the occasion, the GM Administr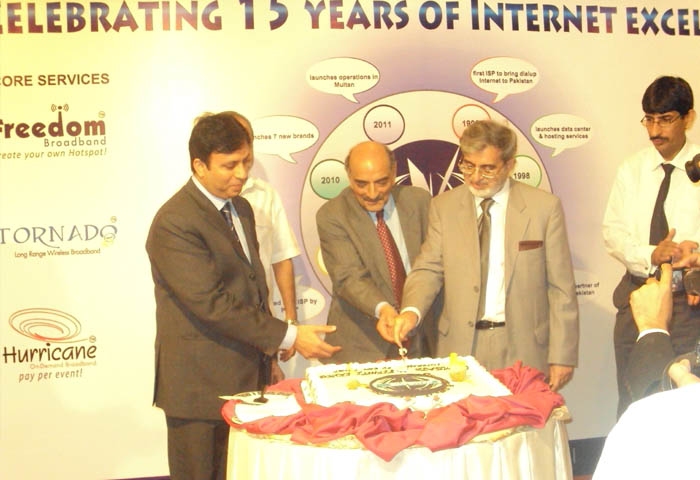 ation & Planning CIS, Mr. Muhammad Hassan, shed light on the historical background and achievements of CIS since its inception in 1996, as well as the efforts for the progress of the institutions made by Dr. Parvez Ahmad Butt in his capacity as the founding Executive Director COMSATS. A comprehensive presentation was made by Chief Executive Officer, Mr. Asim Shahryar Husain, highlighting the achievements of CIS during 2010-11, including up-gradation of data and training center; establishment of new corporate offices in Karachi, Peshawar, and Lahore; and launching of seven new brands, known as "The Colors of CIS." These include Freedom™ (Wi-fi DSL), Tornado™ (Wireless broadband), Hawaii™ (Domain & hosting), Comtrain™ (IT training), Prism™ (Web development), and Viacon™ (Video conferencing). He said that CIS is the most diversified Internet Service Provider of Pakistan. The CEO further noted that CIS is offering wireless broadband packages for SMEs and corporate customers, as well as new training courses for PMP®, ITIL®, Cisco®, and Microsoft®.
Addressing the gathering, Mr. Parvez Butt traced the history of CIS back to the time when the former Prime Minister of Pakistan, Late Ms. Benazir Bhutto appro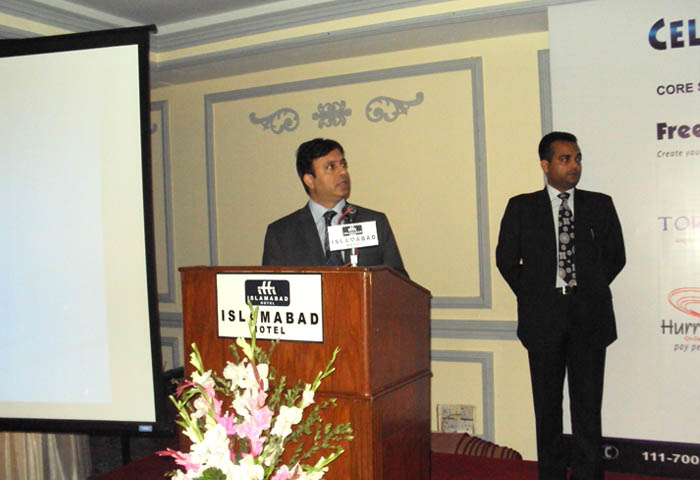 ved CIS as a project of COMSATS in 1996, and considered CIS as an important initiative of COMSATS in the field of ICTs. Speaking on the occasion, The Chief Guest stated that COMSATS has a mission of using technology for social benefit beyond the bounds of corporate thinking based on profitability. COMSATS' ICT-related initiatives were recalled by Dr. Qureshi, which apart from CIS included: COMSATS Tele-health Services in Gilgit and Baltistan and more recently in Zhob, as well as establishment of IT institutions in Pakistan and Syria, the COMSATS Institute of Information Technology and Syrian COMSATS-COMSTECH Information Technology Centre, respectively. Underscoring the spirit CIS was based on, Dr. Qureshi considered it a great achievement of CIS to be in operation for more than 15 years with zero private investment despite the fierce competition other ISPs of Pakistan pose. He congratulated all the employees of CIS on reaching this landmark and encouraged them to continue working with dedication for both their organization and their country.
A highlight of the ceremony was an award ceremony in which plaques and cash awards were given to most profitable node in-charge and best sales persons for the year 2010-11. Also, shields were awarded to officers who have spent more than 5 years with CIS. Special plaques and gifts were also presented to the Former Director General, CIS, Mr. Parvez Ahmed Butt, the Executive Director COMSATS and the CEO CIS.