The foundation meeting of COMSATS' International Thematic Research Group (ITRG) on 'Renewable Energy' was held on 2nd November 2016, in Zahedan, Iran, in conjunction with the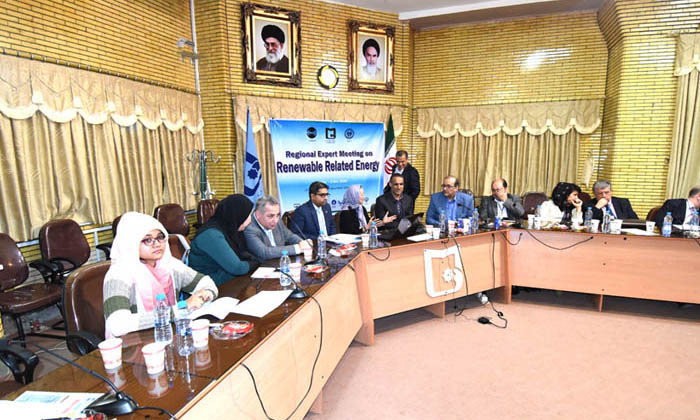 Regional Expert Meeting on 'Renewable Related Energy Focusing on Microalgae Technology Using Ocean Resources Including Solar and Fuel Cell' (31st October to 1st November 2016). The meeting was jointly organized by COMSATS, the Iranian Research Organization for Science & Technology (IROST), and the University of Sistan and Baluchestan, Iran (host institution), and chaired by Prof. Nasrin Moazami (IROST), who is the designated Group Leader.
The objective of this meeting was to identify the common areas of research interest and expertise of the participating scientists and initiate a joint research project in the field of renewable energy to be executed by the group. The meeting was attended by about 40 research scientists belonging to Iran, Bangladesh, Kazakhstan, Syria and Spain.
Mr. Farhan Ansari, Sr. Assistant Director (Programmes), COMSATS, made a presentation, in which he highlighted the mission, structure and technical activities of COMSATS. He acquainted the participants with the objectives and implementation mechanism of COMSATS' ITRG programme. He hoped that during its foundation meeting, the ITRG on 'Renewable Energy' will be able to initiate a joint research project, based on the expertise and interests of the participating institutions, in order to collectively address the socio-economic challenges being faced by the developing countries. He encouraged the group members to publish joint research papers based on their collaboration under this programme, with due acknowledgement to COMSATS' support. He thanked IROST and University of Sistan and Baluchestan for jointly hosting the meeting and making excellent arrangements for it.
The Group Leader, Prof. Nasrin Moazami, welcomed and thanked the participants of the meeting for their participation and expressing willingness to collaborate in the field of renewable energy. Prof. Moazami stated that the renewable energy resources are abundantly available in the developing countries, which must be adequately tapped to meet their present and future development needs. She considered the COMSATS' ITRG on 'Renewable Energy' an extremely useful forum for facilitating collaboration among the developing countries in the field of renewable energy.
During the technical session, the participants shared the areas of their research expertise as well as ongoing research activities. Dr. Mohamed Dakkak, Associate Professor, Renewable Energy Lab, Higher Institute for Applied Science and Technology (HIAST), Syria, praised the research expertise and facilities of Iran in different fields of renewable energy. He informed that his institution is engaged in the design and development of PV systems, and his personal research interest relates to the performance of hybrid PV systems. Dr. Gauhar Mussabek, Senior Researcher, Department of Solid-state Physics and Non-linear Physics, Al-Farabi Kazakh National University, Kazakhstan, informed that her research area pertains to the fundamental and applied research on solar cells and PV systems. Ms. Afrina Sharmin, Scientific Officer, Renewable Energy Technology, Institute of Fuel Research and Development (IFRD), Bangladesh Council of Scientific and Industrial Research (BCSIR), Bangladesh, identified the thin-film solar cells and solar-thermal appliances as the area of her research activities. Prof. Ebrahim Asl Soleimani of the Thin Film and Nano Electronic Research Center, Iran, informed that his research expertise relates to developing silicon wafers for solar cells, and his Center has excellent facilities for research work on the same. Dr. S. Masoud Barakati, Assistant Professor, Faculty of Electrical and Computer Engineering, University of Sistan and Baluchestan, Iran, highlighted the need of establishing a reference lab for PV solar systems, in order to make significant progress in this field. Dr. Akbar Shabanikia, Technical and Executive Deputy, Renewable Energy Organization of Iran (SUNA), Iran, informed that his current research activities relate to solar thermal appliances and biomass energy.
Subsequently, the participants of the meeting distributed themselves in three groups (Bio Energy, Solar Energy and Fuel Cell Technology) in order to identify the common areas of research interests and chalk-out potential topics for the research project. As an outcome of these discussions, the following two topics were selected to be executed by the group:
i. Measurements and Characterization of New Silicon Crystalline Solar Cells;
ii. Development of Microbial Fuel Cells for Bioelectric Generation and Wastewater Treatment.
It was decided that the group members will jointly prepare comprehensive project proposals on the afore-mentioned topics, which will be submitted to the donor agencies for acquiring necessary funds for their execution. The group members agreed to sharing the research facilities available in their respective institutions, and publish joint research papers based on their collaborative research findings, acknowledging the support provided by COMSATS.
The meeting concluded with the strong commitment of ITRG members to actively participate in the research activities of COMSATS' ITRG on 'Renewable Energy'.