The three-day international event marked as the first Meeting of the Global F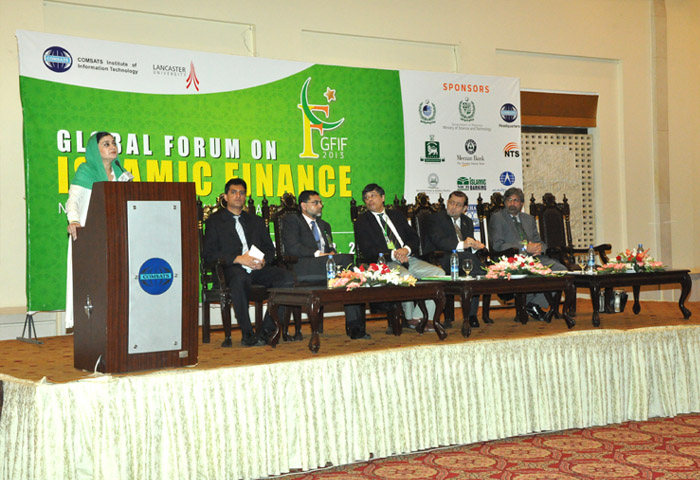 orum on Islamic Finance (GFIF) was organized by COMSATS Institute of Information Technology (CIIT), Lahore, Pakistan, in collaboration with the Lancaster University, UK, on March 11-13, 2013. The theme of the Meeting was "Islamic Finance: New Realities, New Challenges". GFIF aims at providing an opportunity to researchers, scholars and practitioners for sharing knowledge regarding the dynamics of Islamic Finance. The Meeting also focused on contemporary developments in the field of Islamic Finance and their impact on economic landscape of the world in the coming decades.
Mr. Akhlaq Ahmed Tarar, Federal Secretary, Ministry of Science and Technology, Government of Pakistan, inaugurated the event on March 11, 2013, and noted with pleasure that CIIT had successfully gathered from around the world so many distinguished academics, researchers and leaders of the Islamic banking and financial sector. Speaking on the occasion, he expressed his confidence that the useful deliberations of the Meeting would contribute to development and promotion of Islamic Financial system. In his opening address the Deputy Governor, State Bank of Pakistan, Mr. Kazi Abdul Muktadir, said that it was really encouraging that the participants and delegates from across the globe and representatives of various sectors in Pakistan were participating in the Meeting. He highlighted the practices of commercial banks that gloss over the essential character of Islamic Finance. The opening ceremony also included COMSATS Perspective presented by Dr. I.E. Qureshi, Executive Director COMSATS, and Lancaster Perspective presented by Dr. David Simm, Director of International Partnerships at the Lancaster University Management School. Dr. Qureshi stated that Islamic Financial instruments provide a practical way of achieving social equity, which is essential for sustainable development.
The seven technical sessions, spread over the first two days of the event, comprised seven keynote addresses and 30 papers/presentations. The following topics were deliberated upon during the event: Islamic Finance and socio-economic development; performance of Islamic Financial institutions; Islamic Finance and the new geopolitical realities; Islamic Finance and the global financial crisis; variety of Islamic Financial products; regulations of the Islamic Finance sector; non-banking Islamic Financial institutions; product development and implementation of Islamic Financial products; Sukuk: development, issues and challenges; ensuring Shariah compliance in Islamic Financial instruments; Islamic gold account: a golden opportunity; Islamic mutual funds (unit trusts): factors to consider in making an investment; Takaful: innovation and solutions; and the rise of Islamic wealth management in Islamic Finance industry.
The subject-experts and speakers represented the following academic and fina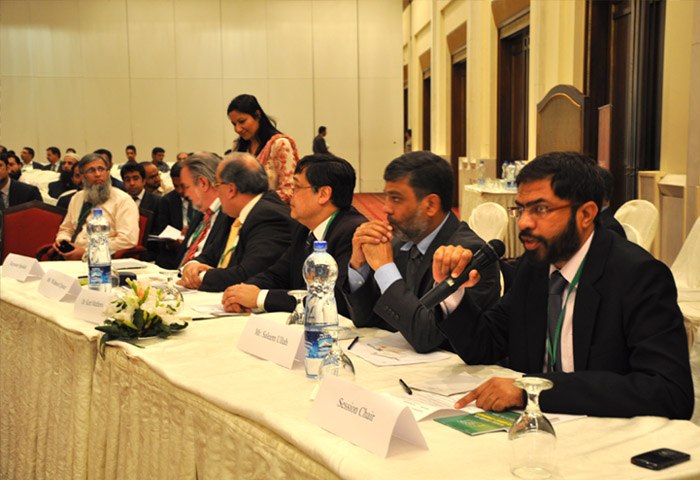 ncial institutions: Cardiff University, UK; Maxim Corporate Finance LLP, UK; State Bank of Pakistan; ASSAIF, Italy; Islamic Development Bank, KSA; University of Faisalabad, Pakistan; Sustainable Development Policy Institute, Pakistan; Lancaster University, UK; CIIT, Pakistan; State Bank of Pakistan; Islamic Banking & Finance Centre, UK; National University of Computer and Emerging Sciences, Pakistan; Islamic Bank of Britain, UK; Bank Islami, Pakistan; Muslim Commercial Bank, Pakistan; The Bank of Kyber, Pakistan; University of New Orleans, USA; Hamad Bin Khalifa University, Qatar; Akhuwat Foundation, Pakistan; FAST School of Management, Pakistan; Lebanese International University, Lebanon; Gloucestershire University, UK; La Trobe University, Australia; World Bank; Qassim University, KSA; Al-Huda Centre of Islamic Banking and Economics, Pakistan; University of the Punjab, Pakistan; Pak-Qatar Family Takaful Limited, Pakistan; and Institute of Business Administration, Pakistan.
Another highlight of the event was the announcement of the establishment of Centre of Excellence in Islamic Finance by Dr. Mahmood Ahmed Bodla, Director, CIIT, Lahore Campus. Dr. Bodla stated that the aim of the Centre would be to prepare skilled manpower for Islamic banking industry and become a hub for research on the emerging issues of Islamic Finance, as well as for sharing new research, fresh ideas and innovation, among the managers, researchers, and academicians.
Dr. Ishrat Hussain, Former Governor, State Bank of Pakistan, presided over the closing ceremony that had the presence of other eminent scholars, including Mr. Akmal Hanuk, Chief Executive, Islamic Banking & Finance Centre, UK; Mr. Waheed Qaiser President Maxim Corporate Finance, UK; Dr. Azmi Omar, Director General IRTI, Islamic Development Bank, KSA; Prof. Dr. Volker Nienhaus, Germany; Mr. Alberto Brugnoni, Chairman, ASSAIF, Italy; Dr. Kent Matthews, Cardiff University, UK; Mr. Saleem Ullah, Director, Islamic Banking Department, State Bank of Pakistan; and Dr. Nasim Shirazi, Islamic Research Training Institute, Islamic Development Bank, KSA.
In his thought provoking remarks at the concluding ceremony, Dr. Ishrat Hussain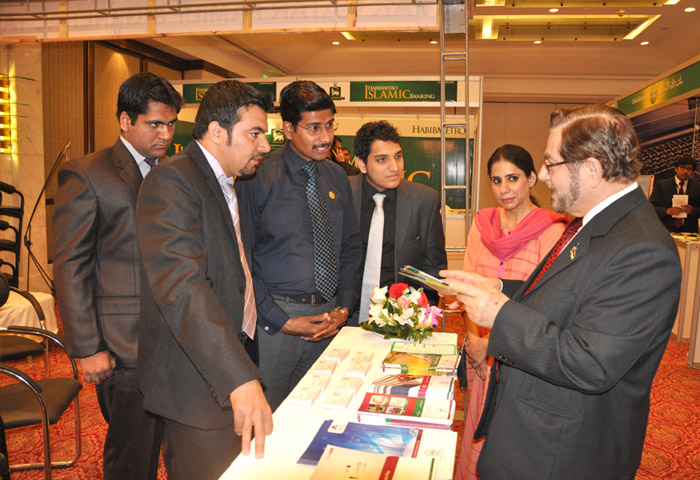 said, "The vision of Islamic Finance is to offer itself as a source of stability to the Global Financial System that is coming out of a crisis of gigantic proportions – next only to the Great Depression of 1930s." Alluding to the common misconceptions attached to Islamic Finance, Dr. Hussain opined that there is lack of shared understanding about its objectives, underlying principles, mechanics and outcomes. 'Ethical values are embedded in Islamic Finance", said Dr. Hussain "These are not add-ons as being practiced in many parts of Europe. The Ethics based assets class has expanded to $8 trillion and is growing rapidly. The ethic embedded Islamic Products have transformational features that are relatively more attractive." He believed that Islamic Banks can play an effective role in meeting the economic needs of the sectors/sub-sectors that are being neglected by traditional banks, including Agriculture, Agri-Business and Produce Marketing, Small and medium enterprises, Low Cost Housing. Dr. Hussain also pointed out the strong need for qualified, skilled well trained and competent human resources in Islamic Financial services industry.
The last day of the Conference also featured two panel-discussion sessions themed 'Islamic Finance: Realities and Challenges', and 'Islamic Finance Solution for Industrial and Economic Development'.
An exhibition was also held during the Meeting, at which various financial institutions displayed their brochures relating to Islamic Financial services.
The Meeting of GFIF also passed a resolution that declared Islamic Finance education pivotal for the stability and growth of Islamic Finance industry, and called for the Governments of OIC countries to set up funds for curriculum and infrastructure development for Islamic Finance education at undergraduate and graduate levels.