In order to commemorate this year's World Science Day, COMSATS organized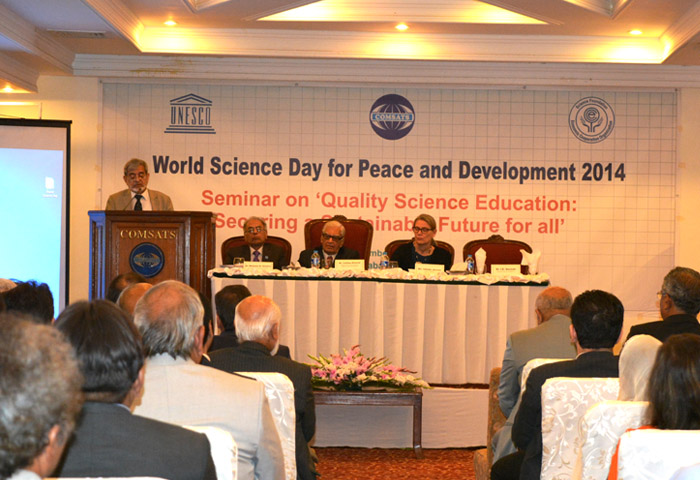 a half-day seminar in Islamabad, in collaboration with ECO Science Foundation (ECOSF) and UNESCO office Islamabad, on November 12, 2014. Dr. Ishfaq Ahmad, the renowned physicist and former Advisor to the Prime Minister of Pakistan on Science & Technology, graced the occasion with his presence as the Chief Guest. The event had a mixed gathering of over one hundred participants, including science students, representatives of scientific institutions, academicians, as well as policy makers and members of the diplomatic community in Islamabad. The seminar comprised of an inauguration and a technical session.
The inaugural session included an opening address by the President ECOSF, Dr. Manzoor Hussain Soomro; remarks by incumbent Director of UNESCO Office Islamabad, Ms. Vibeke Jensen; remarks by Executive Director COMSATS, Dr. Imtinan Elahi Qureshi and address by the Chief Guest, Dr. Ishfaq Ahmad.
Welcoming the participants of the Seminar, Dr. Soomro emphasized the importance of Inquiry Based Science Education (IBSE) at schools as the most important tool for development of nations. Dr. Soomro, who is also the member of the Global Council of the Science Education Programme (SEP) of the Inter-Academy Panel (IAP) noted that SEP-IAP is promoting inquiry based science education, and the curricula around the world are being updated and revised to be in line with the scientific developments. He announced that ECOSF has embarked upon a program for the promotion of IBSE in 10 ECO member countries in collaboration with Academies of Sciences and Ministries of Science and Education.
Ms. Vibeke Jensen noted that quality science education for all is an esse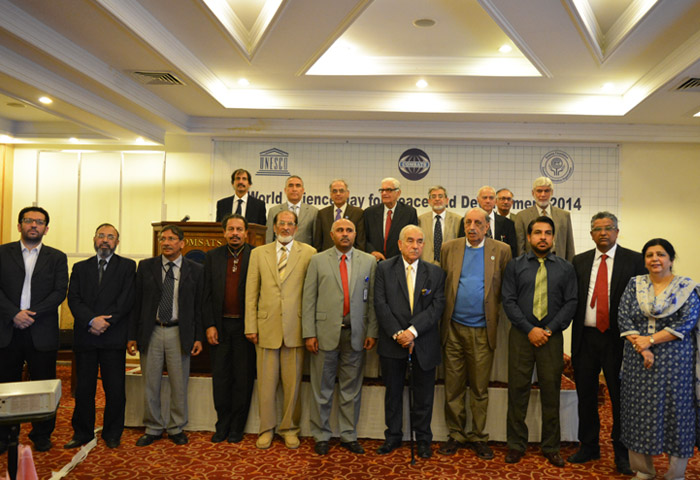 ntial requisite for sustainable development. She urged that we must encourage young women and men to take interest in science; as well as, invest in educational materials and equipment, teachers' training in sciences and inquiry-based learning. She was of the opinion that encouraging critical thinking and creativity in students at all levels can enable them to contribute to environmental, economic and social development in areas ranging from climate change, disaster risk reduction, water management, energy, food security and medicine, to poverty reduction, better health and sustainable consumption.
She announced that UNESCO has launched its 'World Library of Science' (WLoS), a free online resource for learning about sciences through text, pictures, illustrations and videos to make scientific concepts easy to understand.
Dr. I.E. Qureshi, in his remarks on the occasion, appreciated the life-long services of Dr. Ishfaq Ahmed for science and technology. He introduced COMSATS as an intergovernmental forum dedicated to promoting scientific collaboration using the effective mechanism of South-South cooperation. He recognized scientific cooperation as the key to achieving sustainable development for the developing world. Touching upon the initiative taken by COMSATS for the promotion of quality education in the country, he noted that COMSATS Institute of Information Technology (CIIT) was launched as a small project in 1998, which now is well recognized university with seven campuses and over 35,000 enrolled students.
Dr. Qureshi noted that COMSATS has cooperation ties with UNESCO on multiple levels that resulted establishing UNESCO Chair for knowledge for integrated water resources management at CIIT Wah campus. He assured that such cooperation from COMSATS will continue in the future as well.
In his address, Dr. Ishfaq Ahmad recalled the efforts made by him to designate the World Science Day in the list of International Days observed by UN to highlight the significance of science for the betterment of society. He noted that while Pakistan, an agrarian economy, is confronted with huge water shortage, science and technology can provide means for addressing the vulnerability due to water scarcity as well as the challenges posed by global climate change. He also called for reducing gender parity, particularly in tertiary education, to curb the menace of over population, which is among the significant problems facing the national economy.
During the technical session of the seminar, talks were given by Dr. Tariq Mahmood, Advisor, Higher Education Commission (HEC) of Pakistan; Dr. Faisal F. Khan, Director, Institute of Integrative Biology, CECOS University, Peshawar; Dr. Fayyaz A. Faize, Assistant Professor CIIT, Islamabad; and Mr. Salman Naveed Khan, Campaign Manager (Political Advocacy) of Alif Ailaan.
These talks, in general, deliberated upon the role of HEC in improving the standard of education and research in the country; new trends in life sciences; interdisciplinary and entrepreneurial nature of mode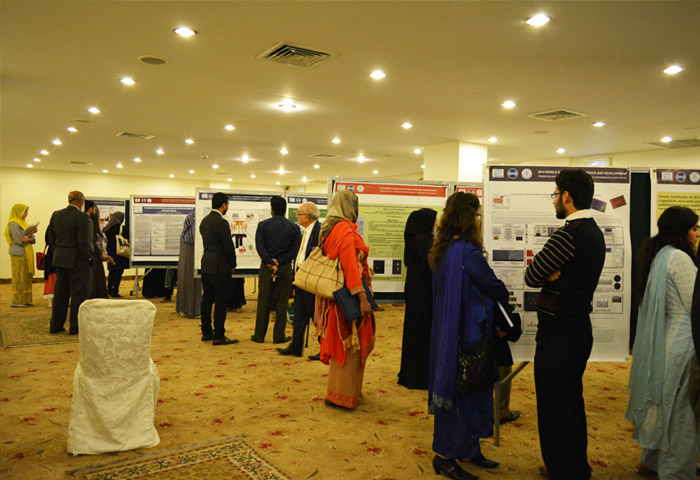 rn science education; ensuring ethical disposition; quality teaching; as well as, challenges of providing quality science education in schools of Pakistan.
Speakers expressed their concern for a high number of 'out-of-school' children and pressed the government and the civil society to play a greater role in this regard. One of the highlights of the event was the poster exhibition and competition. Over 40 posters, prepared by science students and researchers were presented, explicating the role of science for a progressive society in themes of agriculture, health, biosciences, nanotechnology and computational sciences. These students and researchers belonged to eleven science departments of universities and colleges.
At the end of the seminar, five awards for the 'Best Posters' along with cash prize were given to students of CIIT, NUST, Forman Christian College, and the University of Lahore (Islamabad campus).