COMSATS organized a webinar on "Digital Health, the New Normal: Innovation & Acceptance in Africa", on 7th December 2022. The aim of the event was to analyze digital health trends in African countries before, during and after the COVID-19 Pandemic. Held from the platform of COMSATS Telehealth Programme (CTH), the event had the participation of around 45 from various African countries.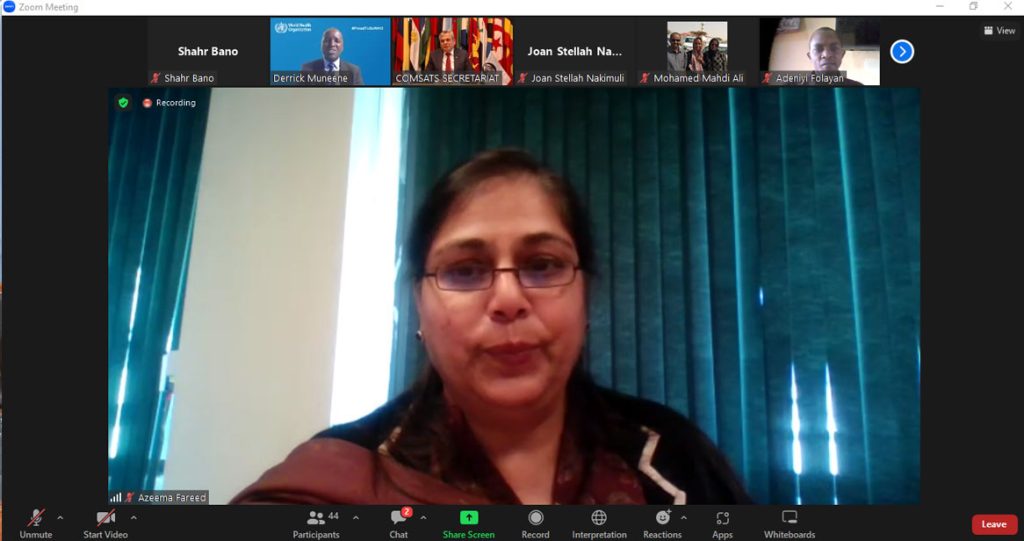 In her opening remarks, Dr. Azeema Fareed, Additional Director Health/Incharge CTH, shared event's objectives, which are in line with the global strategy of WHO aiming to promote knowledge sharing and collaboration in digital health. She stated that COMSATS through its Telehealth Programme is well-placed to fulfilling this objective.
Welcoming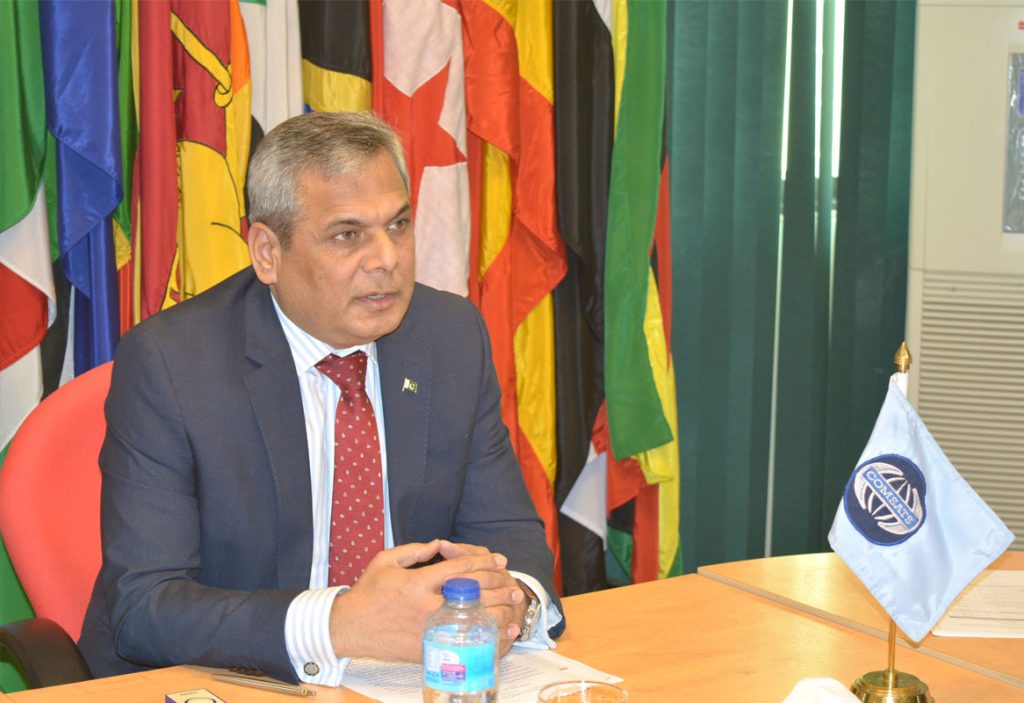 the participants, Ambassador Nafees Zakaria, Executive Director COMSATS, remarked that scientific progress and technological innovation was the major contributor towards successful global public health response during COVID-19. He stated that digital health has emerged as an effective solution for making health systems more resilient and sustainable for future crises. Dr. Zakaria also presented COMSATS Telehealth as a success story that got patronage of Government of Pakistan resulting in expansion of this project to remotest areas of Pakistan. He hoped for emulation of such services in COMSATS' member countries to help less privileged and marginalized communities. He also deemed collaboration among developing countries necessary for joint publications based on indigenous research and success stories; policy and strategy sharing at government and institution levels; and trainings and capacity-building in digital technologies for health.
The technical session of the webinar consisted of 7 talks and was moderated by Mr. Derrick Muneene, Unit Head, Capacity Building & Collaboration Digital Health & Innovation Department, WHO, Geneva. Sharing his views, Mr. Derrick stated that Asian and African region have a lot of commonalities, such as population, infrastructure and adaptation of digital technologies. He emphasized the growing need for investment in digital health to help build the robustness and resilience of health systems towards future shocks.
First talk was delivered by Professor Lydia Aziato, Vice Chancellor, University of Health and Allied Sciences (UHAS), Ghana. She informed that UHAS is the only university in Ghana providing training in all spheres of health, including telehealth and artificial intelligence. To help post-COVID integration of digital technologies, Dr. Aziato deemed it vital to adopt an inclusive approach bringing together practioners of traditional medicine as well as uneducated people.
Mr. Adeniyi Daniel Folayan, Research Fellow & Technical Assistant, African Centre for Digital Health & Policy Research (ACDHPR), shared pre and post COVID differences in digital health policy of Africa. Through facts and figures, he established that there has been an increase in the strategy and policy documents in Africa. Around 82 percent of African countries have a strategy, however, less than 36 percent of these have a relevant policy in place leading to the failure of addressing digital health challenges. Furthermore, Mr. Folayan presented the process of policy making and implementation and recommended that digital health policy should be well formulated, properly implemented, as well as disseminated appropriately to reach all stakeholders.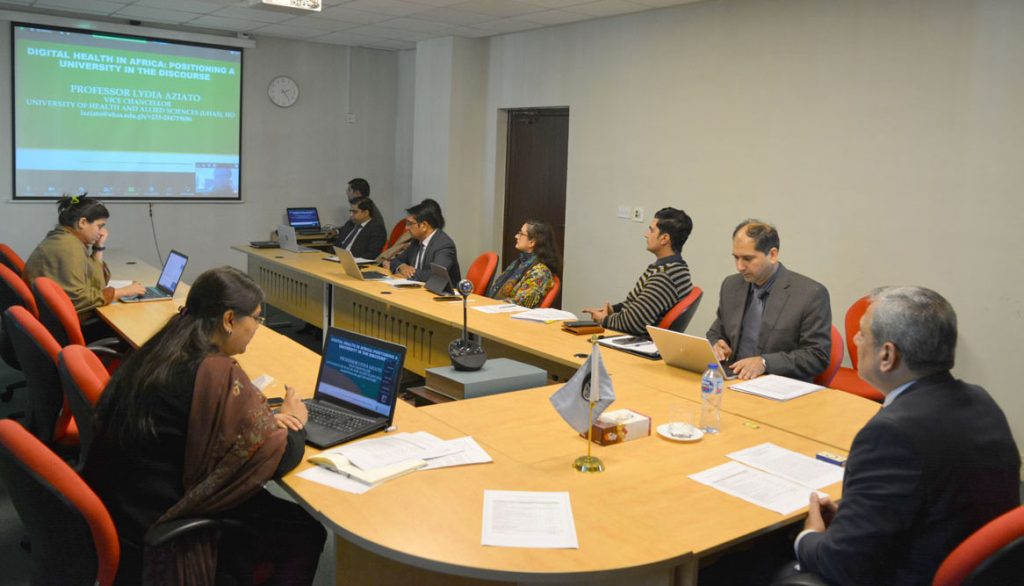 In her talk, Ms. Oyindamola Sogunro, Chief Program Analyst, E-Government Department, Federal Ministry of Communications & Digital Technology, Nigeria, apprised the participants of the national health ICT strategic framework of Nigeria that was established in 2015 and led to the creation of high-level steering committees and working groups for digital health. She mentioned that subsequent to this framework, a portion for digital health was allocated in the federal budget, and a report and a policy on digital health in Nigeria was developed.
Dr. Joana Eva Dodoo, Registration & Examination Officer, Business Programmes, College of Distance Education, University of Cape Coast, Ghana, shared an overview of digital health in Ghana. She stated that Ghana is going digital under the cognizance that such transformation is essential for economic growth and expansion. She added that from 2009 to 2019, use of digital health technologies in Ghana has increased and in the post-COVID era, it has further expanded to include drones, self-assessment tools, digital tools and applications.
In his talk, Dr. Suhail Chughtai, Director Medical City Online, CTO The Health Bank Global, Orthopedic Surgeon, explained the difference between clinical telemedicine and video consultations. With the example of the software his company has developed, he explained that clinical telemedicine is based on history, examination and test reports for the virtual management of the disease in addition to video chat between the patient and the doctor. He also outlined a virtual health ecosystem for Africa based on clinical telemedicine system having virtual guidelines and decision support system.
Ms. Joan Stellah Nakimuli, Researcher, African Centre for Digital Health & Policy Research (ACDHPR), talked about various digital health tools in Uganda. These include patient-doctor video consultation systems, patient remote monitoring systems, drone technology, and dashboard for disease tracking. She mentioned that rise in the use of mobile for healthcare, teleconsultation in mental health, and digital tools was observed during COVID-19.
In his talk, Dr. Hammadoun Dia, National Coordinator, SanDi Digital Health Project, Mali, referred to a study conducted in Mali, which showed that teleconsultation costs 6 to 23 percent less than the regular consultation. Dr. Hammadoun also shared the details of his project on solar energy, telehealth and social protection to transform community health in Mali (SanDi). He stated that the project aims to provide renewable energy through solar power to health centres and also aims to equip the centres with computers, pharmacy and other administrative tools. It will also provide training and capacity-building to health professionals. He stated better patient care, increased revenue, availability of quality data as key benefits of the project.
During the Q&A session, several aspects relating to digital health, SDGs, universal health access, policy implementation and integration of digital tools were discussed. Following views and recommendations were shared by the speakers: country-based need assessment of digital health policies; integration of digital tools in the existing system; stakeholder involvement for successful interventions; building of digital infrastructure; training on the efficient use of digital tools; planning of funding mechanisms and better implementation of digital health policies and strategies.
Closing the webinar, Mr. Derrick emphasized achieving equity in this sphere to enable African countries to fully benefit from information technologies in the field of healthcare.